About the Book
Title:
Unmade (The Lynburn Legacy #3)
Cover Story: Sail Off Into The Sunset
BFF Charm: Yay
Talky Talk: Sassy Girl Detective Stops At Nothing
Bonus Factor: Keith Mars Award for Awesome Dadhood
Relationship Status: Let's Make Out
Cover Story: Sail Off Into The Sunset
This is an awfully peaceful looking cover for the havoc Sarah Rees Brennan shall surely wreak upon your emotions. Not too bad, not too good, but better than the second version of Unspoken.
The Deal:
Warning! Spoilers for Unspoken and Untold live beneath the bridge this line. I won't spoil anything major in this review, but I can't speak for the comments. Proceed with caution.
Rob Lynburn is ruling the town now, and he demands a sacrifice – preferably a willing one, but if the town collectively presents him with one of their choosing, that will also help bolster his power. The residents of Sorry-in-the-Vale are running scared, and none more so than Kami's mother. Claire Glass is all too willing to sacrifice someone else in order to protect her family, which disappoints and disillusions Kami's father.
Using her detective skills and inability to take no for an answer, Kami and her friends uncover a way to stop Rob. But will it be too little, too late?
BFF Charm: Yay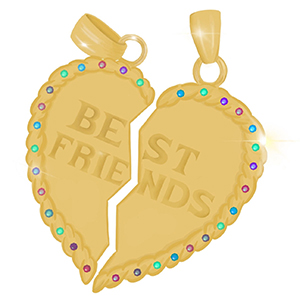 Once again, I really like Kami. She's still the same cheerful, loyal, brave friend from Unspoken and Untold, but with the added bonus of now paying more attention to others' thoughts and feelings. Her snap judgments are fewer, and although she's still pretty bossy, it comes from a good place.
The one reason she isn't upgraded back to platinum status is that when Jared holds back from giving her what she wants – and tries to break up with her – she just plows ahead and acts like they're in a relationship anyway. This was downright uncomfortable for me as a reader (as amusing as her pet names for him were) because although we know they're probably going to be together in the end, he did not appear to be consenting to this at all. Eventually, her character growth alleviates this problem, but it set me squirming.
Swoonworthy Scale: 9
Speaking of consent, the hottest, most feminist love scene resides in this book. Which makes it all the more obvious that Kami's "I refuse to let you break up with me" bit is just not cool. But back to the swoon — I don't know about you all, but in real life, if a guy asked if he could kiss me (for example), it usually made things very weird. So while I have always believed in making sure both (or all, if that's your thing) parties involved are okay with the activities, it always stopped the proceedings in an awkward way.
Well.
I now know how it can be oh-so-hot.
Talky Talk: Sassy Girl Detective Stops At Nothing
The final chapter in The Lynburn Legacy wraps up with the same witty dialogue and sharp commentary that the previous two books offered. Reasonable minds may differ, but I find that it helps bring much-needed levity into some pretty bleak situations – and not all of them paranormal. Kami is dealing with the demise of her parents' marriage, the fact that many of her friends barely have families at all, a broken heart, and all this while she's still trying to save the town and protect her loved ones.
Bonus Factor: Keith Mars Award for Awesome Dadhood
Time to finally give Jon Glass his due – he's the effortlessly cool dad you always dreamed of. You know, the one who embarrasses you just enough, who fervently wishes you would join a convent or wait until you're 35 to date, but would never stop you from following your dreams. Plus, he has entertaining chemistry with Lillian Lynburn. (I am firmly in the "Dump Claire, Date Lillian" camp.)
Relationship Status: Let's Make Out
Book, you are smart, funny, and satisfying. You didn't blow me away like our first date, but your world was warm and familiar. Speaking of which, our third date wrapped up beautifully! We might not get married and live happily ever after together, but in the meantime, I think your face should definitely meet my face. Lots. (If that's okay with you.)
FTC Full Disclosure: I borrowed an ARC. I received neither money nor a pet unicorn for writing this review, despite how hard I wished for one. Unmade is available now