About the Book
Title:
Unscripted Joss Byrd
Cover Story: Instagram Collage
BFF Charm: Big Sister
Talky Talk: E! True Hollywood Story
Bonus Factor: Child Actors
Ambivalence Factor: Stage Mom
Relationship Status: Casual Fan
Cover Story: Instagram Collage
The vintage photo filter look doesn't personally appeal to me, but this cover is appropriately dreamy and melancholic, with nods to filmmaking and Montauk.
The Deal:
Lauded as one of the greatest child actors of her generation, Joss Byrd's real life is far from a Hollywood fairy tale. With a demanding mother and a secret that could end her career, the pressure's on for Joss to deliver the performance of a lifetime for her latest movie. But the director of this gritty drama is asking a lot of her acting skills — way more than she's prepared to give. Will Joss veer off-script to stand up for herself?
BFF Charm: Big Sister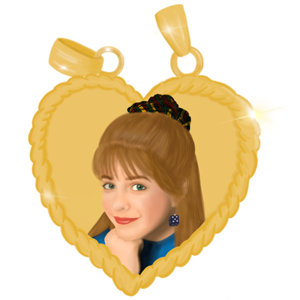 Given her circumstances, it's no surprise that Joss often seems older than her twelve years. I gladly support her acting career, since this is what she wants to do, but she could really use more grownups on her side who aren't her mother (shout-out to her tutor, Damon). And, Joss – we have got to talk about your use of derogatory language, young lady.
Swoonworthy Scale: 1
Joss is crushing-without-actually-knowing-she's-crushing on one of her co-stars, although their sibling-like bond is based less on sparks and more on their shared experiences as showbiz kids. But just because she isn't ready for them doesn't mean that Joss is oblivious to the more mature subjects that she's picked up on in her environment.
Talky Talk: E! True Hollywood Story
With a larger-than-life premise like this, there's always a question about its authenticity. But Lygia Day Peñaflor actually teaches child actors (!!!), so her behind-the-scenes insight is definitely legit, albeit more realistic and less glamorous than what would satiate an appetite for glossy scandal.
A slight trigger warning regarding Joss' current movie: it's an autobiographical film of the director's abusive childhood, so you can probably guess the kind of scene that she's objecting to.
Bonus Factor: Child Actors
Despite showing zero aptitude for acting, I was one of those kids who'd watch a movie and think, "YES, I could totally be a child actor and befriend an thieving orangutan!" Which would put me in the hobby actor camp in Joss' eyes, as opposed to breadwinners like her who are Serious Artistes.
As an Old who might be more familiar with older pop culture references than this book's intended audience is, I did find it to be a peculiar choice (maybe even covert commentary?) that Joss and her mother, Viva, would idolize Tatum O'Neal's career while disparaging Shirley Temple's, given their very different paths as adults.
Ambivalence Factor: Stage Mom
Many parents of performers do look out for their child's best interests, but those who go too far are the ones who make the tabloids. Thanks to the nuanced portrayal of Viva as more than just a villain, I can certainly understand her motivations, even if I can't condone her actions.
Relationship Status: Casual Fan
For something that's all about the industry of make-believe, this book only knows how to be real. I might not be among its opening day crowds, but it's a welcome presence on my bookshelf.
FTC Full Disclosure: I received my free review copy from Roaring Brook Press. This review was originally posted on Kirkus Reviews in exchange for monetary compensation, which did not affect or influence my opinions. Unscripted Joss Byrd is available now.