About the Book
Title:
Unseelie (The Unseelie Duology #1)
Cover Story: Graphic Novel, Anyone?
BFF Charm: Let Me Love You
Talky Talk: Represent
Bonus Factors: Fairies, Dragons
Relationship Status: I Need Closure
Cover Story: Graphic Novel, Anyone?
G-o-r-g-e-o-u-s. This makes me yearn for a graphic novel of this book. The artist Mona Finden can do no wrong, and I loved that I immediately got a visual of the main character and her sister. The colours are so vibrant, and now I want to cut my hair off and grow it super long simultaneously.
The Deal
Seelie, a changeling from the fae realm, has been shunned by humans all her life for being different and having magic. Her twin sister, Isolde, is a human and has been her protector and best friend growing up. After a terrible accident, they flee their home, hoping to obtain enough wealth to reunite with their parents and start a new life where no one knows them.
After nearly four years of being on the run, Seelie and Isolde put together a hasty plan to break into a famous enchanter's home and steal something, anything, that would provide a big payout. The heist goes wrong, and Seelie and Isolde find themselves on the run again, but this time from a powerful enchanter who won't stop hunting them.
They find two others on the run from the same enchanter: a healer named Olani, and another lesser enchanter named Raze. With the promise of a large payout, Seelie and Isolde team up with Raze and Olani finally seeing a way to get back to their parents.
BFF Charm: Let Me Love You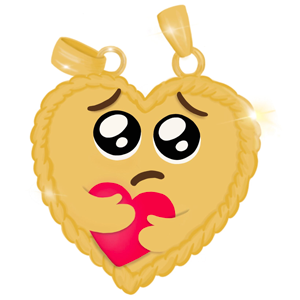 Seelie is a complicated main character. Trying to navigate in a world where you feel like you don't fit in anywhere is difficult on its own, but leaving your loving and accepting parents did some damage. She has Isolde, but I felt like she needed an older person who's also a fairy to help her thrive. She gains confidence by the end of the book, but then she just comes off as mean and power hungry.
I am very interested to see where that goes and how it affects her relationships. I really enjoyed Seelie's perspective for the most part. There were times where she was being difficult, like she didn't want to control her magic, which put everyone in danger. I understand it's hard to acknowledge something you've spent years suppressing, but like damn girl, your support system is literally everyone you know right now, and they just want to help. Basically, Seelie needs a big hug and someone to tell her it's all going to be okay and she's perfect the way she is…but also, control the magical lightning bolts.
Swoonworthy Scale: 4
Not me pining for a romance to blossom between Olani and Isolde…Maybe that's going to happen in the next book, but right now, all you get is Seelie being annoyed by Raze with some slight intrigue from both sides. It's a slow building friendship that might turn into more. Seelie wasn't feeling it, and neither was I.
Talky Talk: Represent
When I started reading, I was aware Seelie was autistic thanks to the lovely author's note at the beginning of the book. What I wasn't aware of was that changeling mythology is an early description of autistic children! It's so cool that Housman took that idea and created a whole world full of vibrant characters. I really appreciated the insight into Housman's life and the representation of an autistic main character is definitely something that is needed in the world.
Having Seelie narrate the whole novel gives you a deeper understanding of what she's going through internally and how she processes different scenarios. I felt more connected to her and understood all her feels. There were a couple of times where I didn't agree with her reactions, but I was able to understand and appreciate why she reacted the way she did. Trying to navigate in a world that doesn't accept you is difficult, especially when what you're being persecuted for is just being yourself.
Bonus Factor: Fairies
Houseman creates a world that blends the fairy realm and human world wonderfully. I am hoping we get more fairy action in the second book because it was dreamy, fun and dangerous. Fairies are mischievous and the ones in the book did not disappoint, especially when interacting with the humans at the end of summer celebration in the beginning of the book.
Bonus Factor: Dragons
There are also DRAGONS! I am ready for some dragon wars.
Relationship Status: I Need Closure
Patiently awaiting the sequel. I need to know how this story ends. The situation at the end of the novel was not what I was expecting, and I can't wait to see what Housman has in store for the second book.
Literary Matchmaking
(Don't) Call Me Crazy
For an anthology about mental health with autistic authors talking about their experiences, read (Don't) Call Me Crazy edited by Kelly Jensen.
FTC Full Disclosure: I received this book from HarperCollins and have not received payment for this review. I will definitely be seeking out more novels by autistic authors and main characters. Unseelie is out now.