About the Book
Title:
Victories Greater Than Death (Unstoppable #1)
Cover Story: Pretty Big Face
BFF Charm: Yay
Talky Talk: Hitchhiker's Guide
Bonus Factors: LGTBQ+ Representation, Smart Kids
Anti-Bonus Factor: Genocidal Warmongerers
Relationship Status: Crewmates
Content Warning: Victories Greater Than Death features scenes of death, violence, and gaslighting.
Cover Story: Pretty Big Face
Although it was overused there for a while, a good example of Big Face isn't something I'm going to complain about. Especially when it's this pretty, with that gorgeous space-y hair. This cover yells "this is a science fiction book," and I'm here for it.
The Deal:
Tina Mains has known for her entire life that she's not a typical human girl. And not in the "I, myself, am strange and unusual" sense, but in the "I was planted on Earth by an alien species and have a literal rescue beacon in my chest that will someday light up when they come to take me back" kind of way. Tina's ready to leave, even if that means leaving everything and everyone she's ever known behind. Because she knows that she's meant for bigger things.
When the day comes, Tina learns that she's the clone of one of the galaxy's most famous and admired heroes. But the "bigger things" she's been waiting for are way more complicated than she'd ever imagined.
BFF Charm: Yay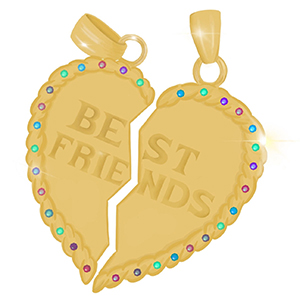 Although she's an alien clone, Tina's grown up on Earth and therefore has lived a pretty standard life. She's a loving daughter, a dedicated best friend, and stands up for what's right and good every chance she gets. These aren't qualities of Tina's previous life coming through; they're her characteristics, and they make her very worthy of a BFF Charm. She occasionally pulls away from her friends and hides in her own head, but neither of those are dealbreakers since she eventually comes around and always apologizes when she's been in the wrong. The fact that Tina, thanks to technology, also becomes a sort of space Wikipedia—she can "remember" a lot of knowledge from her old life, helping the transition from Earthling to spacefarer quite a lot—is just a bonus.
Swoonworthy Scale: 7
When she meets [REDACTED], Tina's immediately intrigued. And the more she gets to know [REDACTED], the more she wants to get to know them. But is the timing right to start a new relationship with everything else that's going on? Especially when Tina isn't sure she really knows herself?
Talky Talk: Hitchhiker's Guide
Victories Greater Than Death is a delightful combination of contemporary and science fiction. It's a book that mixes the two genres to great effect; Anders has infused into the book a delightfully irreverent Douglas Adams-style sense of wit. (Tina is extremely a teenage girl most time, but is also a revered space hero—think a gender-swapped and de-aged Arthur Dent with hidden knowledge and skills.) Anders obviously did her homework on the science fiction aspects, too. The technology is unique and creative, and the various species Tina meets are varied and intriguing. I particularly love Anders's reasoning behind why most of the species are mostly humanoid (i.e., walk upright on two legs, have "standard" appendages and biological systems), but I won't spoil that for you. And her inventive and complex greeting system made me laugh every time. For example, when someone tells Tina "thrilling stunts and minor injuries," the appropriate response is "delicious meals and harness potions." I would love to have that much imagination!
Bonus Factor: LGTBQ+ Representation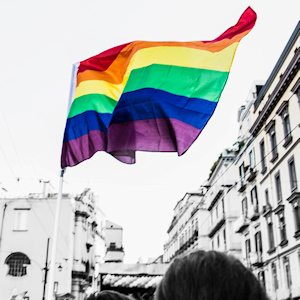 As a trans person herself, Anders knows how important inclusion can be. And it only makes sense that a more advanced civilization will have moved past our notions of gender and sex or have completely different views that we couldn't begin to comprehend. There's so much diversity and inclusion in this book, and not just in the aliens. And, thankfully, it's never used as a major plot point; people are who they are and like who they like and that's all part of life.
Bonus Factor: Smart Kids
Love to see a book in which teens are seen for the (in some cases literal) geniuses they are and adults respect them for their talents, rather than making them feel othered or weird. As a smart kid myself—but nowhere near the level of the kids in this book, natch—I'm always going to root for the nerds.
Anti-Bonus Factor: Genocidal Warmongers
One of the unexpected things that Tina finds when she's rescued back into a life of space travel is that there's a war going on against the worst kind of people: those that think their way is the only way and that those who don't fit the "mold" should be killed. It's really unfortunate that we continue to have to deal with this kind of monster, even in situations in which we're supposedly so much more advanced …
Relationship Status: Crewmates
You weren't quite what I expected, Book, but we quickly fell into a good rhythm once I let go of my preconceived notions. I think we make a really good team, and I'm excited to see what we can get up to—working together—in the future.
Literary Matchmaking
Aurora Rising (The Aurora Cycle #1)
And Amie Kaufman and Jay Kristoff's Aurora Cycle is a similar series about a group of misfits trying to save the galaxy with a main character who's trying to figure herself out.
FTC Full Disclosure: I received a copy of this book from Tor Teen, but got neither a private dance party with Tom Hiddleston nor money in exchange for this review. Victories Greater Than Death is available now.