About the Book
Title:
Walk on Earth a Stranger (The Gold Seer Trilogy #1)
Cover Story: There Be Gold
BFF Charm: Heck Yes
Talky Talk: Real (Historical) Talk
Bonus Factors: Gender Swap, Hints of Fantasy
Anti-Bonus Factor: Series Starter
Relationship Status: See You in Cali
Cover Story: There Be Gold
This cover is very pretty, and very stately. The girl at the top gets a little lost, but I dig the storm of gold surrounding her, and the gold text treatment is great. I felt fancy reading this book, like I was reading something Important. (Not that other YA books aren't important, of course. It's just that few YA covers have such gravitas as this one.)
The Deal:
Leah Westfall has a secret: she can sense gold. She knows where gold is hidden, be it on a person, in a house, or in the ground. This gift is a boon to her family, particularly because they live in 1849, when the western Gold Rush is just beginning, but it comes with a price—one that upends Leah's whole world and sends her on a treacherous quest across the still growing U.S.A.
BFF Charm: Heck Yes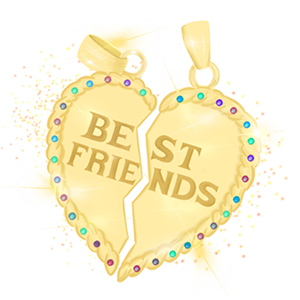 Leah is strong-willed, willing to put in a hard day's work, and rarely complains about her situation, which—truth be told—is something most people would find emotionally crippling. The incident that causes her to take off across the country (I'm remaining vague #becausespoilers) is horrifying, and the trip itself is extraordinarily dangerous and hard, in every sense of the word. Still, Leah remains strong, and that strength rubs off on others. Definitely someone I'd like to hang around with.
Swoonworthy Scale: 4
There are certainly strong hints toward an eventual relationship for Leah, but we don't get to see much in the way of anything actually swoony until the very end of the book. As this is the first book in a trilogy, I'm sure there will be more swoon to come.
Talky Talk: Real (Historical) Talk
Rae Carson obviously did her research into the Gold Rush migration of the mid 1800s. The descriptions of the trek across the country in Walk on Earth a Stranger feel quite realistic and even get somewhat horrific (disease, dehydration, etc.), but it's what you'd expect from a "truthful" account of such a trip. The text is peppered with phrases from the time period, but the writing doesn't go too far into slang territory, which—even though it might not be completely historically accurate, make for a much smoother read.
Bonus Factor: Gender Swap
In order to make the trip across the country, Leah has to pretend that she's a boy. For the most part, she's successful, but things get a little dicey when her "monthy visitor" shows up.
Side note: This is one of the few books I've read that actually includes mention of menstruation, and I appreciated the realistic way in which Carson presented it. It's a fact of life for most women, and even less "controllable" in Leah's time.
Bonus Factor: Hints of Fantasy
Leah's gold sense is never really explained, but it's not hard to just go along with it. Like Sarah Rees Brennan said in a recent Inkcouragement post, "You get one 'gimme.' … The audience will accept just one thing, and have to be convinced of everything else. Use your gimme wisely." Carson definitely used hers well.
Anti-Bonus Factor: Series Starter
Although Walk on Earth a Stranger doesn't leave readers with a major cliffhanger, it's obviously just the beginning of Leah's tale. The back of the book even lets readers know that this is the first book in a new trilogy, so at least we go into it knowing there's more to come.
Relationship Status: See You in Cali
Congratulations on completing such an epic trip, Book, and thanks for bringing me along for the ride. I'm glad this is just the start of our adventures together.
FTC Full Disclosure: I received a copy of this book from Greenwillow Books, but got neither a private dance party with Tom Hiddleston nor money in exchange for this review. Walk on Earth a Stranger is available now.