About the Book
Title:
We Are the Wildcats
Cover Story: Hey Grrrrrrl
BFF Charm: Make It Rain
Talky Talk: Straight Up Feminist
Bonus Factors: Women in Sports, Female Friendship
Relationship Status: We Are the Champions
Cover Story: Hey Grrrrrrl
The rebel girl aesthetic of this illustration is so punk rock, and it perfectly captures the spirit of the Wildcats. Even if you know nothing about the story, one look at this artwork and you'll wish you were walking the streets arm and arm with these gals, cracking jokes and pumping fists and feeling on top of the world.
The Deal
Winning five state championships in a row under the direction of their hot shot coach, West Essex Girl's Field Hockey Team is the stuff of legend. At least they were, until they completely blew it at state last year. Now the summer has passed, but time hasn't healed all wounds (literally and figuratively), and there are plenty of girls who survived tryouts with their carry-on baggage safely stowed.
Mel, the new team captain, is determined to get her fellow players back on track with a special evening of initiation–a slumber party turned wild night of pranks and bonding. It's a chance for the girls to start fresh and reclaim their confidence, but first, they'll have to shake off the weight of the past–and the toxic grip of their beloved coach.
BFF Charm: Make It Rain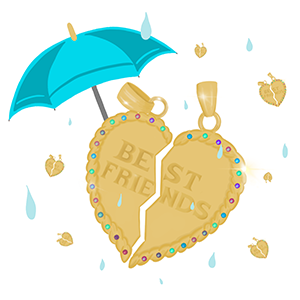 Thanks to each chapter focusing on a specific character, we get to know six of the team members super well, and by get to know, I mean absolutely ADORE. There's Mel, the team captain who desperately wants to impress the coach while also supporting her bestie, Phoebe, who was injured last year and may be pushing herself past her limits just to keep that jersey. Kearson, the one who took Phoebe's place in the final matches, feels like an imposter, while Ali, the goalie, is haunted by her failure in the championship game–and by the racist behavior of another player. Then there's Luci and Grace, who are both new to the team. Grace is relieved to be away from the bullying and cattiness of JV, while Luci feels intimidated because she's only a freshman.
All of these girls are so much stronger than they realize, and it's truly a joy to watch them discover how badass they can be when they stand together.
Swoonworthy Scale: 0
Confession time, y'all. Normally, when I encounter a book without any trace of romance, I'm a teensy bit upset. And I hate admitting that because it's shallow, swoon isn't everything, there's so much more to stories than kissing, yadda yadda yadda. BUT when it came to We Are the Wildcats, I was legit stoked about the chicks before dicks situation. There's zero room for heart eyes (unless they are of the platonic variety) in this book, because every page is filled to the brim with girls learning to love themselves.
Also, there's an icky sitch that could warrant a negative swoon score, but given how much I was mooning over this team, I'd say it evens out.
Talky Talk: Straight Up Feminist
Unless you're new to the site (if so, hiiiii!), you already know that we are huge fans of Siobhan Vivian's work. She has a gift for crafting relatable, compelling characters who immediately feel like besties; teens you instinctually and aggressively root for as they navigate the trickiest, toughest shit in the minefield of adolescence. We Are The Wildcats follows that tradition while racheting up the girl power to eleven. And it feels INTOXICATING, y'all, like a double shot of whiskey. This book is bold, and Vivian takes no prisoners as she explores everything from sexism in athletics to "good girl" stereotyping. For example, read this and try not to get incensed:
It should be said that West Essex's football team has not made it to the state in over a decade. Their last championship banner hangs dusty and faded from the gymnasium rafters. Yet it never strikes the boys as odd that they still dominate the fall pep rally, always announced last by the principal. The boys don't question if they've actually earned the bleacher-stomping applause that beckons them, dressed in their jerseys and jeans, to burst through banners of butcher paper. Their arms simply lift in V shapes at varying intervals, summoning the student body to their feet. A reflex.

Boys default to kings.
Now read this and relate like whoa:
This is why the field hockey girls would live on this field forever if they could. This blessed rectangle where their worth is wholly quantifiable, statistical, analytic black and white. How incredibly freeing it is to live a few hours each day where they don't have to worry about being beautiful or sweet or modest or smart or funny or feminine. The only thing required of them here is to play their absolute best.
This is a book that will make you think as hard as it makes you fist pump, and similar to Vivian's The List, it should be mandatory reading for high school students (and hell, for adults too).
Bonus Factor: Women in Sports
I've always been an indoor kid, so one of my favorite aspects of the book was being an honorary member of this fierce, determined team. These girls are tremendously skilled, tough as nails athletes, and it was inspiring to witness all of the dedication and sweat they pour into being the best they can be. And then there's the connection that comes from hours spent together on the field, which Vivian wonderfully captures like so:
It's always been a joke, how their periods inevitably sync up at some point during a season. Pity which unlucky team would face them at their reddest. The same witchy magic is at play right now. A strength and confidence that comes from twenty girls in lockstep with one another.
Witchy magic FTW!
Bonus Factor: Female Friendship
While the Wildcats are obviously tight as a team, their relationships with each other are far from perfect, and it's these pockets of disharmony that lend authenicity to the story and give it a bigger punch. Mel and Phoebe, for example, have been joined at the hip for years, and yet both are now faced with doubts and fears that force them apart. Vivian isn't afraid to dive into the ugly, messy side of friendship, and because of that, we're rewarded with an honest portrait of the struggle and the value of bestiehood.
Relationship Status: We Are the Champions
I wish I knew more about sports, so I could use a dozen sports analogies to convey the MVP status of We Are the Wildcats, but since I don't, I'll just say that I'm grateful I got to huddle up with this book, whose performance on the field should inspire all of us to keep on fighting 'til the end.
Literary Matchmaking
Not That Kind of Girl
I will never stop recommending Siobhan's sophomore novel, Not That Kind of Girl, which is equal parts feminist and swoony.
The Nowhere Girls
If you're jonesing to see another group of gals band together to fight male predators, get to know The Nowhere Girls.
FTC Full Disclosure: I received a free copy of this book for review from Simon & Schuster. I received neither money nor cocktails in exchange for this review.