About the Book
Title:
What the Woods Keep
Cover Story: Unruly Eyelashes
BFF Charm: Caution
Talky Talk: Tapered Off
Bonus Factor: Colorado
Factor: Nibelungs
Relationship Status: That Loner Kid At Lunch
Cover Story: Unruly Eyelashes
When I first glanced at the cover, my mind made the weird leap to sideways false eyelashes that got way out of control (I blame too many YouTube beauty tutorials). Now I can't un-see it. The dark tone of the cover fits with the vibe of the book, but the longer I stare, the more I ask—what do these frond-like plants have to do with a non-tropical forest in Colorado? Also, is there a chemical leak that we should be concerned about?
The Deal:
On Hayden's eighteenth birthday, her missing-but-presumed-dead mother's lawyer gives her the deed to her childhood home and a set of strange and cryptic instructions. Hayden hasn't been back to Promise, Colorado since her mother vanished in the woods ten years ago and her father abandoned a cushy physics professor gig to devote his time to proving the Nibelungs, a race of mythical Norse people, exist. Despite her trepidation, Hayden is intensely curious to see if going home will help her put her mother's memory to rest. She's also quite curious to see if her childhood friend, Shannon, remembers her and thinks fondly of her the way she does of him.
But going home seems to awaken something in Hayden; a part of her that is, frankly, quite scary to others and herself. There's secrecy baked into every corner of Promise, including that big, rune-covered house Hayden now owns. Together with her best friend, Del, Hayden must unravel the clues of her mother's final words…and stay alive in the process.
BFF Charm: Caution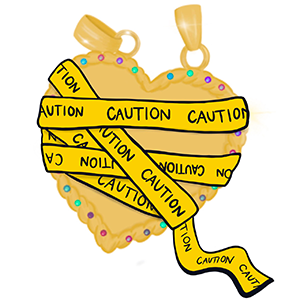 Hayden has had a tough childhood, what with her mom disappearing, her dad going a but nutso, and all those unexplained things happening around her, causing her to be homeschooled and medicated for much of her teenage life. She's a bit of a loner, a one-best-friend-at-a-time kinda gal, which I relate to as an introvert who enjoys one-on-one friend time over big groups of friends. But that one BFF seems to deal with a heckuva lot of nonsense (sleep-digging, being hypnotized, kidnapped, etc.), enough so that I think I will pass on that, uh, honor.
Swoonworthy Scale: 3
I guess you can blame Hayden's isolation as the reason that she still dreams about her ex-friend, Shannon, and doesn't really care about other boys her age (or, perhaps, you can blame the plot; who's to say?). Lucky for Hayden, Shannon has turned into a sexy and stoic hottie…who is also a paramilitary soldier who works for a certain shadowy corporation that apparently takes in and trains teenagers to take blood and police the woods? But…isn't Shannon only supposed to be eighteen? So confused, y'all. Anyway, despite some hurt feelings leading to smoldering glares, these two didn't have enough time together to really make it sizzle.
Talky Talk: Tapered Off
I made it perhaps 60% of the way through What the Woods Keep feeling optimistic. The mystery of what happened to Hayden's mom and the dark things that happened to Hayden as a child were appropriately creepy. I liked the extra tidbits of information dispersed at the start of some of the chapters: transcripts from Hayden's psychiatrist visits, mini academic lectures, and emails with details Hayden wasn't privy to. But that strong start petered out to a confusing and muddied finish.
Motives from one-dimensional villain characters weren't compelling and clear enough. The pat resolution belied the long lead-up to a promised grand deception. Little plot points (like Shannon's appearance in Hayden's dreams or the scars on his and Santiago's necks) seemed to be forgotten, and bigger plot points (like the Nibelungs or just what exactly Blue Heron was trying to accomplish) were oft referenced but repetitively, with the same statements being shared over and over. I don't feel I had a solid understanding of why the antagonists were pursuing their goals and how they got to where they were and…well…wasn't that part of the point?
Bonus Factor: Colorado
I love the Rocky Mountains, and while the tiny town of Promise doesn't seem like a place I'd like to visit (I'd prefer a lot less hail storms and creepy fog, thanks), the surrounding areas of Colorado are definitely a must-see.
Factor: Nibelungs
Perhaps you've heard of these…things…before this book. I had not. It was cool to see that they were a non-made-up entity (for this book, at least. I'm not out here to spout conspiracy theories alongside Hayden's dad IRL) out of Norse poetry, but my interest quickly waned when the author failed to share anything interesting about them.
Relationship Status: That Loner Kid At Lunch
People say you're kind of dangerous and broody, Book, but I saw you sitting by yourself and thought I'd take a chance. I tried to get to know you, really I did, but your tendency to repeat yourself and your lack of transparency kind of got to me. If you want to talk more frankly later, I'll be at that lunch table on the other side of the room.
FTC Full Disclosure: I received my free review copy from Imprint Macmillan. This review was originally posted on Kirkus Reviews in exchange for monetary compensation, which did not affect or influence my opinions. What the Woods Keep is available now.