Cover Story: Yikes (… But I Like It?)
BFF Charm: Eventually
Talky Talk: Guidebook, Circa 2000-and-Late
Bonus Factor: Small Town Indiana, Astronomy
Relationship Status: It's Not Weird If I Start Dating Your Brother Again, Right?
Cover Story: Yikes (… But I Like It?)
Subtle, this cover is not. My copy actually has the title written directly over the background text, so there's less flower power, but the word "Popular" is HUGE. Without the v. important "A Novel" descriptor, it'll probably be mistaken for a teen self-help book.
But I'm a sucker for COLOUR! And all the text! So maybe I'll craft a paper bag with a saran wrap window for the back cover.
The Deal:
Steph Landry is synonymous with being a loser. No, literally — her name has been repurposed as a term for dorky behaviour. But it's the start of a new school year, and Steph's got a plan to become popular. More importantly, she has The Book — an old school guidebook on, well, how to be popular. Much to everyone's surprise (esp. her pre-popularity besties, Becca and Jason), Steph succeeds at reinventing herself. But is maintaining her newfound popularity worth sacrificing her old friendships?
BFF Charm: Eventually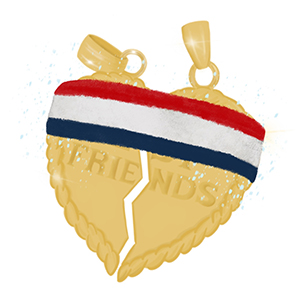 I KNOW, Y'ALL. A Meg Cabot heroine has literally NEVER received less than a BFF charm from FYA, so I'm risking YA treason by hanging onto Steph's for so long.
Don't get me wrong — Steph still has that trademark humour befitting a delightful (i.e. any and every) Meg Cabot heroine. And girlfriend is a math whiz!* But UGH she's so obsessed with popularity that it completely overshadows the cool person she really is.** Luckily, that cool person re-emerges for good when Steph finally removes her head out of her ass, but there were some trying times beforehand.
* I esp. love this because of the integral (har) role math played in YA Meg Cabot's life.
** It also doesn't help that I never have and never will understand the allure of popularity. And if Meg freakin' Cabot can't convince me, then it really is a lost cause.
I also considered giving Steph a Sassy Gay Friend charm, but Becca is far more deserving of it. 'Cause Becca? Slow down; SLOW ALL THE WAY DOWN. We've all been there, OK? When we crush on someone so hard that every little interaction is overanalyzed and any nice gesture is met by a "OMG does this mean they like me?!". But you take it to the extreme. Like, "Oh, he's just too shy to pledge his eternal love for me" extreme. So lemme take you to the Hasbro store and BUY YOU A FREAKING CLUE.
As for other BFF Jason, he might get a Roger Murtaugh. He's the outcast who's totally fine with his lack of social standing — which is awesome. But then he harshes on Steph for getting involved in school activities, because it's so out of character (totally valid), and also because it's uncool to participate. Look, you don't have to like all the same things as your friends. And sometimes, your friends will like stupid things. But if they're not forcing their interest on you, then WHO CARES? It's so much effort to hate something just because it's popular/mainstream/a 'sell-out', and I'm too old for that shizz.
Swoonworthy Scale: 3
WHAT!? And I'm stingy with the swoon score, too?! That's because the action is so very chaste — unlike Steph's Peeping Tonya routine with a pair of binoculars and Jason's open blinds. It's played off as innocuous, but let's try flipping the genders: a teenage boy has a habit of secretly watching his female friend undress. No matter how nice Jason's abs are (and they are V. V. NICE) this whole thing is uber creepy.
But the guy that Steph's crushing on is Mark the school quarterback. While I didn't find Mark himself particularly swoony, I could certainly relate to crushing on an unattainable someone from afar. But he is afflicted with a case of "OMG this guy is completely awesome, and yet he doesn't realize he's dating a complete bitch", which lowers his stock considerably.
Talky Talk: Guidebook, Circa 2000-and-Late
The light, breezy narrative is interspersed with tips from The Book, i.e. you, too, can learn how to be popular! Or at least you'll be amused at how The Book thinks you should have been popular — omg just like your mom always said!
And since it's a Meg Cabot novel, there are pop culture references aplenty. But it reminds me of the All-American Girl series, with the now dated and uncomfortable mentions of Brittany Murphy.*
* It'd probably be too dark to dwell further on Meg Cabot's uncannily eerie pop culture choices. And it'd also be inappropriate to suggest culling her bibliography for more prognostications. So inappropriate.
Bonus Factor: Small Town Indiana
This book is set in Meg Cabot's hometown of Bloomington, IN! There's a bit of quaint, small town charm — but more importantly, it gives me an excuse to use Pawnee as a bonus factor.
Bonus Factor: Astronomy
OMG I LOVE ASTRONOMY, y'all! Although it's Jason who's the space nerd, not Steph. And Steph's grandpa is building an observatory for his fiancée who happens to be Jason's grandmother. It's no Mauna Kea, but it's still a pretty cute (albeit very grand) gesture.
Relationship Status: It's Not Weird If I Start Dating Your Brother Again, Right?
Book: unfair or not, I hold you to a higher standard because of your family name. Sad to say it, you don't really measure up to your siblings. I had a nice time and everything, but, uh, I hear your hot bro's back in town soon, so I'm not too broken up that we didn't work out.
FTC Full Disclosure: I bought my review copy from a library sale. I received neither money nor gelato for writing this review (dammit!). How to Be Popular is available now.