About the Book
Title:
You Look Different In Real Life
Cover Story: Depressed Big Face
BFF Charm: Eventually
Talky Talk: Dessen Disciple
Bonus Factors: The Up Series, Diversity
Relationship Status: I'm Here To Make Friends
Cover Story: Depressed Big Face
Hey there, Big Face. Look, I'm sure you're exhausted from all of the covers you've graced, and it's easy to feel low when you're tired. But that's no reason to give up hope! Maybe one day soon, a publisher will decided to zoom out and include your whole body. And hey, you've got a cute pink streak in your hair, plus you kinda look like Katie Holmes, so you've got a lot going for you. No need to lay your Big Face down in despair. Chin up!
The Deal:
When she was 6 years old, Justine's parents signed her up to be the subject of a documentary along with four other kids her age. The film, Five at Six, examined the lives and relationships of ordinary children and became an instant hit, resulting in another project, Five at Eleven, five years later. Now that Justine is 16, she's determined not to participate in the next film, no matter how much filmmakers Leslie and Lance beg her. After all, she barely talks to her former costars, and she's no longer the brazen, spirited girl that audiences across America fell in love with. Justine fears the spotlight, but even more, she fears being left out, which is why she eventually agrees to be a part of Five at Sixteen. But she's not the only one who's changed, and as the cameras dredge up painful secrets from the past, this final documentary gets more real than anyone ever expected.
BFF Charm: Eventually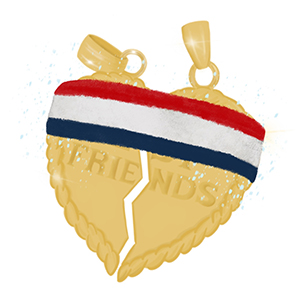 Justine isn't what you would call a happy camper. She's cynical and grouchy, and she has an intensely pessimistic attitude. In other words, she's a teenager. But she's had some unique experiences, given the whole documentary fame thing, so I cut her some slack. After all, can you imagine reading online comments from total strangers about your 11-year-old self? People rip into Kate Middleton, and she's the most gracious, gorgeous, and elegant creature on Earth. So yeah, I get why Justine has issues. Thankfully, she starts to work through some of that baggage and realizes that she didn't actually peak in the fifth grade. I'm glad I stuck by her, in spite of the angst (so much angst), because watching her take control of her life was truly satisfying.
With that said, the real apple of my eye is Rory, one of Justine's co-stars and her ex-BFF. Rory is autistic, and her efforts to engage with the world range from heartbreaking to inspiring. For example, when asked, "What do you wish you could tell your six-year-old self?" Rory responds, "I would tell her what happens in the later Harry Potter books." And did I mention that she has a sweet Tudor Monarchs collection? Rory, you're MY GIRL.
Swoonworthy Scale: 5
I got spoiled by the swoon in Jennifer Castle's previous novel, The Beginning of After, so perhaps my expectations for this book were a trifle high. Justine wades through a lot of shizz before she reaches any kind of romantic oasis, and while I do like my tension stretched taut like taffy on a puller, it doesn't mean that I don't want the opportunity to savor the product. Moreover, after taking forever to align, the relationship between Justine and a particular boy snapped into place way too easily. Their chemistry, while sweet and surprising, felt a bit artificial and little too convenient for my taste. I want natural, nuanced flavor in my swoon, y'all! (I took that taffy analogy too far, didn't I?)
Talky Talk: Dessen Disciple
Jennifer Castle continues her ascent up Mt. Sarah Dessen with her compellingly frank style and emotional range. From the first page, Justine's voice carries a dynamic ring that guides you through the story at just the right pace. Each character, from the other documentary subjects to Justine's family, feels fully formed and alive, and the dialogue is snappy but realistic. This book is a deceptively easy read, and while it goes down easy, it still manages to examine a spectrum of adolescent issues along the way.
Bonus Factor: The Up Series
I've always been intrigued by the Up Series, which followed a select group of British children from age 7 to 56 (and counting!), and I think Castle is a genius for writing a YA book examining that type of experience. It's a strange sort of fame, and it's both fun and fascinating to see its impact on Justine and her fellow subjects.
Bonus Factor: Diversity
In the story, the filmmakers purposely choose children from varying walks of life, and of course, that makes for some excellent character diversity. Mirroring the documentary, the book explores differences in socioeconomic status, race and, eventually, sexuality. Castle carefully weaves these issues into the story in a way that strengthens her characters rather than turning them into clichés.
Relationship Status: I'm Here To Make Friends
When I heard about the premise of this book, my attention was immediately piqued. Like any good reality show, it offered me the chance to experience teen life both on and off camera, and I quickly became absorbed. My expectations weren't always met, but I enjoyed the roller coaster of drama, especially because even at its highest peak, it still felt grounded. Unlike most reality TV stars who aren't here to make friends, I developed a great camaraderie with this book, and if they ever make Five at Twenty-One, I'll totally tune in.
FTC Full Disclosure: I received a free review copy from HarperTeen. This review was originally posted on Kirkus Reviews in exchange for monetary compensation, which did not affect or influence my opinions.