About the Book
Title:
A Discovery of Witches (All Souls #1)
Cover Story: Cover Envy
BFF Charm: Yay
Talky Talk: Easy, Breezy, Alakazam
Bonus Factors: The Bodleian, Alchemy, Tea
Relationship Status: LYLAS
Cover Story: Cover Envy
I love this cover, but it fills me with jealousy and disgust. WHY must YA covers be so lame? Obviously there are great cover designers out there, but apparently they're all in the adult art departments. Maybe it's so they can tell people they work in an "adult art department" and then snicker about it, like I used to when I was an "adult services" librarian, and did all the purchasing for the "adult A/V" collection. Anyway, I love the color and the symbols and the font, and even with "WITCHES" screaming from the front for everyone to see, it's totally not embarrassing. In fact, it's so great, I want to have some sort of cover for my Kindle that has a display screen on the front just for showing the cover, so I can subtly show off my reading material if I happen to be reading an ebook (the screen would be optional, natch). Not that this is particularly highbrow lit, but it is a fancy schmancy cover.
The Deal:
If you, like me, are one of the 3 people in the world who HAVEN'T read this book yet, here you go. Diana Bishop is a lapsed witch. Like a lapsed Catholic, she came from a witchy family, grew up being dragged to witchy lessons and all that, but she doesn't practice magic or witchcraft. She still believes and all, but she doesn't do anything about it or publicly identify as a witch. Ever since her parents were killed when she was seven, and here's where the Catholic analogy falls apart, Diana's been afraid of her magic. She also is desperate to prove herself in the human world without any extraordinary help, so she's busted her ass to be a top-notch historian before the age of 30. While spending a sabbatical year at Oxford doing research, which entails spending all day reading dusty manuscripts in the Bodleian, about which she plans to write a book — aka MY DREAM COME TRUE, until you get to the whole "write a book" part — anyway, while hanging out in this incredibly cool building, she comes across an enchanted alchemy text. Afraid to mess with it magically, she sends it back to the bowels of Bodleian storage — something that turns out to be a big mistake. As she learns from Matthew, the mysterious vampire who pops up soon after, and just about every witch, vampire and daemon in Oxfordshire, the book she called up has been missing for 150 years and just might be the most important text EVER for all of creaturedom. And like you do, this means Diana's in terrible danger — and she must uncover the secrets of Ashmole 782 (the book) before all the bad guys do.
BFF Charm: Yay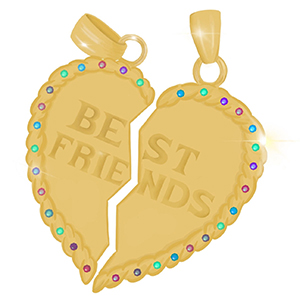 Diana's slightly bitchy, argumentative, and wicked smart. Suppressing her magic gives her a constant overdose of adrenaline, so she's also slightly twitchy, panicky, and wicked fast. I'd be happy to tag along for a run (don't worry Diana, I'm not a chatty running partner) or yoga class, or drink buckets of tea, but honestly? I'd KILL to get to use your creds for the library, and you don't even have to show me Ashmole 782 (it has a weird name because it came from the collection of Elias Ashmole, who — if you don't know — was a real person whose collection of curiosities formed the basis of the Ashmolean).
Swoonworthy Scale: 3
I know! I feel like people are probably swooning up their sheets over this book. Forbidden love (oh, PS, in case you hadn't figured it out, Diana the witch and Matthew the vampire fall in love), vampires, mortal danger, an incredibly long and drawn-out cocktease. It's a recipe for most people, but I … I don't fall for vampires, OK? The book is great, but I just can't get into Matthew as a love interest. All that possessive vampire bullshit just gets under my skin, and even though Diana's not a Bella Swan — she's argumentative and intelligent and has superpowers — it bugs me that she's described as "willful and stubborn" rather than "smart and badass". The former is so negative, you know? Like it's a fault or something. Also, I prefer my fantasy relationships to be more "and then she got the last word and was always right" rather than "and then she learned the value of give and take and compromise in a healthy, mature relationship." I mean, it's a FANTASY. Uh, anyway, all this says a lot more about me than it does about the book. Swoon away, everyone!
Talky Talk: Easy, Breezy, Alakazam
This book was WAY easier to understand than all the reading I did for my history degree for sure. It fairly races along, even with all the descriptions of the library and archival research (I swear — even for someone who's not into all that stuff like I am!). The world building is detailed enough to keep the plot moving, but not so detailed it bogs things down. There's some sensory overload — tons of descriptions of scents and tastes, since vampires are apparently fixated on these, but it usually just made me hungry rather than annoyed. I definitely enjoyed the Academic Lite discussion of alchemy as protoscience. It gets a tad Da Vinci Code-ish, with secret societies and conspiracies, but the injection of three non-human races keeps it firmly in the realm of fantasy, so we can HOPE there's no need for 392 "Inside the Secrets of Ashmole 782" History Channel "documentaries".
Bonus Factor: The Bodleian
THE BODLEIAN. Only one of the most gorgeous, amazing libraries EVER, and one I would give or do almost anything to wallow in for a year or so.
Bonus Factor: Alchemy
I wish this book was illustrated, because there are some cool descriptions of illuminated manuscripts and I'd love to see the images described (actually, that picture is from one). There's a fair amount of discussion of alchemical symbolism and how it depicted laboratory experiments. I wish my AP Chemistry teacher had let me turn in my lab book in doodles instead of that pesky scientific method and standard deviation calculations.
Bonus Factor: Tea*
Diana, living in Oxford, drinks A LOT of tea. It's probably not all that great for someone with adrenaline poisoning to consume that much caffeine, but I found myself envious of the amount of energy she must have. I've cut way back on caffeine temporarily, and it sucks because I wanted to make a pot of tea every time Diana did and there's no way I could keep up.
*I could have made this bonus factor for wine instead of tea, because she and Matthew drink about a case of wine every 2 days, but he's such a wine snob that I wasn't interested. I like the way wine tastes, and I'm mildly interested in some of the simple flavor distinctions, but I HATED the movie Sideways and while it ruined most of the world on Pinot Noir, it just ruined me on Paul Giamatti. Anyway, what with his preternatural senses of smell and taste, as well as his zillions of years on the planet, Matthew knows a thing or seventy about wine. So if you're an oenophile, cheers!
Relationship Status: LYLAS
I definitely picked on the book a little bit, highlighting the parts that bugged me, but seriously I loved it. It's super fun, and it's nice to read a grownup book, and it made me curious about a bunch of historical shit I haven't thought about in years (that sounds really academic, doesn't it?). I love it like a sibling — even when it irritated the crap out of me, I could still appreciate it and love spending time with it, and I'm counting down the days until I see it again.**
**21 days, to be exact! The sequel, The Shadow of the Night, comes out July 10 and I'll be reviewing it in a couple of weeks.
FTC Full Disclosure: I received my free review copy from Viking Penguin. I received neither money nor cocktails for writing this review (dammit!). A Discovery of Witches is available now.