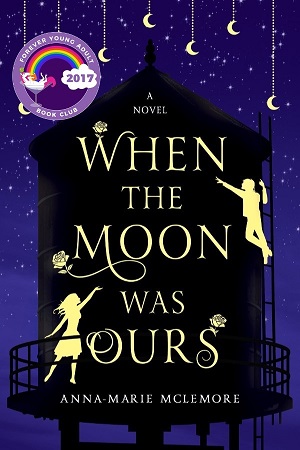 About the Book
Title:
When the Moon Was Ours
Cover Story: Play Set
BFF Charm: Third Wheel
Talky Talk: Otherworldly
Trigger Warning: Abuse
Bonus Factors: LGTBQ Characters, Multicultural Magic
Relationship Status: Happily Ever After
Cover Story: Play Set
This cover is cute, and features important elements of the story, but it looks so much like a set one might see in a high school or community theatre play. Not that those sets are terrible, they're often just a little flat (like this cover).
The Deal:
Miel and Sam have never been "normal." Miel is the girl who spilled out of a rusty water tower when she was five and grows roses out of her wrist. Sam is a boy who paints moons and hangs them all over town and Miel's best friend. Neither of them is white, and that's unusual in their sleepy farm town. But no one's ever really bothered them.
Until, that is, the Bonner girls, four sisters who are used to getting their way and who might have witchy tendencies, come to the conclusion that Miel's roses will bring them even more power. They'll do anything, including threatening Miel and Sam—who have secrets they aren't ready to face, much less have others know—to get what they want.
BFF Charm: Third Wheel
Sam and Miel have been each other's people since they were very little. So, as much as I liked the both of them, and would love to be friends with them, I really don't see how it would be possible to be anything more than acquaintances with either. They're that close.
Swoonworthy Scale: 8
From the very start, When the Moon Was Ours is a sexy novel. But the swoon comes less from the physical acts between two people and more from the feelings they have for each other, the willingness they show to give everything or do anything for the other person. Their love is a force, and a force to be reckoned with.
Talky Talk: Otherworldly
When the Moon Was Ours is a magical novel that feels both real and totally foreign. The town in which the book is set could be any small town. Although I think the book is set in not-too-distant past, it could be set in the present. McLemore's characters are familiar, but there's something about them that makes them feel a little set apart from the human race.
You might think that all of these contradictions would make for a confusing read, but that's absolutely not the case. When the Moon Was Ours is a lush and atmospheric read, filled with descriptions and scenes that engage all of the senses. McLemore mixes Spanish phrases and terms with Pakistani cultural references, and even sprinkles in the Latin names of parts of the moon as Sam paints. It's easy to get swept away in the beauty of it all, even when it veers into near-brutal territory.
McLemore's writing, and her story of Miel and Sam, is something to drink in and to savor.
Trigger Warning: Abuse
At one point near the middle of the novel, Miel is accosted and forced into a small, coffin-like box. And she later revisits some abuse at the hands of her mother. Nothing about the descriptions is graphic, but they are definitely jarring and might cause serious discomfort.
Bonus Factor: LGBTQ Characters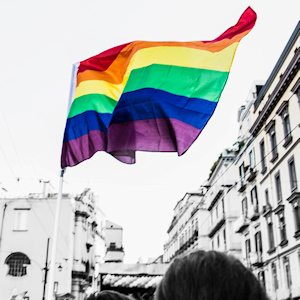 There are lesbian, queer, and transgender characters in When the Moon Was Ours. Their struggles are heartbreaking at times, and fist-pump worthy at others. In the end, however, they all make huge strides into being honest and true with themselves and others. The book sends a wonderful message that it's OK to take time to figure yourself out, and it's more than OK to make choices that others might not understand.
Bonus Factor: Multicultural Magic
The woman who adopts Miel after she falls out of the water tower, Aracely, is the town's curandera ("a healer who uses folk remedies") who cures lovesickness. I wasn't familiar with this type of magic prior to reading When the Moon Was Ours, but am totally intrigued by it now.
Relationship Status: Happily Ever After
We might not have a HEA in our future, Book, but I'm wishing for one for you, with all of my heart. You made a definite impression on me, and I look forward to hearing about all the wonderful things you're sure to achieve.
FTC Full Disclosure: I received my free review copy from Thomas Dunne Books. This review was originally posted on Kirkus Reviews in exchange for monetary compensation, which did not affect or influence my opinions. When the Moon Was Ours is available now.