Cover Story: My 4th Grade Skating Party Outfit
BFF Charm: Caution, Be Mine
Talky Talk: She Said, He Said
Bonus Factors: Beach Town, Tasty Business
Relationship Status: Tumultuous
Cover Story: My 4th Grade Skating Party Outfit
One year for my birthday, my mom bought me this totally sweet top and short set that was white and covered in neon splatter paint. I was so excited to wear it at the skating rink for my party, where I looked INSANELY cool, especially when they turned the black lights on.
Long story short, this cover brings back fond memories of that ensemble. It also ties in with the story, since one of the main characters paints, but c'mon, like I'm going to pass up an excuse to talk about my killer elementary school fashion.
The Deal:
Vivi and her mom are living in Verona Cove for the summer, and it's only taken a few days for Vivi to fall in love with place and its inhabitants– six of them, specifically. After she meets Jonah and his youngest sister, Leah, she quickly finds herself caught up in the chaotic rhythm of the Daniels siblings, who are struggling to move on after their father's death and their mother's overwhelming grief. Vivi knows her own share of darkness, though it's her light that first attracts Jonah, and soon the two are inseparable, a couple dizzy with romance and possibility.
But the clouds of Vivi's bipolar disorder, which she hides from Jonah, loom on the horizon, and nothing, not even Jonah's love, can keep the storm from rolling in.
BFF Charm: Caution, Be Mine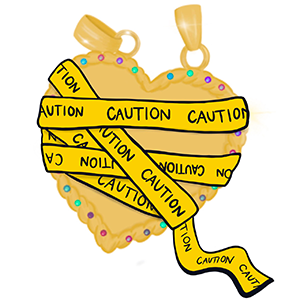 In college, I had two friends who were eventually diagnosed as bipolar, and I have to say that Vivi is a strikingly realistic portrait of this illness. She's passionate and electric, a whirling dervish of color, but her mood can change in an instant, and the violence of her emotions borders on frightening. Frankly, I found her personality to be a bit much, even with the understanding of her manic behavior, and while I appreciated the dazzling impact of her spirit, I'm not so sure that I could handle the whole package.
I hereby nominate Jonah Daniels for the YA Boy Hall of Fame. He's hot; he's thoughtful; he's super sweet with his siblings. And the best part? The boy loves to cook. When I wasn't too busy melting over his considerate nature and tender heart, I was salivating over his culinary creations. In other words, if I was a teenage girl, I would lock that shizz down IMMEDIATELY.
Swoonworthy Scale: 6
Vivi is drawn to Jonah's strength and stability, while he is enchanted by her magnetic charm and zest for life. Obviously, these two make a dynamic pair, but I was a little disappointed by how quickly their relationship unfolded (admittedly, I'm a delayed gratification kind of girl), and when it came to the physical fireworks, I could've used more showing and less telling.
Talky Talk: She Said, He Said
Each chapter alternates between Vivi and Jonah's perspectives, and their voices are immediately unique and engaging. Being inside of Vivi's mind provides an intense window into her shifting mental state, while Jonah's head space is endearingly boyish:
There's a knock from the front of the house. I lean back to look out the storm door. Vivi's standing there, waving and holding what appears to be a bottle of wine. She's almost an hour early. Shit. She wasn't supposed to know how much effort went into dinner. It was supposed to appear effortless. Like a feast at Hogwarts. Wait, no! I don't want to be Dobby in this equation. Jesus.
In the vein of Sarah Dessen, Emery Lord has an ear for dialogue and a knack for hitting both humorous and poignant notes. I would be lying if I said I didn't devour this book, pausing only to slow down when I got something in my eye. (No, I'm not crying! You're crying!)
Bonus Factor: Beach Town
Verona Cove is the West Coast equivalent of Sarah Dessen's Colby, which is to say, it's like Stars Hollow with a beach. Featuring exactly one of everything (one diner, one bookshop, one hardware store), it's a picturesque small town where no one's a stranger, and please forward my mail because I'm moving there IMMEDIATELY.
Bonus Factor: Tasty Business
As previously noted, Jonah does wonders with food, which makes sense given that his father was the chef at Tony's, the local restaurant where Jonah still works. When he's not rolling dough or perfecting the pasta, he's at home, making pizza for his siblings or a surprise sandwich for Vivi and did I mention that I want to marry him?
Relationship Status: Tumultuous
Even as I was clicking with certain characters and savoring the landscape of this story, I was dreading the devastation that would surely come from Vivi's illness. The honest portrayal of bipolar disorder is both captivating and crushing, and while Emery Lord is far too talented a writer to make this an "issue book," there were times when I found myself wishing I had picked up a beach read. Ultimately, though, I was touched by Jonah and Vivi's journey, and I'm very glad that our paths collided.
FTC Full Disclosure: I received my free review copy from Bloomsbury. This review was originally posted on Kirkus Reviews in exchange for monetary compensation, which did not affect or influence my opinions. When We Collided is available now.