Cover Story: Little Boy Blue and the Man on the Moon…
Drinking Buddy:  I'd Love to Dad, If I Could Find the Time…
Testosterone Level: So Much Like a Man I Just Had to Say…
Talky Talk: My Child Arrived Just the Other Day…
Bonus Factors: Dad, C'mon, Let's Play…
Bromance Status: You Know I'm Gonna Be Like Him…
Cover Story: Little Boy Blue and the Man on the Moon…
This cover was a classic example of misdirection. Based on the blurb and the back cover summary, I was expecting Fitz's father to be some kind of criminal on the run who kidnaps his son and forces him to take part in a robbery or drug deal. Man, was I ever wrong. The simple, black and white cover was a nice touch on a book that proves that there are no black and white answers.
The Deal:
Fifteen-year-old Fitzgerald 'Fitz' McGrath has a pretty good life. He's a talented bass player, fairly popular, has a crush on a girl he doesn't know how to talk to, and a single mother who loves him. But what about the father he never knew? His mother won't discuss him. No one else knows anything about him. When Fitz discovers that his dad is a fancy-pants attorney right there in St. Paul, Minnesota, he decides to take matters into his own hands.
Fitz buys a .38 revolver (This is the only really unbelievable part of the book. Like an unstable teenager would somehow be able to get a hold of a handgun in the United States–we have laws about that!). He waits until his father leaves for work one morning and then kidnaps him at gunpoint. They're going to have some father/son bonding time today. Ain't that right, Daddy?
Drinking Buddy: I'd Love to Dad, If I Could Find the Time…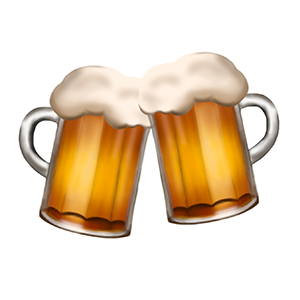 Now Cochrane could have easily made Fitz an emotional wreck, a lunatic, or a crybaby. He could have held the readers hostage (so to speak), making us wonder when Fitz is going to finally pull the trigger. Fortunately, he goes the other route. Fitz is very much just a kid who wants to get to know his father. When confronts him with his weapon, the very first place he makes them go is the zoo. To feed the sea lions. Fitz may be using a gun to prove his point, but inside, he just wants what he's been denied all these years: a dad.
Testosterone Level: So Much Like a Man I Just Had to Say…
Surprisingly, after the initial confrontation, the book stops being about the gun and starts being about Fitz, and his father, Curtis. Obviously, they both have a lot to answer for. Fitz begins to realize that his little handgun stunt might not have been the best way of introducing himself. And Curtis has to face the fact that you can't make your son vanish by sending a check every month. What starts as a tense hostage drama turns into a rather touching story of two men getting to know each other for the first time.
Talky Talk: My Child Arrived Just the Other Day…
The entire book takes place in one day. Though it's rather short (175 pages), that's still a very hard story to pull off. Cochrane has from the early morning, when Fitz first confronts his father, to the afternoon, when he has to explain things to his mother, to resolve the plot. That's not easily done. Every scene has to count, everyone is on the clock. This would be a good book for teen readers who are intimidated by lengthy books and don't like a lot of superfluous scenery descriptions and internal monologues.
Bonus Factor: Dad, C'mon Let's Play…
Curtis could have easily been the stereotypical absent father: a jerk, a whiner, or just a big disappointment for Fitz. Instead, after the initial carjacking awkwardness wears off, he realizes his son is someone a father could really be proud of. And he's had absolutely nothing to do with that.
During the whole book, Curtis never talks down to Fitz, grovels, or tries to make a deal for his release. Curtis is a rare example of a well-written adult character in YA. And since there are really only two people in this book, that's important.
Bromance Status: You Know I'm Gonna Be Like Him…
I wasn't entirely thrilled when this book showed up in my life, but now that I've gotten to know it, I want to spend more time with it. Not necessarily every weekend, but I can tell we're definitely going to make up for lost time.
FTC Full Disclosure: I received my free review copy from Random House. You'd think just once they'd slip a fifty between the pages, but nooooo….