About the Book
Title:
When You Get the Chance
Cover Story: Generic
Drinking Buddy: Millie Mood
MPAA Rating: PG-13 (adult situations, language)
Talky Talk: Mama Mia!
Bonus Factors: Internet Archaeology, School for the Creative Arts
Bromance Status: Castmates
Cover Story: Generic
Why bother to hire a cover designer if you're just going to paint another giant teen face? This cover could easily work for a good 60% of YA books with a female protagonist.
The Deal:
Millie Price lives, breathes, and exists for the theater. She's going to make it on Broadway and will do whatever it takes to succeed. So when she gets a accepted into an exclusive pre-college theater program in Ohio, she's all in. Except her introverted father wants her to stay with him in New York City. How the hell is she going to find acting work there?
Well, all she needs is the permission of one parent, right? Why not ask her mother? Except…she doesn't know who her mother is. All her dad ever told her was that her mom dropped her off as a baby one day and that was that. But her best friend Teddy does a little research and narrows the suspects down to three likely candidates: actress Steph, dance instructor Farrah, or musical-theater aficionado Beth. As soon as she can figure out which one had a fling with her father 17 years ago, she can have a family reunion. Just as long as her frienemy Andrew Yang doesn't mess things up for her.
Drinking Buddy: Millie Mood
Millie is someone who feels deeply, intensely, and kind of jumps in with both feet (unlike her father, an introvert to the nth degree). Instead of demanding to know who her mother is, she concocts this crazy plan. And she kind of realizes it's crazy. She understands she's emotional and impulsive, all good qualities in an actress. And it's not like she's having second thoughts about leaving behind her family and everything she knows.
MPAA Rating: PG-13 (adult situations, language)
So…Andrew. A guy who loves the theater, but the technical part of it, not the being on stage part. And he's been Millie's rival since they met as freshman. Arrogant, talented, and handsome…yeah, you know where this is going.
But it's a sweet, innocent romance, with two kids afraid to make the first move. And should Millie even make a move if she's going to be leaving New York for a year?
I also appreciated that there was zero romantic tension with Teddy, Millie's best friend from childhood. He's tall, not bad looking, and has everything in common with her…but they never even consider dating each other.
Talky Talk: Mama Mia!
As a theater geek, Millie recognizes how her three potential mothers situation mimics the ABBA musical. And of course there are complications. Steph ropes Millie into an internship, alongside Andrew. Farrah takes a shine to Millie's Aunt Hannah, unaware she's the sister of an old flame. Beth has a daughter who befriends Millie, not knowing they might be half-sisters.
Bonus Factor: Internet Archaeology
So to us Gen Xers, the internet is a recent phenomena, only a few years old. But it's about to turn thirty, and there are posts out there older than some college graduates. So when Teddy stumbles upon Millie's father's LiveJournal from 2003, she gets a look at her dad's thoughts from his college days and gets a lead on possible mothers.
Maybe it's not the nudes we have to worry about, but our moody 20-something rants about our romantic failures.
Bonus Factor: School For the Arts
Millie just got accepted into a full time pre-college school where she can study drama. Get the drop on everyone when she enters college for real in a year. Yes, she'd have move away from her father and aunt and Teddy. And yes, maybe Ohio isn't the ideal place to start one's acting career. But you have to do what it takes, right? Right?
Bromance Status: Castmates
I've liked this author before, and I'll like her again. See you at the wrap party.
Literary Matchmaking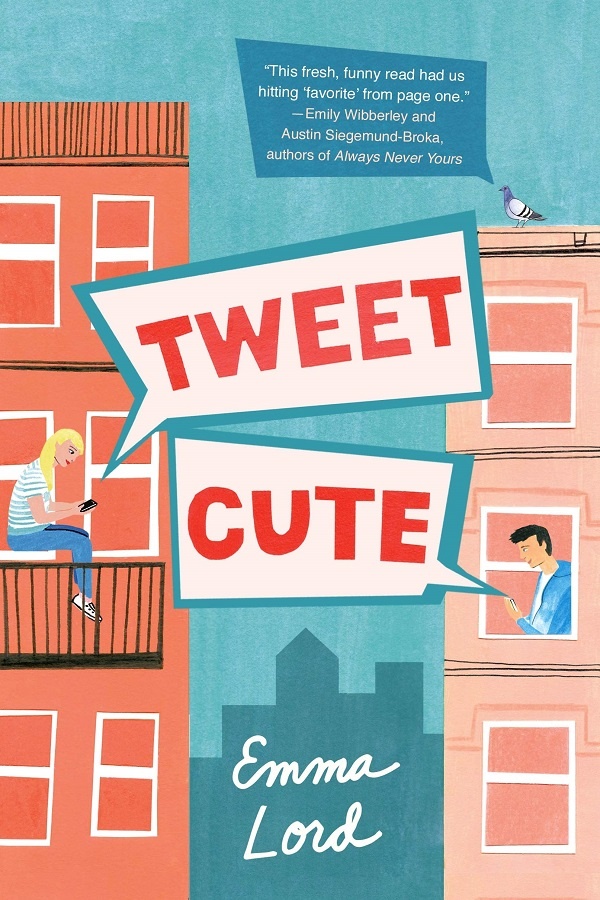 Tweet Cute
Tweet Cute, buy the same author, is another winner.
FTC Full Disclosure: I received neither money nor a handmade milkshake for writing this review.