About the Book
Title:
Whisper of the Tide (Song of the Current #2)
Cover Story: Fathoms Below
BFF Charm: Platinum
Talky Talk: Well Done
Bonus Factors: Returning Characters, Hidden Treasure, Duology
Anti-Bonus Factors: Shipwrecks
Relationship Status: Engaged
Cover Story: Fathoms Below
I like how the imagery has changed from a calm, moonlit night on the water to a churning sea under a storm-filled sky. It mimics the change in which god Caro thought she followed and the turmoil of her life. The purple and gold is also a pretty combo, plus the, uh, book tattoos around on the edges match the aesthetic of the first book; so, all around, I like it!
The Deal:
It's been three months since Caro promised her repurposed cutter, Vix, to Markos' service, bringing the number of ships in his navy to one. So far, in the grand scheme of helping him reclaim his kingdom, she's done less sailing and more bodyguard work, protecting him from would-be assassins and snooty nobles who refuse to back his claim. The sea god is frustrated with Caro, warning her that this is not the life she's supposed to be living.
Then Markos receives a letter of support from an Archon, offering soldiers to aid in taking back the throne—all he needs to do is marry the nobleman's daughter. Caro may not have a firm grasp on who she is right now, but she is certain that her name will never include the title Emparchess, and, suddenly, she sees the end of their relationship looming. Although it may hurt her to do so, she convinces Markos to accept the offer, and, as Markos' only ship, she has the dubious honor of picking up his new bride. But the sea god has her own plans, and Caro has ignored her one too many times. This just may be the first job Caro can't come back from…
BFF Charm: Platinum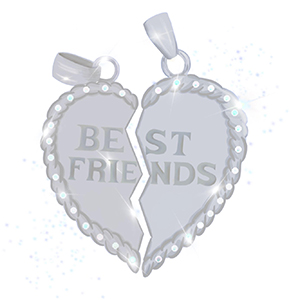 In my last review, I said Caro was a girl about to be tested. This book triples the stakes now that Caro is on speaking terms with a capricious god who could as easily kill her as protect her on the water. She's torn between her desires—to be with Markos and be her own captain, having adventures—and the hard truth that she can't have both, and she's also mourning the loss of her life on the river.
But Caro isn't the type to give up. She keeps her wits about her and is determined to survive whatever comes her way. She's a young woman learning some tough facts of life, but she's got the tenacity to thrive, which made her a fun and rootable character.
Still, I may steer clear of hanging out on her ship until she sorts out all this business with the sea god and Markos' assassins, because people have a habit getting into deadly situations around her.
Swoonworthy Scale: 7
In the words of the immortal Sandra Bullock from Speed, it's often said that relationships based on intense experiences never work. But so far, Markos and Caro have managed to keep theirs going strong, despite the large sword of Damocles Akhaia hovering above their heads. Caro dashes that tenuous happiness to pieces to protect Markos from making what she considers a foolish decision (refusing the offer of support simply for Caro's sake), but no one can turn off their feelings that easily, which makes for some tortured looks and intense longing for what you can't have.
Talky Talk: Well Done
There's something about Tolcser's writing that I'm really feeling. She writes action-packed scenes clearly; her slower, emotional moments are believable; there's plenty of funny lines without being too on-the-nose; and I felt connected to all the characters and wanted to learn more about them. (Future companion novel about Markos' sister, Daria, all grown up, perhaps?) While she could have gone deeper into the mythology of her own writing and spent more time on the political intrigue to really round out the worldbuilding, I'm kinda glad she didn't. Instead, this is more of a fun, rollicking, pirate-y adventure (but with plenty of heart to keep it grounded) and it felt like one of those "movies in book form" type stories. Tolcser used some tropes I really enjoy and gave the story a satisfying conclusion. I'll definitely be on the lookout for her future work.
Bonus Factor: Returning Characters
A few characters from the first book return unexpectedly, and one makes for an interesting and layered companion, perfect for adversarial snark and a good way to help Caro work through her own complicated guilt and doubt. One exchange in particular amused me (as an extreme spider-hater myself):
[REDACTED] brushed something off the shoulder of his jacket. "Find the book and let's get out of here. This place is full of spiders."
Bonus Factor: Hidden Treasure
Who doesn't love the possibility of vast amounts of gold sitting about for the taking? Someone has a very old map and no coordinates, but I've no doubt Caro can figure it out.
Bonus Factor: Duology
I love, love, love not having to wait for a third book. It makes it so much easier to read a continuing story—without waiting until the series is finished, like I normally like to do—when I don't have to think back more than a year from the last plot point.
Anti-Bonus Factor: Shipwrecks
They're just kind of a bummer.
Relationship Status: Engaged
I admire you, Book, and love what you're about. Our relationship will be based on mutual respect and understanding, not political power plays. I hope you accept this ring I offer, no strings attached.
FTC Full Disclosure: I received my free review copy from publisher/source. This review was originally posted on Kirkus Reviews in exchange for monetary compensation, which did not affect or influence my opinions. Whisper of the Tide is available now.