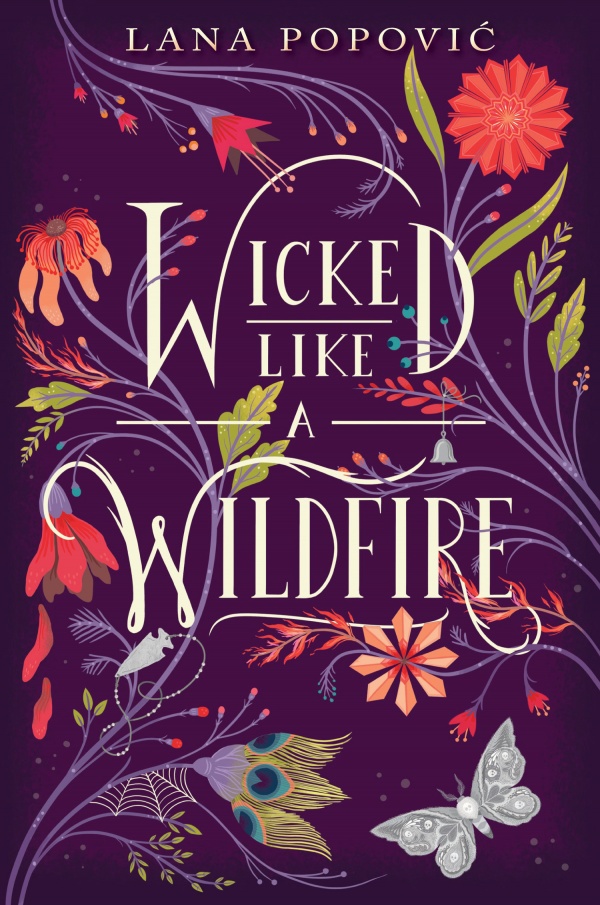 About the Book
Title:
Wicked Like a Wildfire
Cover Story: Montell Jordan
BFF Charm: Yay
Talky Talk: Purple Prose
Bonus Factors: Practical Magic, Montenegro
Factor: Series Starter
Relationship Status: Fall Break Fling
Cover Story: Montell Jordan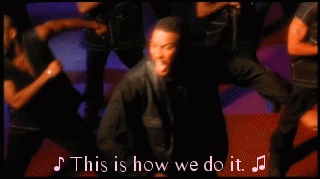 Heck to the yes, y'all. I love this cover a whole lot. Remove the words and I'd wallpaper my dining room in that floral print. The flowers are gorgeous, but I nearly died-in-a-good-way when I realized the moth had tiny skulls in its wings. Such a fun detail!
The Deal:
Twins Iris and Malina have always had "the gleam" – a magical gift that allows them to manipulate beauty. For Iris, the gleam lets her create fractals from flowers, while Malina can interpret moods with music. Their mother Jasmina taught them how to tap into these abilities when they were just babies, but made them swear to never tell a soul what they could do, and to never ever fall in love. Now, Iris is a teenager whose relationship with her mother is volatile, but she's made good on her promise to never tell anyone about the gleam – not even her best friend Luka.
But when someone attempts to murder Jasmina, leaving her clinging to life in a half-alive, half-dead state, Iris and Malina must set out to learn as much as they can about the gleam, and what sort of evil their mother was hiding them from.
BFF Charm: Yay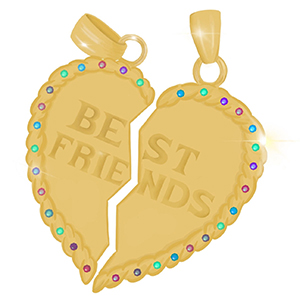 In the first few pages, Iris comes tumbling into her bedroom after a long night of partying, smelling of smoke and alcohol. She's unapologetic about sex, and she dresses in clothes that her mother considers slutty. She has a sort of zero-f*cks-given mentality about a lot of things – a bad bitch, if you will. And I liked that about her! But after her mother's attack, that aspect of her personality sort of went away, which makes me think it was all a show to get under her mother's skin. The Iris that emerges is fearless and protective of her sister, her mother and her friends, and always, always willing to sacrifice herself for others.
Swoonworthy Scale: 5
From, like, the first moment we meet him, it's clear that Iris has serious feels for Luka, her BFF since forever. But she spends most of the book denying it to herself and everyone around her, which is one of those annoying things that happens WAY more often in YA books than real life. Then, the mysterious and sexy Fjodar is introduced and we get what appears to be a love triangle that also sort of isn't? It's hard to get into specifics without spoilers, and anyway, swoon takes a backseat for most of the story while Iris and Malina figure out what the heck is happening to their mom. But when things *are* swoony, the reader is not left unsatisfied. ::fans face::
Talky Talk: Purple Prose
As purple and flowery as its cover, Wicked Like a Wildfire's prose is both gorgeous and superfluous. You'll get lost in Popovic's dreamy descriptions of the beauty of Montenegro, the beauty of the women in Iris' family, beauty of pastries and music and flowers – heck, at one point there was a whole page dedicated to the beautiful foods Iris was given to eat (ugh, drool). And while it can be fun to get lost in all of the poetic writing, it can also distract from the plot. I'd come out of a descriptive few pages and have to remind myself what was going on before I could keep reading. To be honest, this book was 400 pages when its story could've easily been told in 300. There is absolutely a type of reader who loves this sort of writing, and while I appreciated the poetry of Popovic's words, I also felt like it took me longer than normal to finish this book because of the lack of forward propulsion.
Bonus Factor: Practical Magic
Witchy sisters in a setting so dreamy and whimsical it's almost a character in and of itself (see below). While this book wasn't as campy as the Bullock/Kidman masterpiece, I will never turn down a sister witches story, ESPECIALLY in October.
Bonus Factor: Montenegro
This is absolutely one of those books that will have you planning a vacation to another country before you even set it down (see also: Daughter of Smoke and Bone and Anna and the French Kiss). Did you know you wanted to visit Montenegro? Because I didn't until I started reading this book. Popovic hails from Serbia, a neighboring country, so the descriptions never feel surface. Get ready to be immersed in Montenegrin culture.
Factor: Series Starter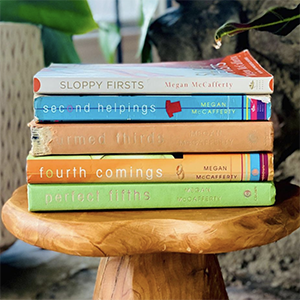 Wicked Like a Wildfire is the first book in the Hibiscus Daughter duology, with the second book being published next fall. And like most series starters, that means you can expect lots of world building, a cliffhanger ending, and some unresolved stuff-and-things in these pages.
Relationship Status: Fall Break Fling
Book, you're gorgeous and you know it, and while we may not be soul mates, I can see myself revisiting you every fall break, because you've got those strong witchy vibes I'm into this time of year.
FTC Full Disclosure: I did not receive money or Girl Scout cookies of any kind (not even the gross cranberry ones) for writing this review. Wicked Like a Wildfire is available now.