About the Book
Title:
Windwitch (The Witchlands #2)
Cover Story: Airbending
BFF Charm: Make it Rain
Talky Talk: Fantasty
Bonus Factors: Secret Identity, Quests
Factor: Sequel
Relationship Status: Reunited and It Feels So Good
Red alert! Windwitch is the second book in The Witchlands series. If you have not read the first book—Truthwitch—man your battlestations turn away now, as there might be spoilers in this review. If you're caught up, however, feel free to continue below.
Cover Story: Airbending
This cover is deceptively simple, for all its "this is a painting that belongs in an art museum" quality. There's something very mysterious about it, and the longer you look, the more you notice. For example, the figure on the cover seems to be floating above the ledge. And there's a fire burning in the city below. It's a cover that absolutely draws you in and entices you to want to learn more.
(I really like the updated cover, too, but I feel like this one's more mysterious, and therefore more intriguing.)
The Deal:
Best friends and Threadsisters Safi and Iseult are separated, struggling to keep themselves alive. Safi's stuck with the Empress Vaness, who can't take a joke, and Iseult's being hunted by the Bloodwitch Aeduan, who's struggling to see the larger picture.
And then there's Prince Merik, who everyone—including the sister who might or might not have had a hand in his "death"—thinks is dead. He's back at the capital, alive but disfigured, trying to unravel the threads of his attempted assassination and leaning in to the nickname the people of the city have given him: The Fury.
Each person has a part to play in the larger plot to save and/or destroy the Witchlands, but what those specific roles are has maybe yet to be determined.
BFF Charm: Make it Rain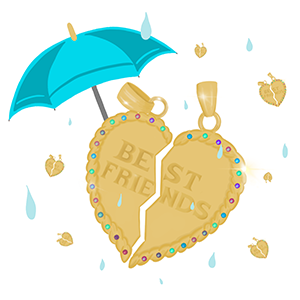 I absolutely adored both Safi and Iseult when I met them in Truthwitch, and I continue to think they're ideal BFF material (even if it would be nearly impossible to be the third person in their friendship). They take a bit of a backseat to other characters in Windwitch—it's more Merik's story—but they continue to be excellent.
Merik took a bit of warming up to, and I struggled with some of his, well, temper tantrums in this book. That said, I have to give the guy a bit of a break; he's been through A Lot and is feeling pretty crappy about everything from his injuries to the fact that his sister more than likely tried to have him killed.
And then there's Aeduan. He's a little bit Mysterious Loner Dude, a little bit grey character. But we learn more about him from his POV in Windwitch, and there's definitely a lot of BFF promise there. (Maybe even some Let Me Love You BFF promise.)
Swoonworthy Scale: 5
One of my Witchlands OTPs isn't together for any of Windwitch, which had an impact on the swoon. (And there's maybe a love triangle brewing?) The other is only starting to ramp up. I can be patient … but I don't have to like it.
Talky Talk: Fantasty
I loved getting to know more about the other characters we met in Truthwitch in Windwitch. Dennard's characters are well-rounded and realistic—as much as someone who can control winds or smell someone's blood from hundreds of miles away can be realistic, natch—and complicated in the very best of ways. Her world-building is excellent, too, and she does a great job of expanding the world of the Witchlands in Windwitch without making it too large (i.e., confusing). Although this is only the second book, it's obvious that, when all is said and done, the series will definitely earn an Epic Fantasy categorization.
(So you don't think I made a typo on accident: Fantasty = Fantastic+Fantasy)
Bonus Factor: Secret Identity
Merik doesn't love when people call him The Fury, since the nickname is the same as the name of a deity who's not a very nice dude, but he eventually realizes how useful secret identities can be. And really, "I am The Fury" is a pretty badass catchphrase.
Bonus Factor: Quests
Quests are a pretty standard trope of fantasy novels, but I'm always a fan. The quests in Windwitch are more of the "run for your life" kind rather than "let's go find rich stuff" adventures, but they help add to the plot's tension and make for quality enemistry-to-lovers type moments.
Factor: Sequel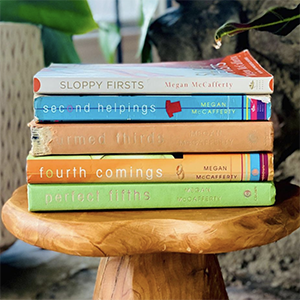 Windwitch is the second book in a series that already has four released books (one being a novella), and there are at least two more to come. It's not a Bridge Book in the bad sense, but very little gets resolved; in fact, more storylines are introduced.
Relationship Status: Reunited and It Feels So Good
I'm really ashamed that it took me so long to get back together with you, Book. I had SUCH a good time on our first date, and had every intention of keeping in touch … but life, as it so often does, got in the way. But I'm back, Book! And making an effort. No empty promises this time. I can't wait to get this thing back on track and see where it goes.
Literary Matchmaking
Roar (Stormheart #1)
For more elemental magic and badass lady main characters, check out Cora Carmack's Roar …
FTC Full Disclosure: I bought a copy of this book with my own money and got neither a private dance party with Tom Hiddleston nor money in exchange for this review. Windwitch is available now.