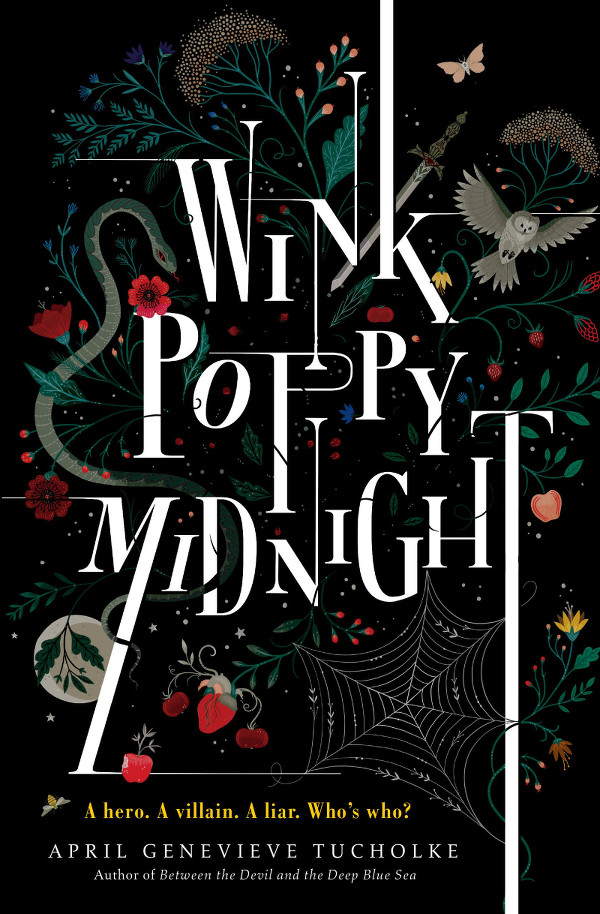 About the Book
Title:
Wink Poppy Midnight
Cover Story: Sneaky
BFF Charm: Mixed Bag
Talky Talk: Toeing the Line
Trigger Warnings: Teenage Torture
Bonus Factor: Fairy Tales
Relationship Status: Call Me, Maybe? Or Maybe Not?
Cover Story: Sneaky
Although, at first glance, this cover isn't as dark as the story within can be, look closer and you'll see a few dark elements mixed in with the other more innocent motifs.
The Deal:
Midnight has lived nearly his entire life next to Poppy, gorgeous Queen Bee and all-around awful human being. Poppy knows that Midnight's in love with her, and she uses that to her advantage every chance she can get, even though she barely even likes him. Wink is one of the strange Bell kids who everyone in town makes fun of, but it never seems to phase them.
When Midnight moves next door to the Bell farm, he gets to know Wink past her strange exterior. The two immediately have a connection that defies convention. And when Poppy notices, she suddenly hates nothing more in the world than seeing the two of them happy. However, nothing is quite what it seems, and no one is ever a complete innocent.
BFF Charm: Mixed Bag
Wink Poppy Midnight is told from three different perspectives, that of Midnight, Poppy, and Wink. None of them are what they seem at first, and all have parts of their personalities that are both appealing and surprisingly repulsive. I really don't know how I feel about any of them.
Swoonworthy Scale: 3
Certain aspects of Wink Poppy Midnight are swoony, and others are the complete opposite. It's an interesting mix.
Talky Talk: Toeing the Line
Wink Poppy Midnight is one of those books where, if you're anything like me, you'll need to sit for a while after finishing it to think about what you've just read. A few days later and I'm still not quite sure how I feel about the story, but I do know that April Genevieve Tucholke definitely wove a unique and engaging tale. At certain parts while reading, I felt like the book was going to veer off into magical realism, but it always steered away before it crossed the line completely. At times I was entranced by the beauty of Tucholke's words; at others, I shuddered at just how dark the situations became. And although I feel like the characters were certainly well-written, there is a haunting quality to their personalities that made them almost otherworldly.
Trigger Warnings: Teenage Torture
Teenagers can be really crappy people, and when they're left to their own devices to "get back" at someone who's making their lives awful, they often go too far—or farther than the person they're getting vengeance at ever would. In Wink Poppy Midnight, someone is left, overnight, tied to a piece of furniture in creepy abandoned house in the middle of a forest. I hope no one reading the book has ever experienced such a thing, but it's a pretty brutal situation regardless.
Bonus Factor: Fairy Tales
One of the characters in Wink Poppy Midnight is a natural storyteller, and makes up stories to tell her younger siblings, or reads them tales from unknown to me books. Many of the stories are more similar to Grimm's originals in feel than the Disney versions, and they play into the larger plot of the book in intriguing and unexpected ways.
Relationship Status: Call Me, Maybe? Or Maybe Not?
I think I enjoyed our date, Book, but I'm honestly not certain. You made me a little uncomfortable at parts, but in others I felt entranced by your stories. Do I want to get together again? I don't really know. But if you call me, I might say yes?
FTC Full Disclosure: I received my free review copy from Dial Books. This review was originally posted on Kirkus Reviews in exchange for monetary compensation, which did not affect or influence my opinions. Wink Poppy Midnight is available now.