About the Book
Title:
Winterkeep (Graceling Realm #4)
Cover Story: Magic Eye
BFF Charm: Make It Rain
Talky Talk: Enchanting
Bonus Factors: Worldbuilding, Telepathic Animals
Anti-Bonus Factor: Dan Scott Award for Awful Parenting
Relationship Status: Sea of Love
This is the fourth book in the Graceling Realm series, but if you haven't read any of the previous installments, you can still dive right in to this one with no trouble. However, there are a few spoilers about what happens in the earlier novels, especially Graceling and Bitterblue, so just be aware!
Cover Story: Magic Eye
Okay, so this cover is WAY more gorgeous than any Magic Eye poster I've ever seen, but I stand by the comparison, because the more you look at it, the more you start to see elements from the story, like a blue fox, an important key, and is that a tentacle I spy? Plus the colors are absolutely luscious, swirling together in a sea that rivals Winterkeep's ocean.
The Deal
It's been a few years since the events of Bitterblue, but our fierce little queen remains on the throne of Monsea. With the Council still in action, Giddon (yes! Giddon is back!) continues to smuggle Gracelings from Estil, where they are treated as property, to Monsea, where they can be free. The main thing that has changed is a big one–contact has been made with a whole new continent (Torla), and Bitterblue has sent an envoy to Winterkeep, the closest nation in that land. Unfortunately, the envoy's ship goes down, so Bitterblue decides to make the trip herself, with Giddon and Hava, her Graceling half-sister, by her side. The mission is one of diplomacy, not to mention curiosity, as Winterkeep is a technologically advanced society, but there is also the mystery of what happened to the envoy, especially since Bitterblue's on-and-off again boyfriend, Katu, seemingly vanished around the same time.
Meanwhile, across the sea, we meet Lovisa Cavenda, whose parents both work in the Keepish government. Lovisa is a no-nonsense student of political science, but she could care less about all of the debate surrounding the vote to legalize zilfium, an element used as fuel by neighboring countries. Due to its pollutive nature, it's always been banned in Winterkeep, which has a strong tradition of environmental conservation thanks to legends of the Keeper, a giant sea monster charged with protecting nature at any cost (including human life). Lovisa, like most people, considers the Keeper to be a fairy tale, but as her path slowly verges with the Monsean crew, she quickly discovers an uncomfortable truth: she might be a know-it-all, but everything she knows? Yeah, it's wrong.
(You probably think I just spoiled like half the book for you but I promise, this is simply the tip of the iceberg.)
BFF Charm: Make It Rain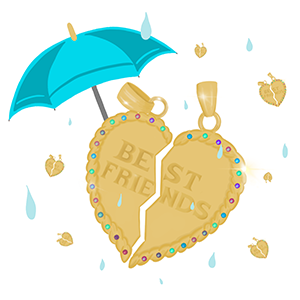 Y'all, I have never wanted a group hug from a book so hard in my life. Where to begin?!
I was already a big fan of Bitterblue and Giddon from the previous novel, but it's lovely to see the former with a few more years of healing under her belt. While her heart remains sweet and tender, the queen has grown into her power–she's comfortable in her authority–and she leads with confidence and compassion. She's still human, however, and in Winterkeep, we get to witness perhaps my favorite side of her: the drunk side! Well, technically, she's not drunk as much as under the influence of an anti-nausea tea with side effects that include acting crazy high, which for Bitterblue means referring to herself as "Queen Glitterboo" and being a g-d delight. Girl, let's party.
As Meghan wrote in her review of Bitterblue, Giddon is gentle giant of the sexy variety, but he's so head over heels for Bitterblue that I couldn't bear to insert myself between them, thus the regular (i.e. no benefits) BFF charm. He's SUCH a good dude, and it made me melt to see how much he cares not just for Bitterblue but also for prickly Hava and every single Graceling he freaking saves. Plus, there's the very becoming attribute of his humility–he thinks he's an idiot, but he's constantly giving great advice like this to Bitterblue:
"It's not your fault," he repeated firmly. "It's your burden. But it's not your fault. There's a difference."
Then there's Lovisa, whose standoffish nature might not make her seem like an obvious bestie candidate, but damn, did my heart go out to her. She's got heinous parents (more on that below) who have really done a number on her emotions, and by "number" I mean robbed her of them almost completely. But in spite of that (or maybe because of it?), she's a bold one, a straight shooter with keen eyes and a sharp intelligence that allows her to cut through the BS like so:
But the Keeper wasn't powerful because she was just. Her power came from being big. Anyone that big could gather worshipers and call herself a hero. It made Lovisa wonder if a hero was ever anything more than a bully.
Lovisa always speaks her mind, and I love her for it:
"Why shouldn't I ask about it directly?" she said. "Would it be so terrible for everyone to say what they mean when they do things, and what they want, and why? Wouldn't it make things simpler, and create fewer disasters?"
Last but not least, we've got Nev, a classmate of Lovisa's, and Quona Varana, an older woman from one of the elite Winterkeep families. Nev is rad as hell and puts up with Lovisa even though the latter treats her as lesser because she's from the backwoods of Torla. And Quona is a badass environmentalist whose future, I believe, includes being the new patron saint of Cat Ladies.
Swoonworthy Scale: 5
Let me be real with you: if you're looking for the smokin' hotness of Graceling, you're not gonna find it here. But, dear reader, this book doesn't need it. Giddon and Bitterblue have an entirely different chemistry than Katsa and Po, because their relationship started on completely different footing, with Giddon nine years older than the queen. Because of that, the romance builds softly and slowly, and while I'm usually dying for people to kiss already, I was happy to patient–especially because there's SO MUCH HAPPENING elsewhere.
With that said, you'll be happy to know that Kristin Cashore's sex positivity remains in full effect. The Graceling Realm is a shame-free zone!
Talky Talk: Enchanting
It's been quite a few years since Bitterblue was published, so I'll pardon myself for completely forgetting what a freaking wizard Kristin Cashore is. Just, WOW. Winterkeep is the best kind of fantasy, a novel teeming with rich imagination that enhances–and never overwhelms–the very human story at its center. With vivid, dynamic storytelling and charming humor, Cashore weaves a tale that will leave you mesmerized, not to mention inspired, because this is a book made powerful by the vital truths it espouses. Things never get preachy, of course, but the messages are clear, from the importance of environmental conservation to the fact that everyone, everyone, is worthy of love.
Don't @ me, but I think this might just be the best novel in the series.
Bonus Factor: Worldbuilding
It's such a treat to travel with familiar characters to a whole new setting, especially one as fascinating as Winterkeep. In addition to the usual things you look for in real estate–democracy and good schools–this place has some really cool shit, like airships (picture a boat with a balloon) and telepathic animals (more on that below). The language is also a total trip, particularly the Keepish word for "balls," which is "kittens," because they're both so delicate. Heyo!
In fact, the only thing that might cost it a star on TripAdvisor is the amble, which is a giant outdoor market maze that you can only leave once you've made a purchase. I'm… okay with that?
Bonus Factor: Telepathic Animals
If you don't already follow fox accounts on Instagram, YOU WILL after reading this book. Winterkeep has a special breed called blue foxes, and if you're lucky enought to bond (i.e. be chosen) by one of them, you can share thoughts back and forth. So dope, right?! We get to spend some quality time with Adventure Fox (he goes by Ad), who belongs to Lovisa's mother and definitely has a crafty agenda of his own. I am *obsessed* with this little guy. Then there are the silbercows, which I picture as having the body of a manatee and the brain of a dolphin. These mystical marine creatures can also telepathically communicate with humans if they choose to do so, and dang, I wish I could follow the WinterkeepAnimalsDoingThings Insta.
Anti-Bonus Factor: Dan Scott Award for Awful Parenting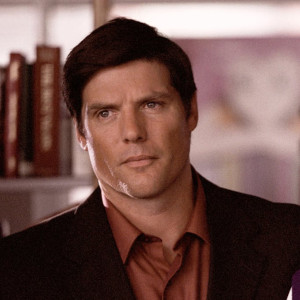 I can't get into it too much without revealing some twists, but trust me when I say that Lovisa's parents (Benni and Ferla) totally suck. They are, at least, extremely complex villains, and I can't recall the last time I read a scene as chilling as when Ferla, who is trying to fake being scared, recalls the expressions of her children and starts to imitate them. Yeeeeeowza.
Relationship Status: Sea of Love
Book, Iiiiii wanna tell you… just how much… I love you! The day we met, that's the day I knew you were my pair, thanks to your masterfully crafted world, your winning characters, and your hell of a story. So if I haven't made it clear with this lengthy review, I am shipping us together in a major way, and time won't water down how much I cherish you.
Literary Matchmaking
FTC Full Disclosure: I received a copy of this book from Dial Books for Young Readers, but got neither cocktails nor money in exchange for this review.