About the Book
Title:
Within Ash and Stardust (The Xenith Trilogy #3)
Cover Story: All By Myseeeeelf
BFF Charm: Torn
Talky Talk: Rinse and Repeat
Bonus Factors: Alien Traditions
Relationship Status: Free At Last
Careful, Sweetie: spoilers! This is the third book in the Xenith series, so if you haven't read Amid Stars and Darkness and Between Frost and Fury, you should probably hop back in the TARDIS and go curl up in the library by the pool with the first book before continuing.
Cover Story: All By Myseeeeelf
That couple at the top is going to get some serious bruised lips and bloodied teeth flying at each other like that. These covers are serious brown-baggers with the exception of the pretty colors…
The Deal:
After Delaney and Trystan's near-death experience in which Olena, the bratty princess turned traitor, and Pettus, Delaney's friend and bodyguard, were killed for trying to kill and protect them (respectively), life on this alien planet is getting a bit heated. Trystan's father, the Rex, is hellbent on a hostile takeover and becoming a very NOT benevolent dictator, and it's up to Delaney's rag-tag band of royal and government misfits to stop him.
But regardless of what happens, nothing Delaney chooses will allow her to get off of this rock without consequences. Does she abandon the Vakar people (for whom she is currently their only Princess and heir to the throne now that Olena is officially a goner) and go back to her normal life on Earth with Ruckus? Or does she step up to be a leader and go through with an arranged marriage to Trystan, who declared his love for her right before he slipped into a coma? Decisions, decisions.
BFF Charm: Torn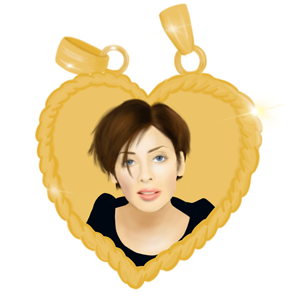 By this book Delaney has kind of accepted that her life is nuts and isn't constantly complaining about why her situation, which is a bonus. She's become a lot more capable with a gun and isn't putting up with both Ruckus and Trystan's attempts to protect her, which on one hand is like, yeah—girl power! and on another is completely exhausting because she has to constantly reprimand them and play peacemaker. Delaney also starts thinking through the ramifications of being Vakar's heir and what it would mean to the people if she left, but then she loses points for being so wishy-washy about her romantic feelings. Unfortunately the plot demands she not make up her mind until the very end, and that made her character growth suffer. I couldn't love her, but I couldn't quite hate her—oh, no, I guess I'm just as wishy-washy! Damn.
Swoonworthy Scale: 3
I was quite disappointed with the lack of decent swoon in this romance novel. Delaney wants to keep pretending she's in love with Ruckus, but her eyes keep following Trystan wherever he goes, and they're all just jealous and grouchy. In my opinion, Delaney needed to engage in more hot make-out scenes, ya know, for science, but instead she worried a lot and made sure she spent equal quality time with both Trystan and Ruckus in a weird, unhealthy threesome that didn't lend itself to stolen kisses or anything really fun.
Talky Talk: Rinse and Repeat
I had to finish this series. For some reason, my mind wouldn't rest easy until I found out who Delaney picked. It's quite annoying that this is the series my mind chose to get stuck on, because this isn't the best trilogy. This book in particular needed a lot of edits and more plot-meat to shine. There was way too much discussing of the plan, the plan not going smoothly, someone getting captured because they failed to think two steps ahead of their enemy, and then having to go rescue captured person before discussing the NEXT plan.
Plot was never this series' strong suit—we were here for the ridiculous romance, but once Within Ash and Stardust stuck all three points of the love triangle together, it waffled for too long. Delaney had to make her choice between the boring foot soldier and going back to being a regular Earth teen, and the tortured, problematic (but sexy because, remember, he's Alexander Skarsgård) prince and being a queen of not one, but TWO alien people. There is no real choice here. Just do the cooler one and let's get on with the kissing.
Bonus Factor: Alien Traditions
At one point the characters take a break from all the plotting and visit this massive indoor market, which sounded really fun. In the center there's an ceiling opening where, during a certain time of year, a bunch of stardust comes down in droves, and couples melt it together to make gifts for one another. Count me in for playing with glittery things!
Relationship Status: Free At Last
Did you pull some alien mind-trick on me, Book? I felt compelled to be near you for a brief period of time, but now that I've finally found out your secrets I feel like we can part ways with zero tears or drama, and both go live our best lives.
FTC Full Disclosure: I purchased my own copy of this book. I received neither money nor peanut butter cups in exchange for this review. Within Ash and Stardust is available now.