About the Book
Title:
The Year They Fell
Cover Story: Soothing Waiting Room Art
BFF Charm: Make It Rain
Talky Talk: Character Driven
Factor: Family Secrets
Anti-Bonus Factor: Sexual Assault
Relationship Status: Let Me Love You
Content Warning: Aside from being a book about the loss of a parent, there are mentions and non-explicit flashbacks of a character's prior sexual assault.
Cover Story: Soothing Waiting Room Art
The soft-focus, cloudy sunset is the perfect, non-invasive art piece to hang in a waiting room somewhere. Inoffensive and non-threatening, it's certainly not doing the book any favors, but I struggle with what could've been used instead.
The Deal:
They met back in preschool. Five kids—Archie, Dayana, Harrison, and the twins, Josie and Jack—who were so inseparable that year their parents call them "The Sunnies" after the school they played at. Eventually, the pressures of school and its cliques forced the friends apart, but their parents stayed close; so close, in fact, that they vacationed together every year, sans children. And unfortunately, this is what kills them. As a small plane accident in Anguilla wipes out three out of four sets of parents (Dayana's parents missed the flight due to an expired passport) in an instant, suddenly senior year—and the rest of the their lives—is looking a lot different.
Over the next nine months, can five very broken people drowning in grief learn to work together to save one another?
BFF Charm: Make It Rain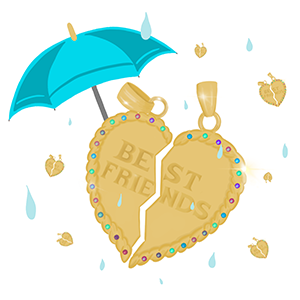 Some of our relationships started off a little rocky, but, ultimately, there was something I liked about each of the characters. I viewed Dayana as a kind of reluctant leader, the glue holding everyone together. Especially since she feels a sort of survivor's guilt that her parents were the only ones to survive by virtue of her dad's accidental laziness. She's been self-medicating and bitter about feeling left behind years ago, but when she's needed, Dayana's an observant and loyal friend.
Josie and Jack, the popular and gorgeous twins who rule the school, have long been hiding secrets under perfect exteriors, but now the mess is spilling out, and I appreciate them more for it. Artful, sensitive Archie has a younger sibling to care for, but he seems more interested in his boyfriend and Insta followers than grieving with his older brother. Then Archie's blogger aunt writes up all the sordid details of "The Sunnies" and their parents' deaths, turning their tragedies into unwanted internet celebrity.
And all tightly-wound Harrison felt he had in his life was his mother and their meticulously detailed plans for his academic future. Without her ever-present to-do lists telling him where to go and what to do and his deadbeat dad showing up at his door, how's a guy supposed to cope?
They're all grieving in their own ways, but each one needed a good hug from a competent older sibling, and I feel like, as an Old, I can be that for them.
Swoonworthy Scale: 4
Archie has always been in love with Josie, and it seems that even after years of her ignoring him, the ember still burns slow and strong. With Josie's past, she's afraid of getting too close to anyone, but Archie is sweet and earnest. Their moments together, brimming with a shared history and Josie's secrets, is exactly the right amount of romance for such a serious book.
Talky Talk: Character Driven
The Year They Fell is a quiet novel that emphasizes characterization over titillating plot-driven moments. The author doesn't give us time to learn who these characters were before their life-altering event, but it almost doesn't matter. Their actions after are what count now, and, for some of them, this new-found independence, in effect, shakes them awake from a life half-lived. Josie refused to deal with her trauma by crafting a meticulous illusion of the happiest version of herself, while Dayana uses prescription pills and alcohol to hide her loneliness and her family's dysfunction. After the fallout, it becomes tougher for all of them to maintain their former facades, but what we find underneath is infinitely more compelling. I found myself staying up past my bedtime, wanting to see how these five teens, who had to grow up way too fast, turned out.
Factor: Family Secrets
As with any good drama, sometimes after one dies, not-so-pleasant things come to light. Sometimes the thing is a secret better left untold, or maybe it's a person better left unfound. Other times, without that person standing right in front of you waving their hands in distraction, you begin to see them in a truer, more honest light.
Anti-Bonus Factor: Sexual Assault
Josie was groomed and taken advantage of by her former softball coach. It ruined her love of softball and her self-image, and caused her to withdraw from the people who could've helped her. Child predators deserve the flame-iest part of Hell. The resolution of this deplorable storyline is a bit wish-fullfillment-y, but oh-so-satisfying.
Relationship Status: Let Me Love You
You made me sad, Book, but you also left me feeling kinda hopeful. I'd do a lot to make you smile. C'mere and gimme a hug!
FTC Full Disclosure: I received my free review copy from Imprint. I received neither money nor peanut butter cups in exchange for this review. The Year They Fell is available now.