About the Book
Title:
You and Me at the End of the World
Cover Story: Cotton Candy Apocalypse
BFF Charm: Yay + Roger Murtaugh
Talky Talk:He Said, She Said
Bonus Factors: Ballet, Rock Bands
Relationship Status: Once Upon a Dream
Cover Story: Cotton Candy Apocalypse
I think this cover is…fine? It's sort of boring but gets the idea across. I received a copy of this in the mail and it sat on my shelf for awhile, and I'll admit this cover didn't get me totally jacked to read it ASAP. Which is unfortunate because once I did read it, I thought it was great!
The Deal:
It's been five days since Hannah Ashton woke up at home in Houston and everyone was…gone. Not just at home – everyone in Houston was gone. She hasn't seen another soul until the day she runs into Leo Sterling. Hannah has seen Leo around school. He is hot, cool, and always has a new girl on his arm. Leo has seen Hannah around too, but knows her only as "Ballet Chic." She's tall and striking and poised and…beautiful.
With only each other for company, Hannah and Leo set out to explore their abandoned city. As they try to figure out where everyone went (Is this the Apocalypse? A hurricane evacuation? Are they dead?), they have time to get to know each other and themselves a little more. But when strange things begin to happen – deadly weather phenomena and mysterious lights appearing in the night, for example – Hannah and Leo realize their time together may soon come to an end.
BFF Charm: Yay + Roger Murtaugh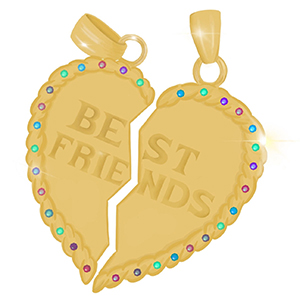 Hannah is your classic over-achieving, hardworking, ballet-obsessed dancer. She keeps to herself at school, except for when she's with her best friend, and she REALLY needed someone (a.k.a. Leo) to bring her out of her shell and teach her to loosen up. I liked Hannah, she had a great, wry sense of humor. And she was clearly dealing with some complex emotions about her relationship to ballet and disappointing her famous ballerina mother.
Leo wasn't bad either. But listen, I am not a teenager, and there was a time when I would have been impressed with his charming-rock-god-in-tight-pants personality. But that time ended in my early twenties. I spent more time rolling my eyes at Leo than wanting to be his friend.
Swoonworthy Scale: 7
Hannah and Leo's relationship had all the hallmarks of budding romance. They'd noticed each other at school and were intrigued by one another. But now that they're seemingly the only people left in Houston, things are more complicated. Do they wanna make out? Yes! But are they both pretty hesitant to make out with the only person they have in a survival situation? Also yes! There's good tension between trauma-bonding and we-can't-screw-this-up.
Talky Talk: He Said, She Said
In You and Me at the End of the World, the point of view alternates between Hannah and Leo, both in the strange empty-Houston present and in flashbacks. Bourne does a solid job of keeping up the air of mystery around why Leo and Hannah are in this strange place. Even when I felt pretty sure I knew what was going on, I had to see it through to the end to find out. My only real issue with the writing was the way Hannah and Leo could only seem to talk about ballet and music, respectively. More on that below.
Bonus Factor: Ballet
I waffled on weather to call this a BONUS factor, or just a factor. If you're into ballet, then hey – this book contains a lot of it! But every single thought Hannah had, every reference she made, every comparison and memory: all ballet. It almost made her seem a little one dimensional. She's clearly got a complicated relationship with ballet, so you'd think that she might want to think or talk about something else for once.
Bonus Factor: Rock Bands
Same for Leo and music. If you want to read a book about a guy obsessed with being in a rock band, HERE YOU GO.
Relationship Status: Once Upon a Dream
While there were a few details I took fault with, they were minor in the grand scheme of things. Bourne delivered an ending that felt like receiving an emotional gut-punch and releasing a long-held breath all at once. I suspected I'd figured out what was going on mid-way through the book, but there was no way I was going to stop reading until I knew how it ended.
Literary Matchmaking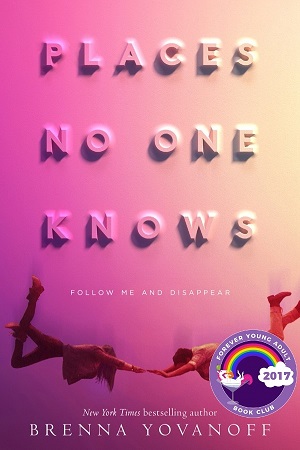 Places No One Knows
For a magical realism story about two teens experiencing a weird time/space blip, check out Places No One Knows by Brenna Yovanoff.
If I Stay (If I Stay #1)
In If I Stay by Gayle Forman, Mia's having an out-of-body experience. She's not alive, but she's not dead either – and she's got a big choice to make.
FTC Full Disclosure: I received a free review copy of this book from Scholastic. I did not receive money or Girl Scout cookies of any kind (not even the gross cranberry ones) for writing this review. You and Me at the End of the World is available now.