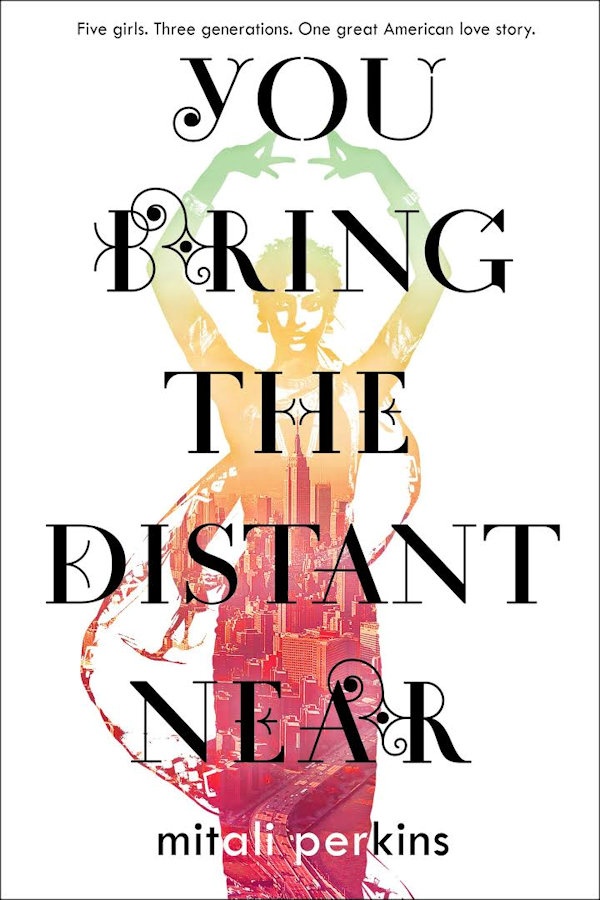 About the Book
Title:
You Bring The Distant Near
Cover Story: Dancing Queen Goddess
BFF Charm: Yay, Meh, Yay, Eventually
Talky Talk: Slice Of Life
Bonus Factors: Diversity, Feminism, Tasty Business, Family
Anti-Bonus Factor: Racism
Relationship Status: Family Dinner Guest
Cover Story: Dancing Queen Goddess
The riot of color that make up the woman on the cover is very pleasing to the eye, though, um, ma'am? You seem to be harboring a city in your skirts. That seems like an uncomfortable way to dance.
I'm also going to use this space to say I absolutely adore this title and I'm happy the author included the poem/song it comes from in the front of the book. It's a lovely sentiment and perfect for the novel.
The Deal:
Sisters Sonia and Tara are used to moving around, but they're hoping that their recent passage to America will be the salve that heals their fractured family and gives them all that they're looking for. Their mother, Ranee, has always been a force to be reckoned with, while Baba is the gentle and kind one, and theirs has never quite been a peaceful home life. When an accident splits their family apart, each girl finds their comfort and strength in things their mother doesn't approve of, and after that home is never quite the same.
Years later, Ranee is determined to use her second chance with her granddaughters to make them into good Indian women, but they may end up teaching her more than she realizes. Author Mitali Perkins uses the lives of these five woman to ask tough questions, like do we ever really know what to leave or pass on from one generation to the next? Is it possible to lose too much of your heritage when you leave your home country behind? And can you ever feel at home in a world so different from your own?
BFF Charm: Yay, Meh, Yay, Eventually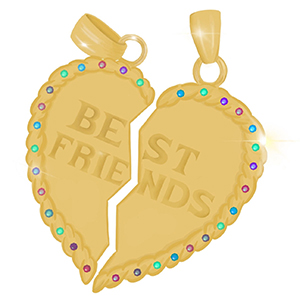 All fifteen-year-old Sonia craves is a library card and a quiet place to write her thoughts down in her journal. Hi, teenage me. She'd probably be mad jealous of me, though, since I was an only child with a chill mom and copious amounts of time to journal away with my gel pens (but her fire escape haven sounds pretty cool). Overall I liked both teen and adult Sonia, a woman who both champions for human rights and writes her way into a free vacation to Paris.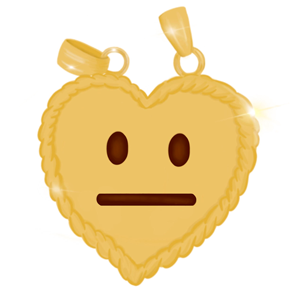 Tara's chapters lack the introspection of Sonia's, and while I empathized with her situation, I couldn't relate to her need to mold herself someone totally different just to get through her school day (she picked Marcia Brady as her American role model). Try as I might, I've never been able to fake much of anything, let alone adopt a whole new persona. It felt like even the author didn't find Tara that compelling of a character as she basically dropped off the planet in the second half of the book.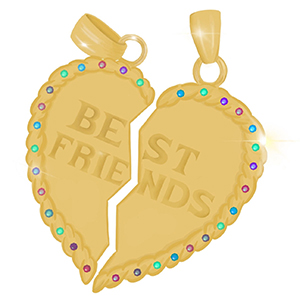 Chantal (Shanti to her family), on the other hand, is Sonia's daughter and is, surprise surprise, quite a delight. Her cousin, Anna, sees her as the golden child since she can both play basketball and get excellent grades, but she's also a genuinely nice person who, bless her, tries to play peacemaker between her strong-willed grandmas.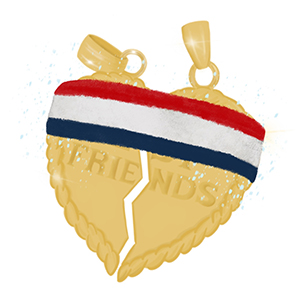 When Anna first arrives in New York after being summarily dumped there by her Bollywood mom and banker dad, she's a bit snooty and standoffish towards her American family. But her interactions with Ranee and her sewing club went a long way towards softening her up, and by the end I knew we could chill as long as she didn't ask me to use a sewing machine (they actually hate me).
Swoonworthy Scale: 3
Between the five women there are a lot of romances flying around this book, and while none really brought the zing-a-ling, they did have a sweet and hopeful air about them. From Ranee and Ranjeev's occasionally tumultuous arranged marriage to Sonia and Lou's somewhat controversial (for their parents, at least) interracial courtship, you could tell that the focus wasn't supposed to be on romances themselves but rather on the effects they produced. I did love the moment when Chantal realizes what had always attracted her to her friend-turned-boyfriend was his kindness. Score for the actual nice guy!
Talky Talk: Slice of Life
You Bring The Distant Near spans fifty years yet it's not an overly long book, so there's a lot of time-hopping, and some jumps work better than others. It really settled into its groove by the time we caught up to the last generation of Das women, but only because all the pieces were finally in play and you could experience the payoff from earlier setups. The writing style was simple and action driven, depositing you straight into the family without a lot of fluff or musings, and it was easy to devour in the span of an afternoon.
There was something comforting about this story; this is very much a book about one particular family, but there were plenty of universal themes and experiences that may remind you of your own family unit, and I love that. This is why books will always continue to be so integral to our humanity, because it reminds us that under all the extraneous junk, we're all fundamentally reaching for the same ideals.

Bonus Factor: Diversity
Ranee, born and raised as a "good" Bengali woman, is often at odds with her daughters who were raised with a mixture of English, American, and Indian influences. Once those daughters have daughters of their own, we have characters like Chantal, who is half-Bengali and half-black, struggling to find her place amongst both sides of her family; and Anna, a girl raised primarily in Mumbai who now has to figure out what being "American" means to a person who can speak better Bengali than her own Indian parents.
Bonus Factor: Feminism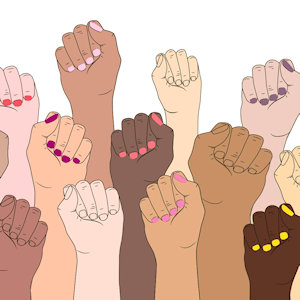 Sonia grows up in the '70s and worships people like Gloria Steinem, and while 1970s era feminism can be a bit problematic, I am all for women getting their equal rights, so I would've gladly joined Sonia's school club and thrown some glitter on a poster with her. (But I would not be burning my bras. I need those.)
Bonus Factor: Tasty Business
Full disclosure: I am not the biggest Indian food fan, but even I was getting a few hunger-grumbles at the descriptions of Ranee's meals. I will, however, gladly take all the naan offered to me (get in mah belly).
Bonus Factor: Family
To paraphrase the words of one Rachel Green, isn't family just kick-you-in-the-crotch-spit-on-your-neck fantastic? Because, seriously—one second they are holding you back from everything you've ever wanted, and the next there's no one else in the world who can ever make you feel more safe and at home. You want to hug them; you want to strangle them: it's a conundrum.
Anti-Bonus Factor: Racism
There's a saying some people bandy around that only white people can be racist, but take a look through this book and you'll know that isn't true; we are all human and all fallible. Sonia and Tara are horrified that their mother won't let them walk their neighborhood in Flushing because she's worried about the African-American children who play in the streets, but they can go out anytime they want in their mostly white neighborhood in Jersey. Thankfully these attitudes are portrayed as not okay, and being that we do span decades here, there is plenty of room for character growth.
Relationship Status: Family Dinner Guest
I don't know if I want to be adopted into your family, Book—I quite like my own—but your family dinners promise to be interesting and tasty, and I will take you up on the occasional offer of a homecooked meal and lively conversation.

FTC Full Disclosure: I received my free review copy from Farrar, Straus and Giroux. I received neither money nor peanut butter cups in exchange for this review. You Bring The Distant Near is available now.