About the Book
Title:
You Brought Me the Ocean
Cover Story: Soon-to-Smooch
BFF Charm: Eventually?
Talky Talk: Origin and Identity
Arty Art: Sketchy
Bonus Factor: Aquaman
Anti-Bonus Factor: Bullies
Relationship Status: Maybe in a Few Years?
Content Warning: You Brought Me the Ocean features a scene of assault based on homophobia and multiple uses of harshly homophobic language.
Cover Story: Soon-to-Smooch
I don't know of anyone who holds their hands like that when they're about to kiss someone, but who I am I to judge? Get it, boys!
The Deal:
For as long as he can remember, Jake Hyde has lived with his mother in Truth and Consequences, New Mexico—far from the ocean. But Jake's love of the water is almost a physical thing, and so he's making plans to attend a college with a strong oceanography program. But he hasn't told his best friend, Maria Mendez, and they tell each other everything … except for the fact that Maria, maybe, wants them to be more than friends, and Jake, maybe, is gay?
BFF Charm: Eventually?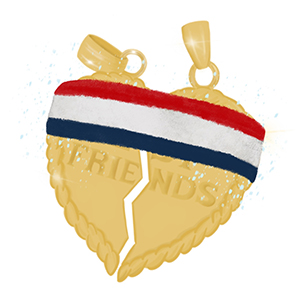 Jake's a sweet kid with a lot of things to figure out about himself and his place in the world. His mother is supremely overbearing (for good reason, but I won't spoil that for you), his best friend wants to be more than friends, and his feelings for Kenny Liu, the only gay guy he knows, are complicated. Plus, he's got these birthmarks—or so his mom calls them—that act kinda strange around water. So, yeah, he's got a lot on his plate. One part of me would love to be there for him at this stage, but the other feels like his life is already messy enough? (Plus, he had me Roger Murtaugh-ing a few times.) Maybe we'd be good friends if we met later in his life, when he's feeling a bit more on solid ground. But only time would tell.
Swoonworthy Scale: 6
Jake and Kenny connect (heh) in You Brought Me the Ocean, but there's very little chemistry before they do. Although there's plenty of passion in their interactions later in the book, the initial attraction seems to only stem from the fact that Kenny's the only (openly) gay guy Jake knows of? I would have liked to be shown a bit more, particularly from Kenny's POV, why the sparks flew other than that they were each other's only option.
Talky Talk: Origin and Identity
I don't know much about Aqualad other than that he's a DC superhero, and after reading You Brought Me the Ocean … I still don't. This is a book that struggles to find its pace—I was waiting for the proverbial beat to drop until the very end, without satisfaction—and doesn't exactly treat the sensitive subject matter within, specifically Jake coming out to his friends and family, with as much gravitas as I would have expected. The characters can be overly dramatic and flat in turns, and parts of the dialogue are awfully cheesy (emphasis on the awful). You Brought Me the Ocean had a lot of promise but sadly never fully executed.
I do appreciate that Sanchez is a gay man who wrote the story of a gay boy, however. I'm always here for people writing from experience; it adds a richness and truth to a story that needs to be there, especially in stories like Jake's.
Arty Art: Sketchy
Maroh's art style is extremely unique; the entire book, save for the text and a few actions, looks like it's a sketchbook. The "unfinished" colored pencil drawings make for a much different reading experience than any DC YA graphic novel that's come before this one. And while I appreciate the originality … I don't like it? There's something about Maroh's art style, and I don't think it's the sketchy nature, that makes me feel a bit uncomfortable. That's good, I suppose, for a book in which the main character feels uncomfortable in his own skin, but it didn't make for the most pleasant of reading experiences.
Bonus Factor: Aquaman
Maroh drew Aquaman as Jason Momoa in a couple of panels* and it made me smile to see it each time.**
*He's not a character in the story, just shows up in some TV news features.
**Is this Bonus Factor just an excuse to include some Shirtless News? I'll never tell.
Anti-Bonus Factor: Bullies
Jake and Kenny have to deal with evil bullies of the homophobic sort (see: Content Warning), and I would have liked to be in the story to help them get their comeuppance. (I just wish the main baddie wasn't an "evil ginger" stereotype, though.)
Relationship Status: Maybe in a Few Years?
We didn't hit it off, Book, but I'd like to think that we could give it another go in a few years when you've done some growing. Right now, we're just at two very different places in our lives that are too different for us to connect well.
Literary Matchmaking
Bloom
Kevin Panetta and Savanna Ganucheau's graphic novel Bloom is another story of two young men finding romance.
Mera: Tidebreaker
Danielle Paige and Stephen Byrne's Mera: Tidebreaker is another entry in the DC Aqua-person graphic novel collection.
Teen Titans: Raven (Teen Titans #1)
Kami Garcia and Gabriel Picolo's Teen Titans: Raven is another DC graphic novel about a young person who's trying to figure out who they are.
FTC Full Disclosure: I received a copy of this book from DC Comics, but got neither a private dance party with Tom Hiddleston nor money in exchange for this review. You Brought Me the Ocean is available now.