Cover Story: I Left My Heart in San Francisco
BFF Charm: Yay x2
Talky Talk: Be Sure To Wear Flowers In Your Hair
Bonus Factors: LGBTQ, San Francisco, Tami Taylor Award for Awesome Motherhood
Relationship Status: Insta-bestie
Cover Story: I Left My Heart in San Francisco
This cover is so gorgeous. The simple Golden Gate Bridge against the teal and blue background, and yellow lettering, with ocean waves and a couple walking hand in hand? Perfect. It somehow manages to capture the magic of a perfect San Francisco night in a few strokes.
The Deal:
Kate is on her way to San Francisco to meet Violet, the girl of her dreams. Mark is on his way to celebrate Pride festivities with his closeted best friend and man of his dreams, Ryan. Both of them are hoping for a magical evening that will end up in romance and a happily-ever-after—but what they get instead is an insta-bestie who somehow understands them better than their current longtime friends.
This sweet, short, co-written book regales the reader with the magic of finding a kindred spirit when you least expect it, and the power of putting yourself out on the proverbial limb.
BFF Charm: Yay x2
Mark is your all-American, baseball-playing, traditionally gorgeous guy in love with his best friend. Kate is a self-sabotaging artist who fears what life has in store for her. Neither of them really know each other before one fateful Pride evening, but when they do meet, they share an instant connection. Kate is so afraid of what adulting has in store for her (which—you can hardly blame her, ADULTING SUCKS), and Mark is so fixated on Ryan that he can't see the world in front of him for what it is. I just want to hug both of them forever (and invite them to my book club).
Swoonworthy Scale: 7
When Kate's not too busy self-sabotaging, the budding romance between her and Violet is so sweet and sexy and full of everything that a first love can and should be.
Talky Talk: Be Sure To Wear Flowers In Your Hair
It's interesting how LaCour and Levithan's voices merge so perfectly in this novel. It's one of those books you can pick up and think, "I'll read a few chapters," and find yourself finishing by the end of the afternoon. Both of them have a knack for eminently readable prose, fully-realized characters, and perfect pacing.
The single thing that didn't work for me about this novel were some poems, which feature during an important scene. They weren't bad—they just felt rather out of place in this novel full of prose and wry reflection. I do wonder if that scene could have been handled in a different sort of way that would feel more authentic to the characters as we knew them.
Bonus Factor: LGBTQ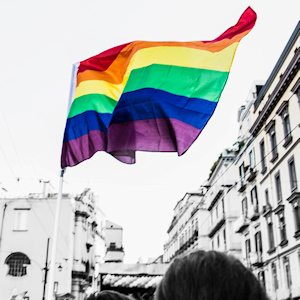 It breaks my heart to write about this book, which is so innocent and fairly carefree (all first love and heartbreak considered), after the horrifying Orlando shootings on Sunday. How can we tell queer kids that "it gets better" when you can be brutally and senselessly murdered in a club like the gay club that Kate and Mark sneak into?
Yet it does get better for everyone in this book. Even with the horrific violence around us, which should not be ignored—lest we live in complacency—this is a sweet romance in a world that's struggling to keep up.
Bonus Factor: San Francisco
Let's hear it, once again, for San Francisco: land of Harvey Milk, the Castro, and the rest of its storied gay history, especially during Pride month. Levithan and LaCour beautifully capture what it's like to have a romance against the backdrop of the cool grey city of love. There is something about this place that renders everything full of magic. No matter your orientation, you are bound to fall in love with these characters—and the possibilities before them—while they roam the city.
Bonus Factors: Tami Taylor Award for Awesome Motherhood
I really loved that Kate and Mark's parents are completely okay with their orientation, especially Mark's mother.
Relationship Status: Insta-bestie
Book, our date went so well—we had such a nice time talking about art and the city and finding kindred spirits. It all went so fast, and by the time it was over, I felt like I'd found a kindred spirit of my own. Let's hang out again soon, shall we?
FTC Full Disclosure: I received my free review copy from St. Martin's Griffin. This review was originally posted on Kirkus Reviews in exchange for monetary compensation, which did not affect or influence my opinions. You Know Me Well is available now.