About the Book
Title:
Dangerous Angels (Weetzie Bat #1-5)
Drinks Taken: 153
BFF Charm: Make It Rain
Talky Talk: Glitter and Kitsch Slinkster Cool
Offenses To My Ladylike Sensibilities: Promoting Homosexuality and Promiscuity, Denigrating Christianity, Slandering "All Males", Putting "One's Life In Possible Jeopardy"
Relationship Status: I'd Jump Into the Fire To Save These Books
The Deal:
Weetzie Bat lives in Los Angeles. In high school, she meets Dirk, who is gorgeous, has a mohawk, and drives a cherry-red '55 Pontiac named Jerry. Dirk's gay, and he and Weetzie are searching for the perfect ducks, the men who'll be the loves of their lives. In stories filled with glitter and feathers and tin, like the decorations at your favorite fantastic dive taqueria with the best margaritas, Weetzie, Dirk and their growing family look for love and purpose and make some pretty slinkster movies.
Drinks Taken: 153
I gotta admit I lost count here. See, anytime Dirk or his boyfriend Duck are mentioned there's an automatic drink. Anytime Weetzie or her boyfriend My Secret Agent Lover man are mentioned, there's a drink because they're not married but they have babies (well, Witch Baby's My Secret Agent Lover Man's, but not Weetzie's, but she loves her like she's her own). See what I mean? Rampant disregard for our sexual mores here. Not to mention there are five books in the series. Oh, and I'm reading the books in Texas, where at least 3 have been challenged or banned, so that's a lot of shots.
BFF Charm: Make It Rain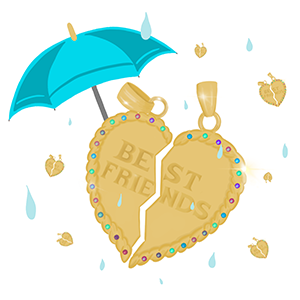 I love Weetzie, Dirk, Duck, My Secret Agent Lover Man, Cherokee (ok, sometimes I hate her), Witch Baby, Angel Juan, Valentine Jah-Love, Ping, Raphael, Coyote, Slinkster Dog, Go-Go Girl and all their puppies so much! Even when they get a little too hipster cool for my taste, I still love them for the way they form a great, big glittery family. I love Witch Baby most of all, though, and want to give this foundling doomster a new pair of scissors for cutting out sad stories and take a photo of her, since she's always the one behind the camera.
Swoonworthy Scale: 6
Since this book is a "Love is all you need" kinda book, there's lots of true love everywhere — kissy kissy love, huggy huggy love, family love, best friend love, sister love and brother love. But it's more of a melty kinda series than a swoony kinda series. The heartbreak that comes with love is shattering, though, and it's what tips the scale over a 5.
Talky Talk: Glitter and Kitsch Slinkster Cool
Weetzie and her fam exist in this crazy dreamworld Los Angeles I've only seen on TV and in books, amid the decaying glamour of the golden age, where prostitutes look like Marilyn Monroe and everything's covered in a thin sheen of sparkle. It's kind of magical, like rows upon rows of snowglobes filled with miniature palm tree beach scenes and with glitter instead of snow, but it also reminds me of the Ramones song "Danny Says", depressed and missing someone and not sure where it fits in the world. The writing's full of slang and hipster-slinkster, late-night diner talk, but it doesn't make me cringe like Christian in Clueless did.
Offenses To My Ladylike Sensibilities:
These books have been challenged in Montgomery County, TX (stop hating on Texas) AAAND Wisconsin for themes that promote homosexuality and promiscuity, and denigrate Christianity, as well as "specific words used in the book are derogatory and slanderous to all males" and "the words can permeate violence and put one's life in possible jeopardy, adults and children alike" (Hello, what ever happened to "sticks and stones"? Since when did being called a duck get you killed? Oh wait, SINCE MOCKINGJAY. And yeah, yeah, I know "duck" isn't the term for men they're talking about). In Florida, a challenge to a book display featuring Weetzie Bat books inspired a "town ordinance prohibiting county government from acknowledging or promoting gay pride and events." WHAT. In Arkansas, the books were objectionable simply because of their style — check it:
There are just plain too many teenager-aimed books nowadays that have this sort of choppy, half-conscious, half-delirious, not quite stream of consciousness style (if you can call it that) of writing.
Because the writer of THAT statement is capable of stringing together Pulitzer-worthy sentences, check out the challenges here and here.
Relationship Status: I'd Jump Into the Fire To Save These Books
These books are like a member of the family. I love them, even when I don't understand them. And even when they annoy me, I stand by them. I wish everyone could have a crazy-weird, full-of-love, mixed-up family like Weetzie's, and I'll cut anyone that takes the books to the bonfire.
FTC Full Disclosure: I purchased my own copy of this book. I received neither money nor cocktails for writing this review (dammit!). Dangerous Angels is available now.