Given how much FYA quotes Mean Girls, refers to Mean Girls, and just plain ol' LOVES Mean Girls, it's kind of surprising that we've never really talked about Mean Girls.
So let's talk about Mean Girls, y'all.
(I also thought about making a drinking game (because obvs), but you could play with only two rules and still get TANKED:
Take a drink after you hear a line that has (or will) become a part of your vocab.
Raise your glass for Glenn Cocco.
Just try not to vomit on your crush, mmkay?)
The So-Called Plot
After moving from the literal wilds of Africa, Cady leaves behind her sheltered homeschooled life for a world of treachery and deceit known as HIGH SCHOOL.
Casting Callback
Lindsay Lohan as Cady
I'm not sure if I really buy her as either the wide-eyed ingénue or the bitchy queen bee, but this is indisputably the best role she's ever had. (Insert an obligatory "Oh, Lindz" for all the personal dramz. And I say that as a staunch non-fan.)
In the spirit of North Shore High — and because there's way too much awesome to talk about — the rest of the characters have been split up into their respective cliques.
The Plastics: Lacey Chabert as Gretchen, Rachel McAdams as Regina, and Amanda Seyfried as Karen
Can you really blame me for thinking LiLo's the weak link of the movie when she's up against Regina Motherfucking George? (#BowDown) Not to mention the world-class simpering from Gretchen, or clueless airheading from Karen.
Art Freaks The Greatest People You Will Ever Meet: Lizzy Caplan as Janis, and Daniel Franzese as Damian
The Frankensteins to Cady's mean girl monster, Janis and Damian are the new kid welcoming committee that every school should have.
Jocks (Presumably): Jonathan Bennett as Aaron
So here's what I've realized about Aaron: he's actually a mysterious loner dude. He's into sports, and he lacks imagination for Halloween costumes. But we don't know much more about him, other than his hair looking sexy when it's pushed back and him not being as good at math as he thinks he is.
Like, who are his friends? Who does he hang out with? I don't think he even speaks to anyone other than Cady or the Plastics. For all we know, he could be the Bruce Willis to their Haley Joel Osments. (Someone please write this YA retelling.)
Regardless: Aaron's still dreamy.
Mathletes: Rajiv Surendra as Kevin
Cocky math enthusiast, badass M.C., and scene stealer Kevin G. is now major hotness. As if there ever was any doubt.
Skeezy Dudebros: Daniel DeSanto as Jason
Letterman jackets mean these guys probs belong to allegedly corporeal Aaron's crew, but two-timing Jason gets his own shout-out for getting hit in the face practically every time he appears.
Teachers: Tim Meadows as Principal Duvall, and Tina Fey as Ms. Norbury
Now entering the SNL royalty portion of our program! And also the only cast member to return for the direct-to-DVD sequel in Tim Meadows. (Yes, it's on Netflix. And yes, it'll probably be a future Stream It of mine.)
Parents, Part I: Ana Gasteyer and Neil Flynn as Cady's parents
Two funny actors that were def. underused. But Janitor and the co-host of Delicious Dish: I ship it.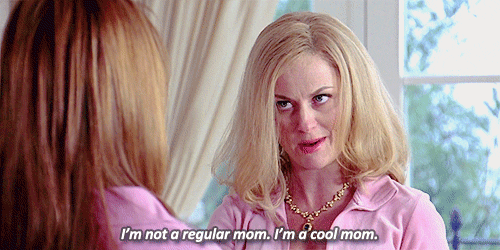 Parents, Part II: Amy Poehler as Regina's mom
Amy Poehler is never not perfection.
Chemistry Grade: C+
Maybe it's the age difference between the actors (five years) or my Lindsay bias, but Cady and Aaron are only lukewarm to me. But they get at least a full letter grade because of Aaron's swoony smiles.
Cliché Count: 23
I probaby missed a few, but this rough estimate should prove that smart writing and good characterization can breathe new life in even the most overused tropes.
New kid/fish out of water: 1
Gay best friend: 1
Slo-mo character intro: 1
Clique breakdown: 1
Head bitch in charge: 2
Dumb blonde: 1
Sex ed class: 1
Fantasy/fake-out sequences: 3
Jock crush: 1
"Cool" parents: 1
Wild high school party: 2
Excuses for skimpy costumes: 2
Talent show (… to showcase the star's second career): 1
Choreographed dance routine: 1
Over-involved educator: 1
Getting ready montage: 1
Important events scheduled on the same day: 1
School dance: 1
Quote-along
SO MANY GREAT QUOTES. I'd be shocked if the entire script isn't already immortalized as Tumblr GIFs. (Well, aside from some deliberately cringe-worthy r-words from another R-word.) Regina, Damian, and Gretchen probably have the most quotable lines, but basically everyone gets a chance to shine because TINA FEY = SO GOOD AT WORDS PUTTING.
In fact, Mean Girls has SO many great lines that it's getting the quote-along treatment on the opening night of Forever Fest 2014!* (Gasp! That's tomorrow!) And! Jonathan Bennett (Aaron), Daniel Franzese (Damian), and Daniel DeSanto (Jason) will all be in attendance for the screening and a Q&A afterwards, WHAT WHAT!
*Shameless self promotion or beautiful synergy? WHY NOT BOTH?
Soundtrack: 2004 Musical Time Capsule
I didn't have a single one of these songs on my green iPod mini back in 2004. But this movie just sounds like the early aughts, harkening back to the days of dairy beverages bringing all the boys to the yard. Although I don't quite buy Regina having an Avril Lavigne poster in her room. (Sk8er Boi Avril, not the current Hello Kitty loving, culture appropriating edition.)
Still, any musical miscues are instantly forgiven because of these two standout performances.
Slumber Party Potential: Extremely High
OBVIOUSLY. I mean, why else would it be shown at Forever Fest aka the ultimate sleepover?! (OK, that was the last plug, I swearrrrr. But for reals, it's going to be AMAZING.)
This is one of those movies that can be rewatched again and again without diminishing returns. (I say this from experience because I watched it twice in three nights for this post — nay, FOR SCIENCE.) It might be a bit of a slumber party convo stopper since you'll want to catch all the great dialogue, but you wouldn't be able to hear each other over so much laughter anyway.