Cover Story: 'Something's Missing'
Drinking Buddy: 'In the Bar'
MPAA Rating: 'On the Edge'
Talky Talk: '28 Hours'
Bonus Factors: Newfoundland, 9/11
Bromance Status: 'Stop the World'
Cover Story: 'Something's Missing'
This was a set with very minimal props, almost nothing but chairs and occasional tables. The cast did an amazing job with these sparse items, making the mismatched chairs into planes, buses, restaurants, bars, barbecue grills, and wilderness.
The Deal:
The town of Gander, Newfoundland is a sleepy backwater at the ass end of Canada. Once a major air hub used as a refueling station for transatlantic flights, the airport has fallen into disuse in the jet age. Then, on September 11, 2001, U.S. airspace was closed for days. Air traffic controllers routed 38 planes with over 7,000 passengers into Gander, due to their large airport and the fact that if there was a bomb on one of those planes, they wouldn't lose Toronto or Ottawa. The locals, reeling from the news of the terrorist attacks, attempted to provide hospitality to the town's thousands of new guests.
Going to this show was my Christmas present to my wife, daughter, and mother-in-law. We saw it at the Kansas City Music Hall.
Drinking Buddy: 'In the Bar'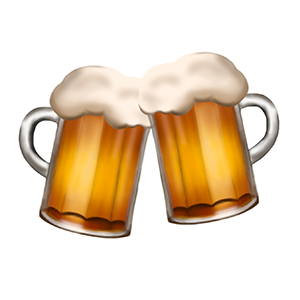 The entire town of Gander seems to be made of people you'd love to have as neighbors. There are Claude and Oz, the mayor of Gander and the chief of police (one half of the police force), who find themselves dealing with an international incident. There's Beulah, the school principal, who's suddenly in charge of coordinating hundreds of people who will be staying at the academy. Bonnie, the SPCA worker who's determined to take care of all the animals in the planes' holds, no matter what the buttinskis from the bomb squad say. Janice, who, on her first day as a TV reporter, finds herself covering the story of the decade.
Then, there's the passengers. Bob, a New Yorker who reacts to the Newfoundlanders' open-door friendliness with big city paranoia. Kevin and Kevin, a gay couple from Los Angeles, who find themselves in a strange new world. Barbara, one of the first female commercial pilots in the U.S. Ali, an Egyptian-born chef who finds himself the target of suspicion. Nick and Diane, a middle-aged Englishman and a divorced Texan, who find solace in each other's company. Hannah, whose son is an NYC firefighter, and whom she cannot reach.
All of them unexpectedly thrown together for a week.
MPAA Rating: 'On the Edge'
A lot of uses of the F word. A lot. Other than that, almost no violence, sexuality, or adult situations. Except for a couple of middle-aged women flashing the audience (bras on).
Talky Talk: '28 Hours'
Now obviously, the subject matter is pretty grim, and it comes through. Hannah goes through hell, not being able to get confirmation that her son is safe. Kevin and Kevin wonder if Newfoundland is a red province, and if it's advisable to be themselves. Ali, a modest Muslim, is forced to undergo a humiliating strip search. A group of uniformed members of the Salvation Army ends up terrifying some non-English speaking Africans, who think they've been taken to a military camp. There are nineteen 'Make a Wish Kids' on one plane, who aren't going to Disney World any time soon. And hanging over everything is the specter of the worst American terrorist attack in history and the fear that things will never be the same.
However, Canadians are a friendly people, and Newfoundlanders doubly so. The locals do their best to make their guests feel comfortable, going so far as to drunkenly make Bob, Kevin, Nick, and Diane honorary Newfoundlanders. Beulah sits with Hannah during her lonely vigil. Bonnie delivers the first chimpanzee born in Newfoundland. Another man works out a way to communicate with the Africans by using passages from their Bible. Everyone meets via tragedy, but that doesn't mean they can't depart as friends.
Bonus Factor: Newfoundland
The easternmost province of Canada isn't one too often featured in film or literature. Harsh and underpopulated, even the Vikings found it uninviting. But despite the remoteness, the Newfoundlanders are incredibly hospitable (and have the most adorable accents). As Hannah says, Newfoundlanders are bad at knock knock jokes: Knock, knock! C'mon in, the door's open!
Bonus Factor: 9/11
A lot of cultural works have come out of the September 11 attacks, but this is the first one that made me smile. Well done.
Bromance Status: 'Stop the World'
Couldn't have asked for a better performance. Wish I could hang out in Gander before it gets all touristy.