About:
Title:
Merlin (Seasons #1-5)
Fix: Historical Family Fantasy
Platform: Netflix
Netflix Summary:
This family-oriented retelling of the King Arthur legend finds Merlin arriving in Camelot, where he hones his magic skills with the help of his uncle.
FYA Summary:
In the kingdom of Camelot, magic is outlawed. Anyone who has magical ability must hide it, or else face the wrath of King Uther Pendragon. When Merlin, a young and extremely magically gifted boy, comes to Camelot, it's hard for him to hide what he is. But he must be diligent, particularly when he becomes the personal servant of Prince Arthur. Over the course of five seasons, Merlin and Arthur become close, and many familiar—at least to those who've read Arthurian legend—faces cross their paths.
(Will Be) Familiar Faces:
A lot of the actors in Merlin might not be familiar faces when you start watching the show, but they will have a place in your heart by the time you're done with the series' five seasons.
Colin Morgan as Merlin
When Colin's playing Merlin, he's adorable and snarky. When Colin's playing Old Merlin/Emrys, he's amazing.
Bradley James as Arthur
Bradley does a fantastic job of growing with his character. At first, Arthur is a spoiled brat of a prince, but he grows into a king who's dedicated to his people and not afraid to stand up for what he believes in.
Richard Wilson as Gaius
Richard's character is a physician with a history of magic who's a mentor and father figure to Merlin—basically, he's the Merlin we were all more familiar with before this show premiered.
Angel Coulby as Gwen
Instead of being a young princess forced to marry an old man, Gwen is in the show from the beginning … as Morgana's maid. It's a neat twist on the character, and it's fun to see Gwen and Arthur slowly form a relationship. Sadly, she gets super lame in the fifth season.
Katie McGrath as Morgana
From start to finish, Morgana turns from sweet princess to badass bwitch. And Katie plays both roles—and all that lie in between—so well. Plus: Her costuming and makeup is by far the best of the series, particularly in season 4. Makes me want to grow out my hair and buy a bunch of black hippie/goth/steampunk dresses.
Anthony Head as Uther
I'll give it to you straight: Uther Pendragon is a giant dickbag. He hates magic, even though he totally uses it for his own gain from time to time, he berates his son for not being good enough, he looks down on people he deems to be "lesser," just because they weren't born in the upper class—I could go on. I was totally not sad when the time came for Arthur to take the throne. It's a sign of a great actor that Anthony can play such an awful man, but also pull off roles like Buffy the Vampire Slayer's Giles.
Michelle Ryan as Nimueh
She's only in a few episodes, but Michelle knows how to pull off a semi-crazed witch quite well.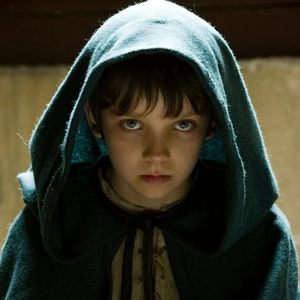 Asa Butterfield as Young Mordred
THOSE EYES. Those eyes make me believe that Asa could most definitely grow up to become the downfall of an entire nation.
Liam Cunningham as Ruadan
Liam is no stranger to a medieval role.
Rupert Young as Sir Leon
Although he was around the longest—Leon's held knighthood under both Uther and Arthur—it took me a long time to realize that he had a name other than "Knight." Rupert wasn't the prettiest, or the funniest, but he was a steady presence.
Eoin Macken as Sir Gwaine
When Gwaine showed up in the third season, I knew I'd found a new favorite knight. (It was previously Lancelot.) Gwaine is funny and dangerous, and Eoin knows how far a smirk can get a man. Plus, there's this:
Yep.
Tom Hopper as Sir Percival
Percival is the strongest of the knights, and this is made evident by the fact that while everyone else is fully kitted up in chainmail and leather, he wears chainmail muscle tees that help keep his bulging biceps free of anything constricting. Tom plays Percival as the strong, silent type.
Adetomiwa Edun as Sir Elyan
I appreciate the attempts Merlin's showrunners made at making the show a little less white. (Don't get me wrong, it's still pretty white, but they tried?) Arthur chose his knights because of their skill and their loyalty, and Elyan was one of the most loyal.
Santiago Cabrera as Lancelot
I can't blame Gwen for having improper thoughts about Lancelot. He's a total package—crazy attractive, intensely loyal and a bamf with a sword. It's really too bad that Santiago is in so few episodes.
And, the voice of John Hurt as The Dragon
John Hurt has a gravely, distinctive voice, and it translates perfectly to that of an all-knowing, oft put-upon dragon.
Couch-Sharing Capability: Low
Binge watching a TV show is not something to take lightly. It takes time and dedication, and it's often hard to sync schedules with someone else. And in the case of Merlin, which is five seasons and 65 episodes long, if you're going to get through the series in a decently short period of time, you'll need to fit in an episode (or four) whenever you can.
Plus, I highly recommend enjoying the knight-centric episodes (like the one in which this happens) away from the judgemental eyes of significant others. *fans self*
Recommended Level of Inebriation: Viewer's Choice
There are certain episodes of Merlin that would be made better with a little giggle water. I mean, there are very few shows that can say they made it through 65 episodes without a dud or two.
Use of Your Netflix Subscription: Excellent
As a big fan of Arthurian legend, I've been meaning to catch up with Merlin for a while now, and thanks to my sister-in-law's insistence that pushing through some of the more tedious stretches would allow me to get to the awesome (i.e. Old Merlin and Gwaine), I gave it another go. I got through all five seasons within a matter of two or three months (I do have a day job, and you know, reading to do), and it was so worth my devotion and dedication. The show's fifth and final season left a little to be desired, but overall, it's a great retelling of the myth I know and love. I found myself wanting to watch "just one episode more" quite frequently, which is always a sign that a show is doing its job. Plus, Netflix makes it easy to just keep going with their autoplay feature. (Five episodes later … "Uh, yes I'm still watching Merlin, Netflix. Don't be a hater.")
P.S.—If you're a knights fan, you might enjoy this (weird, semi-NSFW for shirtlessness) photoshoot.