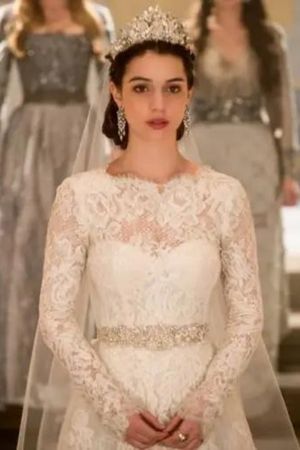 Previously on Reign: Mary and Bash decided to get married immediately; nobody dug a grave for poor, dead Clarissa; Queen Catherine is to be beheaded; and Francis and Lola had a "What happens in Vegas…" moment.
This week's episode had lots of comings and goings, new prophecies, a near beheading, and of course – A WEDDING.
---
The Intrigue
Catherine is approving the day's menu and flower arrangements while also instructing the executioner on the specifics of her beheading. (The necklace is not to be damaged.) She's also still trying to talk Henry out of having her executed, because she's the queen of multitasking.
After getting some action and then trying to hang himself, Nostradamus realizes that he might have gotten the prophecy wrong and Mary won't actually be the death of Francis if they are wed. OOPS.
Mary of Guise (Seriously? That's not confusing. Let's just call her Mary's Mom.) arrives to give Mary hell for tossing her engagement to Francis over the prophecy "of a magician". Preach, lady. Once Mary realizes her mother is there to stop her from marrying Bash, she now wants to elope.
Francis arrives back at the castle and Mary's Mom and Catherine send him off to stop the elopement. Francis and Bash get in a fistfight in the churchyard. Mary breaks it up and rushes back to confront Catherine. Catherine uses her trademark suicidal theatrics to convince Mary that she is telling the truth and she'll no longer be dooming Francis by marrying him. I now see where Clarissa came by her crazypants gene. Catherine wants Mary to choose, but Mary confesses she loves them both. Girl, they're not the Salvatores. It's not that hard to pick one.
A message is received that the Queen of England has died, and Mary has claim to the throne. King Henry insists that Mary must marry one of his sons immediately. Mary swears she won't let him bully her but eventually makes a running leap for Francis.
Mary and Francis get married and Catherine gets pardoned. Mary's Mom confesses that she bribed the messenger to lie about the Queen of England being dead in order to rush the wedding. Mary is so angry over the interfering, she kicks her out. And let's be real, Mary has her hands full with Catherine anyway.
Francis orders Bash to exile himself to lessen the awkwardness. But before he can go, Henry sends him to witness the royal consummation. Yikes. Then, the guards sent to escort Bash from the castle try to kill him (on a mystery person's orders) and he has to take them out. This dude can't catch a break.
Kenna uses her naked body to bribe Henry into finding her a rich noble husband. Man, times were rough before Match.com.
Catherine gives Clarissa's creepy mask to Nostradamus as a keepsake. When he goes to where Clarissa is supposed to be buried, he quickly realizes she's still alive. And now he's back to having visions of Francis dying with Mary. However, this time, he doesn't tell Catherine. Good call, bro.
History According to Reign
Mary, Queen of Scots almost married the French king's bastard! The "which one will Mary choose?" drama was right up there with the secret ending of Titanic. Warning for the spoilerphobes: Stay away from wikipedia. And, you know, history books.
Even bridesmaids of the 16th century were stuck wearing ugly matching dresses.
Number of Times I Forgot I Wasn't Watching Gossip Girl: 3
1. Mary's off-the-shoulder black peasant dress is so Serena van der Woodsen at her most boho.
2. The groom slept with one of the bridesmaids right before the wedding. Although, if it had been Chuck Bass, he would have slept with all of them.
3. Kenna, dumbest of the ladies-in-waiting, instantly figured out that Lola and Francis had slept together. So, that secret has a pretty short shelf life. XOXO
---
Next week: Stabby brothers!