Netflix Summary:
Five years after an ominous unseen presence drives most of society to suicide, a survivor and her two children make a desparate bid to reach safety.
FYA Summary:
Our girl Sandy, known as Malorie, is pregnant and doesn't appear to be super excited about it. Her sister shows up to take her to a doctor's appointment and also shows her the news, where huge swaths of people around the world appear to be committing suicide all at once. When whatever is causing these mass suicides reaches them, everything goes to shit, and Malorie manages to find safety in a house with a handful of strangers who figure out that looking at this mysterious wind-thing causes people to see their greatest fears and kill themselves. Malorie and her co-horts must survive together, and she's also got to figure out what to do about the fact that she could have a baby any day now. Her story is told through a series of flashbacks and scenes in the present day, five years later, when she and her two children are making one last ditch effort to get to safety in a risky trip downriver.
Familiar Faces:
Sandra Bullock as Malorie
I don't have to tell YOU where you've seen Sandra's face before, but someone please explain it to this person. I weep.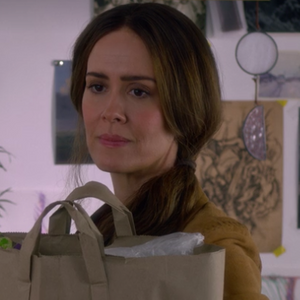 Sarah Paulson as Jessica
Our American Horror Story fave teams up with Sandra again after Ocean's 8, and I loved them as sisters.
John Malkovich as Douglas
I feel like at this point John Malkovich is just going to be cast in everything as "crotchety old guy #1" and it'll always work.
Danielle MacDonald as Olympia
DUMPLIN'! Put Danielle MacDonald in all the things please!
Tom Hollander as Gary
Perfect casting, since you aren't supposed to know if you can trust Gary when he shows up, and I haven't trusted Tom Hollander since he showed up at Longbourn.
BD Wong as Greg
I will never see BD Wong in ANYTHING without yelling out "DR. WU" because yes, BD Wong was the Jurassic Park doctor who got to show Ellie and Dr. Grant the hatching dinosaur eggs!
Couch-Sharing Capability: Cuddle Up
Bird Box isn't full blown horror, more psychological thriller, but it gives you plenty of opportunities to bury your face in your cutie's neck during the nerve-wracking parts, and if you're on a date, it'll give you plenty of things to talk about when the movie's over.
Recommended Level of Inebriation: Calm Your Nerves
This movie was made to make you nervous, so a shot of something strong to take the edge off is in order.
Use of Your Streaming Subscription: Sandra Stanning
Total honesty? I thought this movie was only okay. It feels a lot like A Quiet Place but ya know, with seeing instead of hearing. And there are a lot of plot holes, no explanation for…anything really, and I wasn't thrilled with the ending. ALL THAT TO SAY, I'd watch Sandra Bullock do her taxes if someone filmed it for two hours, so this movie is a perfectly good use of your streaming subscription for a Friday night when you want to support your girl Sandy without putting on pants or paying $30 for a movie ticket and overpriced popcorn.