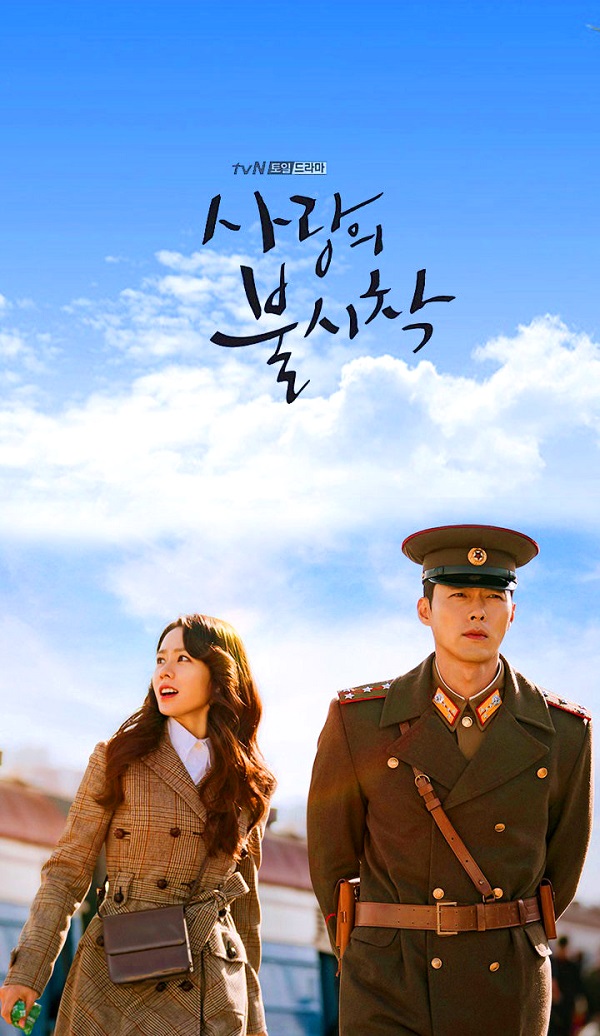 About:
Title:
Crash Landing on You (사랑의 불시착)
Fix: SWOON, Swoony Tears, Lots of Crying (By you? By the characters? WHY NOT BOTH), But Also Sometimes Action
Platforms: Netflix
Netflix Summary:
A paragliding mishap drops a South Korean heiress in North Korea — and into the life of an army officer, who decides he will help her hide.
FYA Summary:
By sheer contrivance,* South Korean fashion mogul Yoon Se-ri's paraglider goes way, way, way off course — landing in North Korea, where she's discovered by army captain Ri Jeong Hyeok. And now they have to find a way to discreetly send her home to avoid creating an international incident. But can they do it without falling in looooooooooove?
*The show does manage to make this very preposterous premise seem less absurd. But it's still very absurd.
Familiar Faces:
Son Ye Jin as Yoon Se-ri
I had to really think about why I like Se-ri despite her being an entitled rich person (an archetype that K-dramas seem to love but I've grown increasingly weary of due to IRL examples). It helps that she very quickly loses the benefits that come with being wealthy and powerful, because she is nobody in North Korea. Plus, she's never cruel for no reason; those who incur her wrath fully deserve it — even if they're her own family. We stan righteous anger!
Hyun Bin as Ri Jeong Hyeok
OUR STOIC NOBLE PRINCE WITH IMPECCABLE BONE STRUCTURE.* He's also constantly cooking for Se-ri, so he might really be the perfect man, if not for the teeny tiny detail of living in North Korea. (I even tried watching Memories of the Alhambra because of residual Hyun Bin love, but the plot moved too slowly and he plays the entitled rich person, so I gave up after a few episodes.)
*Actually, there are so many good cheekbones in this show!
Yang Kyung-won as Pyo Chi Su; Lee Shin-young as Park Kwang Beom; Tang Joon-sang as Geum Eun Dong; Yoo Su-bin as Kim Ju Muk
The soldiers in Jeong Hyeok's unit who know about Se-ri's true origins slowly but surely warm up to their foreign guest. Fiercely patriotic Chi Su has a naturally antagonistic attitude towards Se-ri and all things South Korean, while Ju Muk's K-drama obsession brings a fun meta quality to the show.
Cha Chung-hwa as Yang Ok Kum; Jang So-yeon as Hyon Myong Sun; Kim Sun-young as Ra Wol Suk; Kim Jung-nan as Ma Yong Ae
As much as I love Se-ri's rapport with the soldiers, I was initially worried that this show would be too much of a sausage fest. Thank goodness for the women villagers who help it pass the Bechdel test and also offer a glimpse into rural life in North Korea.
Couch-Sharing Capability: Medium
To paraphrase the immortal Stefon, this show has everything: romance, comedy, action, tearjerkers. (Seriously, I cried SO MUCH. I don't think it's even that sad to have turned me into as weepy of a mess that I was, but maybe I was overdue for cathartic crying.) Each episode is well over an hour long but K-drama seasons are usually self-contained one-and-dones; to borrow a parlance from western TV, it's like a season-long movie but actually in this case.
However, it does demand undivided attention for those who don't understand Korean.* But as Other Meredith said, that forces you to pay attention and focus on the show, instead of being in multitasking mode. (It does get easier the more you watch! And also obvi helps what you watch, if it's holding your attention like Crash Landing on You did for me.)
*My main quibble with Netflix nowadays is that their K-drama subtitles are clearly meant for hearing viewers, as opposed to closed captioning. They also don't specify when the spoken language changes and what it changes to, and it doesn't even subtitle English at all. I'm also used to Korean reality shows that provide translations for all onscreen text, which the Netflix subtitles also lack.
Recommended Level of Inebriation: Low
Reading subtitles always require a certain level of clarity, but there are a couple of major motivators that could drive you to drink.
Based on the few I've watched so far, K-dramas seem to be very good at creating hateable villains. They're so loathsome that I've started to feel bad for the actors because of how often I've wished death upon a fictional character with their faces. It's not even 'love to hate'; I just hate those characters so much.
And at the risk of seeming like a real horndog, K-dramas can result in an insufferable case of blue bits. Every beautiful declaration of love ends in a longing gaze, a gentle caress, or a chaste kiss. AND. IT. IS. EXCRUCIATING. These are very hot consenting adults who love each other; PLEASE just let them bone down! I realize that this expectation has been conditioned in me by western pop culture, but I'm not asking for graphic details. A simple fade-to-black or even a title card that says "THEY FINALLY RELEASED THAT UNRESOLVED SEXUAL TENSION" would suffice! PLEASE.
… that being said, the lack of anything beyond first base makes K-dramas perfectly fine viewing in the presence of children, so that's a plus in these pandemic times. (This one has a bit of violence, though.)
Use of Your Streaming Subscription: Great
I've been craving something deeply romantic to watch, and this was exactly what I was looking for.* It's a good entry point into K-dramas — not only because it was mine and it was recommended to me by multiple FYA readers, but it has broad appeal, self-awareness of K-drama tropes, and insight into North Korean life. (The depiction is about 60% accurate.)
*But now I want MOAR swoony shows like this, so please hit me up with recs if you've got them!