About:
Title:
Gilmore Girls S2.E10 "The Bracebridge Dinner"
Gilmore Girls S2.E11 "Secrets and Loans"
Gilmore Girls S2.E12 "Richard in Stars Hollow"
Drinks Taken: 40
Cups of Coffee: 24
We've reached Week 11 of our Gilmore Girls Rewatch Project, and things are going swimmingly. We're halfway through Season Two, and I sort of can't believe it. Little Rory has grown so much already! I mean, just look at her in the below pic from the pilot. She was so tiny: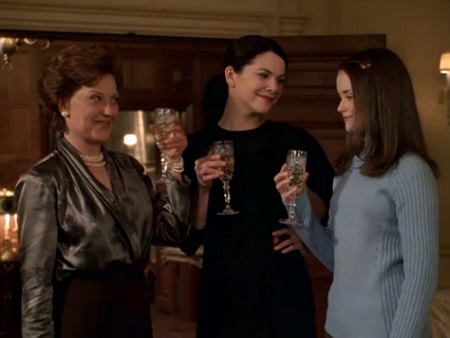 The Gilmore Girls Drinking Game Rules
Drink once every time:
Lorelai or Rory drinks coffee.
Emily gets flustered by Lorelai's bizarre sense of humor.
Sookie is controlling about food.
Paris is controlling about anything.
Michel snubs a customer.
Luke is crotchety.
Taylor has an absurd scheme for Stars Hollow.
The girls acquire massive amounts of food and then fail to take even one bite.
Drink twice every time:
Kirk has a new job.
You see a town troubadour.
Emily gets a new maid.
On to the episodes!
2.10 "The Bracebridge Dinner"
Lorelai and Sookie have been planning an elaborate 19th century dinner party for The Bracebridge Group, whatever they are, when said group suddenly cancels due to the weather. Sookie doesn't take it well, so she invents the best word ever to express her feelings.
They've already paid for all of the food, costumes and servers, so they come up with a great solution: invite all of Stars Hollow to stay at the inn as an "over the top, out of control slumber party!" They have horse-drawn sleigh rides, tons of food and grog, Jackson in a funny hat playing the Squire of Bracebridge, and it's all pretty intensely adorable. Even Paris joins the fun, although not without criticizing the many anachronisms. It's also the scene for LOTS of Rory and Jess flirting, to Dean's dismay. Earlier, Dean broke up a fight between Jess and some jerk at school, and Jess almost hit him in the process, so now he hates Jess extra. Rory tries to be mad at Jess, but it's really hard because cuuuuute.
Lorelai and Rory have also entered the Stars Hollow snowman building contest, and they've created this terrifying, amazing, Stroke Victim Björk snowman.
They're jealous of the snowman building "ringer" next to them who's created some magical work of art and who will surely win. After Jess tells Rory he admires her snowman for having the most style (and totally catches the Björk resemblance), she realizes the magical work of art snowman has been destroyed. All of Jess' flirting seems to be mildly criminal in nature, you know?
Finally, Richard's been in a terrible mood because of work lately, so Lorelai invites him and Emily to the Bracebridge Dinner to cheer them up, and it seems to work – he's so jovial and Emily is so relieved, until he admits that he quit his job without telling her. They fight briefly, until he explains that he was just miserable and afraid to tell her, and they make up with so much warmth and honesty. I want my marriage to be like Richard and Emily's when it grows up.
Oh yeah, also! Chris wants Rory to visit him and Sherry over holiday break, and Lorelai gets super jealous and possessive, mostly because she sees a picture of Sherry and is intimidated by how pretty she is (I mean, Mädchen Amick is crazy pretty). Rory talks her down from that ledge, though.
How many times do I have to drink?
12.
How many cups of coffee do the Gilmore girls drink?
2.
Flirtation quota
Those sleigh rides sure do make for lots of flirting! Luke and Lorelai ride together and flirt, Richard and Emily ride together and flirt (he tousles her hair and tells her he wants to ride a roller coaster with her!), but mostly Rory and Jess flirt. Dean rides his sleigh with his little sister, like a big clueless idiot, so of course Jess hops on with Rory and these two practically melt the snow with the hot hot looks they give each other. The next day, Dean can't fail to notice this happening in the lobby:
Best/most dated pop culture reference
When Sookie tells Lorelai they're crazy for planning this dinner, Lorelai: "We're beyond crazy. We are Anne Heche speaking her secret language to God and looking for the spaceship in Fresno crazy."
Sookie's best dish of the episode
Girlfriend goes all out for this dinner: butternut squash soup, a fish course, peacock pye, baron of beef, salad, plum pudding and wassail!
Lorelai's craziest outfit
She's on pretty good behavior, sartorially-speaking, this week.
Kirk insanity
Kirk, however:
Michel madness
New category! Michel watches the diminutive Rune attempt to dust a picture frame for several minutes before, with excruciating condescension, showing him how to pull down the picture frame and dust it. Rune: "I thought an alarm would go off like in The Thomas Crown Affair." Michel: "That would be if this were a museum, and you were a man allowed in museums."
Best Gilmore Gal witticism
As Miss Patty drools over one of the costumed men working the dinner, Lorelai: "I'll have him bathed, powdered and sent to your room."
Random observation
This has already been a gif-heavy episode, but I love this moment so much:
Rory, watching them in awe: "Wow. Behold my future."
2.11 "Secrets and Loans"
Turns out Lorelai and Rory's lovely little home is a seething tornado of termite infestation, and it will cost $15,000 Lorelai does not have to fix the structural damage to the house. She tries everything to come up with the money – well, almost everything, because you know she's not even considering a loan from Richard and Emily. Rory, against Lorelai's express wishes, tells Emily about their troubles, and of course Emily immediately writes a check which of course Lorelai refuses quite rudely. She's very angry at Rory for telling Emily, and though Lorelai can be so stubborn sometimes, it's hard to argue with this: "Rory, have you ever been without food or clothes or books or book covers for that matter or anything else you ever needed?…No. So when I tell you I can handle something, you need to respect that, especially since you have no evidence proving I won't. Understand?"
It's a good point, and sometimes Rory forgets she's not the grown-up in the relationship, but Lorelai learns something too: Emily keeps trying and trying to help, and finally arranges a meeting at her bank for Lorelai, and then ends up co-signing a loan for her. Lorelai is such a jerk about it at first, asking Emily what strings are attached, and Emily finally snaps, "I just wanted to do something nice for my daughter!" Lorelai is appropriately chagrined, and apologizes sweetly to Emily and tells her how much she appreciates her help, at which point Emily drops the mic like the badass she is:
In other Stars Hollow news, Lane has joined the cheerleading squad, and she keeps it from Rory knowing Rory would be super judgey about it. I like this storyline because I get it – I was NOT a joiner in high school, and I would judge any of my friends who were. I was of course wrong to do that, and so is Rory, but she realizes it in due time and she and Lane go back to being the world's cutest besties.
And on the Chilton front, Rory's gotten her PSAT scores and she did VERY well: 740 verbal, 760 math. Paris later brags about her score (730 verbal, 750 math), and then Paris spends the rest of the episode trying to find out what Rory scored, because deep down she knows Rory scored higher than she did. Rory never cracks.
How many times do I have to drink?
15.
How many cups of coffee do the Gilmore girls drink?
13! No wonder they're all on edge this week.
Flirtation quota
Dean and Rory actually have a pretty cute episode, as he gives her good advice during her fight with her mom and they kiss lots. (No Jess this week, so that explains that.) Luke tries SO hard to sneakily pay for Lorelai's improvements up front without her knowledge because he knows she'd never agree, but she figures it out and sweetly refuses him. Gah, that guy is such a mensch.
Best/most dated pop culture reference
Lorelai, bemoaning her inability to get a loan: "When you've got Jacko's Loans and Stuff not wanting your business, you know it's time to hang out with the Coreys."
Sookie's best dish of the episode
She's so excited to have Rory and Lorelai over for a slumber party during their termite freak-out, and she makes them Haagen-Dazs double double chocolate milkshakes. And THEN we get to see Jackson in his PJs, printed with pictures of himself on his high school wrestling team.
Lorelai's craziest outfit
They're her pajamas, so I should let it go, but I turn 32 this month so I feel qualified to say that a 32-year-old woman is too old to wear this kitty shirt.
Kirk insanity
Kirk's the termite exterminator. Obviously. (drink!)
Michel madness
When Lorelai jokes that she'd be willing to give a banker a lap dance for a loan, Michel offers: "You know in Thailand, women do this trick with a ping-pong ball that is a big crowd pleaser." Michel!
Best Gilmore Gal witticism
Lorelai is vexed to see Emily has shown up for her bank meeting and snaps, "You are seriously not sitting there." Emily retorts, "No, it's a hologram. Lifelike, isn't it?"
Random observation
Hey, the bank manager who keeps turning Lorelai down for a loan (over the phone – not Emily's banker) is named Mr. Rygalski! It must be Dave's dad!! (So, Helen Pai is Amy Sherman-Palladino's best friend and the real life inspiration for Lane. She's a script coordinator and producer on the show, and her husband is named Dave Rygalski, so ASP named a couple of characters after him.)
2.12 "Richard in Stars Hollow"
I have to get this out of the way immediately: I hate Richard in this episode. I hate him so much. I know we're supposed to feel sorry for him by the end, but I don't. Feeling obsolete and rejected is no excuse to criticize every tiny decision your daughter makes when she's trying to welcome you into her life, and he chose to retire and now he's acting like a gigantic baby about it. I may have some paternal disapproval issues of my own to work out, because every time I watch this episode my blood pressure goes through the roof. It's a good reminder of what Lorelai had to endure throughout her childhood and why she still sometimes behaves with a little petulance and rebellion as an adult. hate hate HATE.
Okay! Phew! Emily is losing her mind because the newly retired Richard is following her around ad nauseum, so she pawns him off on Lorelai for the day. Lorelai's a little anxious to spend the day alone with her father, and for good reason: he is such a dick. He acts like he's only pleasantly offering constructive criticism, but he passes judgment on her wardrobe, her breakfast choices, her coffee intake, the way she conducts business, the way she's raising Rory, EVERYTHING. By the end the of the day she's ready to explode but has still managed to keep her temper, until Dean arrives with THE CAR he built Rory (it's so so beautiful, people), and Richard demands that Rory refuse it because he assumes it's not safe. He overrules Lorelai in her own home (HATE) and mortifies Rory, until Dean takes him to the mechanic to prove that the car is perfectly safe. The two fellas actually have a nice conversation here because Dean totally stands up to Richard and Richard admires him for it (I do too), but then Richard comes home and Lorelai finally loses it with him. Instead of apologizing for his despicable behavior, Richard throws Lorelai a guilt trip about feeling obsolete and pouts his way home. HATE!
I do, however, enjoy seeing how tall Edward Herrmann and Jared Padalecki are as they stand next to each other:
Meanwhile, Paris is freaking out because The Franklin is up for the Oppenheimer Award for excellence in a school newspaper. She wants to blow them away with an exposé on the seedy underbelly of small towns, so she demands Rory take her to Stars Hollow to uncover some non-existent corruption. Instead she discovers small town censorship: after Rory unwisely told Kirk to move the Showgirls VHS to the top shelf of the video store so the kids wouldn't be besmirched by Jessie Spano's half-nakedness, Taylor devises a scheme (drink!) to hide all even moderately objectionable videos behind "The Rory Curtain." Rory is affronted; Paris is delighted; Jess is amused. And me? I'm too busy hating Richard to feel anything else this episode.
How many times do I have to drink?
13.
How many cups of coffee do the Gilmore girls drink?
9.
Flirtation quota
You guys, this car Dean built Rory! I want it!
Jess shows his affection in his own, smooth-criminal-way by swapping out all the videos from behind the Rory Curtain with all the videos in front of the Rory Curtain. Lorelai flirts a little with Luke to get him to buy a grapefruit from Doose's so she can appease her father, and then she flirts a little with Manny so she can get her linen delivery on time, of which of course Richard severely disapproves. (hate.)
Best/most dated pop culture reference
When Emily, Lorelai and Rory all say they're fine while greeting each other for Friday night dinner, Lorelai: "Oh, look at that. All three of us fine, just like The Judds."
Sookie's best dish of the episode
No Sookie, but Emily's chef prepares some apparently delicious sweetbreads for dinner. Lorelai loves them until she hears the word "pancreas."
Lorelai's craziest outfit
You guys know I'm not a fan of her incessant ruffly shirts, but I don't have the heart to criticize her this week. She's gotten plenty of that.
Kirk insanity
Kirk's part and parcel of the Rory Curtain silliness. Plus, you know, new Kirk job. (drink!)
Michel madness
When Richard overhears Lorelai flirting with Manny and grimly asks her to speak to him, Michel sing-songs, "Someone is in trouble." Yes, Richard admonishes Lorelai in front of her employee. HATE SO MUCH.
Best Gilmore Gal witticism
After Richard notes with approval that Rory doesn't have any death rocker posters on her bedroom wall, Rory asks in this really grave tone, "Grandpa, where did you learn the term 'death rockers'?"
Random observation
Yay, we meet Gypsy for the first time! Poor thing is forced to check out Rory's car 500 times by an obstinate Richard. (all together now! HATE.)
---
Next week we have the truly great "A-Tisket, A-Tasket," "It Should've Been Lorelai" and "Lost and Found," so get ready for lots and lots of flirting next Wednesday morning.
And I leave you with a question, dear FYA readers, although I suspect I already know the answer. Okay lay it on me: am I being too hard on Richard here?