About:
Title:
Gilmore Girls S2.E04 "The Road Trip to Harvard"
Gilmore Girls S2.E05 "Nick & Norah/Sid & Nancy"
Gilmore Girls S2.E06 "Presenting Lorelai Gilmore"
Drinks Taken: 21
Cups of Coffee: 10
It's Week 9 of our Rewatch Project, and this is the moment many of you have been waiting for. Poet. Rebel. Genius. Jerk. The ultimate Mysterious Loner Dude. Ladies and mostly other ladies: Jess Mariano.
But first! A reminder of our drinking game rules: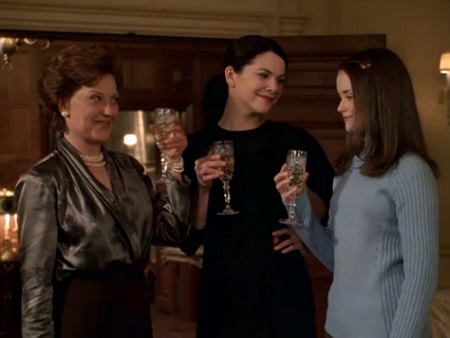 The Gilmore Girls Drinking Game Rules
Drink once every time:
Lorelai or Rory drinks coffee.
Emily gets flustered by Lorelai's bizarre sense of humor.
Sookie is controlling about food.
Paris is controlling about anything.
Michel snubs a customer.
Luke is crotchety.
Taylor has an absurd scheme for Stars Hollow.
The girls acquire massive amounts of food and then fail to take even one bite.
Drink twice every time:
Kirk has a new job.
You see a town troubadour.
Emily gets a new maid.
On to the episodes!
2.4 "The Road Trip to Harvard"
Lorelai and Rory are in the midst of their Run Away From Lorelai's Love Life Road Trip when they find themselves in a horrifically kooky little B&B called The Cheshire Cat. They try to avoid the elderly busybodies at the Cheshire as strenuously as Lorelai is avoiding talking about what happened with Max. But Rory keeps pushing, and all Lorelai will admit is that she's certain – she doesn't love Max. She wishes she did, but she doesn't. Rory drops it.
The next day, Lorelai surprises Rory by driving her to Harvard. They walk around the campus in awe, checking out libraries, dorms – Rory even sits in on a class and contributes to the lecture! She fits right in and is beside herself with joy, while Lorelai is a little wistful about the future she could have had.
They head home, after Lorelai leaves a hilarious message in The Cheshire Cat's guest book:
and return to a Stars Hollow that is now fully aware of Lorelai's break-up, thanks to Miss Patty's giant mouth. Everyone handles it fairly well, including a surprisingly sensitive Emily, and Luke couldn't be nicer about it. In fact, he's over the moon, although he's considerate enough to hide it it in front of Lorelai. Lorelai tells Luke that the trip has motivated her to get off her butt and achieve her dream, and the episode ends with a phone call from Lorelai to Sookie about the Dragonfly Inn.
Also: Lane's back!
How many times do I have to drink?
3.
How many cups of coffee do the Gilmore girls drink?
3.
Flirtation quota
A crotchety Luke (drink!) cheers up on a dime when Sookie tells him that Lorelai and Max have broken up. He's so thrilled he tells the entire diner that coffee is on the house! Sookie's little smile to herself kills me – girlfriend knows what's up.
At the end of the episode, Luke and Lorelai share a lovely scene. He apologizes that things didn't work with Max, and they agree that she should keep the beautiful chuppah and just call it a garden arch. Luke also tells Lorelai that he knows she'll be successful in her attempt to open the Dragonfly, and that he'll help her with anything she needs. Sparks fly as they smize at each other for days.
Also a cute, preppy Harvard student flirts with Lorelai big-time, and she's all "Yup, still got it!" about it.
Best/most dated pop culture reference
Rory: "A cool B&B? That's like saying an understated Nicolas Cage movie." She then name-drops the excruciating Captain Corelli's Mandolin and mimics Nic's abysmal accent: "Bella bambina at 2 o'clock!"
Sookie's best dish of the episode
Aww. She made this beautiful cake for Lorelai's wedding, and then just started hacking into it and passing around plates after learning of the breakup. "You were a good cake, Clyde. I never should've named you."
Lorelai's craziest outfit
I know you're excited about the tour, Lorelai, but this Harvard fishing cap has got to go.
Kirk insanity
He orders nothing but coffee for two hours at Luke's and then tries to calculate a 6% tip on a $4 tab. And then as Lorelai and Rory drive into town, he yells at their passing car, "I'm so sorry!" about the breakup. Smooth, Kirk.
Best Gilmore Gal witticism
Lorelai: "You know, if I was in a rock band touring and stuff, I'd make the bus driver stop at every Haden's Nut House we pass."


Rory: "Wow, your Behind the Music is gonna be really wild."
Random observation
I love that Lorelai's own regrets about Harvard never dampen her excitement on Rory's behalf. Getting pregnant at 16 waylaid all of Lorelai's plans, but she never treats Rory as a burden or as her chance to live vicariously through the opportunities that she missed. She's just proud of her daughter. Lorelai is a hero, because instead of getting all mopey about Max and her future, she gets motivated. We should all deal with breakups so well.
2.5 "Nick & Norah/Sid & Nancy"
Luke's sister Liz calls him from New York and says that her 17-year-old son Jess is getting into trouble, and she wants to send him to Stars Hollow because she's an irresponsible flake. Luke buys a tiny air mattress and some Frosted Flakes and feels sure he's got this covered; Lorelai is more skeptical. Jess arrives and looks askance at the quirky paradise that is Stars Hollow, and he's pretty pissed at Luke for bringing him here and disrupting his life. He immediately starts mouthing off and getting into trouble, and Luke is in denial about all of it. Lorelai invites Jess and Luke over for dinner with her, Rory, Sookie and Jackson, and Jess seems immediately interested in Rory's book collection and other charming attributes. Say what you will about Jess, but these two have instant chemistry.
He then grabs a beer and escapes to the front porch, where Lorelai very nicely confronts him. Jess is a real dick about it, and then when Lorelai discusses it with Luke a few minutes later, Luke's a real dick about it, too. He even earns my fiercest ire by saying the following: "You know, you ever think maybe you just got lucky with Rory? I mean, you did get pregnant at sixteen. That doesn't show the greatest decision making skills, now does it?" So incredibly uncool, Luke.
The next day, Luke learns that Jess stole some money Taylor had raised to save the town bridge, and he finally loses it. He pushes the little jerk in the lake (off the bridge!), and it is MY FAVORITE.
He then admits to Lorelai that he's in over his head, and they make up. (No apology from Luke for the horrible thing he said, to my disappointment, but Lorelai drops it because she's more forgiving than I.) Rory runs into Jess later that evening, and he returns her copy of Howl that he stole and wrote a bunch of notes in the margin. I would have been LIVID, but I guess his notes must have been pretty insightful, because Rory's into it.
Meanwhile, at Chilton, Paris is still trying to make Rory's life miserable, and she assigns Rory the snoozey parking lot repavement story at the school newspaper, The Franklin. Rory crushes it, turning it into a "a bittersweet piece on how everybody and everything eventually becomes obsolete" because she's a complete baller. Paris escalates by then assigning her an interview of Mr. Medina (who won most popular teacher at Chilton, because he's wonderful). Rory's super awkward at first, but Max is so kind to her, and we learn that he used to want to be a clown and other scintillating details of his history. But the most interesting scoop occurs when Rory turns off the tape recorder: "I just want you to know, I really wanted you to be my stepfather." Max replies with such solemn earnestness, it breaks my heart: "I just want you to know, I really wanted to be your stepfather." Sigh. Team Max this week.
How many times do I have to drink?
11.
How many cups of coffee do the Gilmore girls drink?
4.
Flirtation quota
Lorelai doesn't do any flirting this week, as she's too busy fighting with Luke and feeling melancholy about Max, but never you worry, because Rory and Jess more than make up for it:
Best/most dated pop culture reference
Lane's record store order bears repeating: "Charles Mingus, The Black Saint and the Sinner Lady. The Sonics, Here Are the Sonics. MC5, Kick Out the Jams. Fairport Convention, Liege & Lief. Bee Gees, Odessa…Okay, that's it. Now if I could just find a copy of Whistler, Chaucer, Detroit and Greenhill, I will finally be done with the sixties."
Sookie's best dish of the episode
She goes overboard cooking for Jess' welcome dinner, which of course the little ingrate doesn't even eat. Grilled cheese, pot roast, mashed potatoes, chicken wings, garlic bread and four kinds of salad!
Lorelai's craziest outfit
She's got a lot of black and brown happening in this outfit, as well as some mixed synthetic fabrics: rayon shirt with the crazy pattern, pleather jacket, what appear to be polyester pants. So super duper early 2000s working gal.
Kirk insanity
No Kirk, but Taylor's lunch outing with the boy scout troop provides plenty of townie weirdness this week.
Best Gilmore Gal witticism
Luke, gesturing to his ever-present backwards baseball cap and ranting about Jess: "I am in so far over my head that I can't see my own hat!" Lorelai: "Try turning it around." hah!
Random observation
So. Here's how I feel about Jess at this point in the show. I get it – it sucks. His mom is Liz, his dad wants nothing to do with him, he's been shipped off to the World's Quaintest Village and he's pissed. I will give him a little latitude with the way he treats Lorelai and Luke in these early days of arriving in Stars Hollow. And I certainly don't mind that he's hot and tortured. But if a man ever took a book of mine without my knowledge and returned it with his notes written in the margin like it's some FAVOR he's granting me, I would loathe him for all eternity.
That said – he and Rory really do have chemistry. And I like that he reads.
2.6 "Presenting Lorelai Gilmore"
Richard and Emily are fighting because he's canceled the past several social engagements on her behalf. She's feeling out of the society loop, so she decides to present Rory at the upcoming Daughters of the Revolution coming out ball. Rory can see how much this means to Emily, so she agrees because she is the SWEETEST. Lorelai's a little horrified but willing to play along, and Christopher arrives to escort her as her father. Dean and Christopher complain a lot about being forced to wear a tux, but they both wear the hell out of a tux, and oh my god, Rory looks so beautiful.
Unfortunately, Emily doesn't get to enjoy any of it. She and Richard fight the entire time, and after much goading he finally tells her why he's been so upset: he's being phased out at his company. Lorelai tries her best to mediate the argument, but Emily takes out her disappointment on Lorelai as Rory glides down the stairs: "It should have been you." And you know, I'm proud of Lorelai, because instead of letting this be one more roadblock keeping her from having a relationship with her mom, she realizes how sad and alone Emily must feel. The episode ends with Lorelai watching Emily garden, and Emily is so quietly touched that her daughter came over just "to hang." Beautiful scene.
But before that! Christopher and Lorelai are hitting it off BIG TIME this week. He's become quite responsible recently, with a Volvo and a real job, and he's anxious to fulfill his commitments to Rory. Lorelai's growing smitten because a Responsible Chris is a Sexy Chris, but after she kisses him and tells him to stay the night, he says (not without a little regret) that he has to get back to his new girlfriend, Sherry. (Ugh, Sherry.) Lorelai's a little crushed that Christopher's finally getting his stuff together and she doesn't get to benefit from it, but she's also happy for him, because their relationship is lovely and complicated.
Jess and Rory are still eye-ballin' each other some this week, but mostly Jess just does this and wins me over a tiny bit because it's hilarious:
How many times do I have to drink?
7.
How many cups of coffee do the Gilmore girls drink?
3.
Flirtation quota
Rory and Dean are pretty cute this week with all the deb ball preparations, although he massively underplays how beautiful she looks in that ball gown. She and Jess make with the eyes, but most of the flirting this week is between Lorelai and Christopher, who are ON FIRE. I mean yowza!
Best/most dated pop culture reference
Lorelai, lamenting that Rory allowed Emily to talk her into the ball: "Ugh, Rory, that's like accepting the position as the drummer in Spinal Tap."
Sookie's best dish of the episode, Kirk Insanity
No Sookie or Kirk this week – David Sutcliffe must have eaten up all the guest star salary.
Lorelai's craziest outfit
Her leisure wear decisions are consistently unsound.
Best Gilmore Gal witticism
Lorelai to her parents, arguing loudly outside the ball: "Are you two completely out of your mind? There is a ceremony going on in there. Young girls in ugly dresses and stupid fans are parading around in circles for God knows what reason, and you two are ruining it!"
Random observation
Like last year's golfing expedition, "Presenting Lorelai Gilmore" offers one of the early hints that Rory isn't as emphatic about rejecting Richard and Emily's lifestyle as Lorelai is. We'll talk plenty in later seasons about whether this indicates that Rory is a born elitist or simply tolerant of all mankind (including richies), but this episode is pretty prescient about Rory's arc in Season 6.
---
So there you have it! Next week we'll be covering "Like Mother, Like Daughter," "The Ins and Outs of Inns" and "Run Away, Little Boy," so meet us back here next Wednesday morning!
And I leave you with a question, dear FYA readers. Let's keep it simple: Team Jess or Team Not Jess?