About the Book
Title:
Ask The Passengers
Cover Story: Lovely
BFF Charm: Yes, Yes, A Thousand Times Yes!
Talky Talk: A. S. King, Mofos!
Bonus Factors: Socrates, Freedom, Catering
Relationship Status: I'm Sending This Book SOME Of My Love
Cover Story: Lovely
Okay, so normally, a girl lying on the ground reaching for the sky wouldn't really be my bag, but it makes SO MUCH SENSE in the context of this story that I couldn't help but love it. It does kind of make it look likes a spiritual sort of self-help book, but you know what? It kind of is. It also seems to me that Little, Brown has the best covers. I don't think that's a coincidence, so bravo, Little, Brown.
The Deal:
Astrid's family moved from NYC to Small Town, PA when she was an adolescent, and she still doesn't fit in. There's the fact that no matter how hard her mom tries, everybody — including her family — still sees her as the uptight New York bitch. And there's the fact that her dad has developed his own way of dealing with things that involves him disappearing into the garage and coming back reeking of pot smoke. There's the fact that her little sister Ellis has totally become one of THEM — the small-town girls — and fits in famously. And then there's the fact that Astrid might be in love with her co-worker, Dee.
BFF Charm: Yes, Yes, A Thousand Times Yes!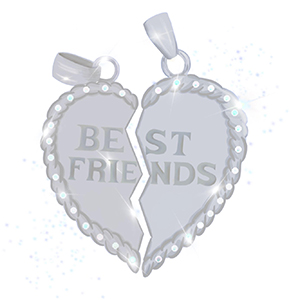 Oh Astrid! WHY is everybody always pushing you? I would be a BFF you could lean on. I would be there to give you a little wave, or a smile, and I wouldn't even complain when we hung out after you got off work, and you smelled like food. I would let you be you, and not pressure you to figure things out before you're ready. And girl! Your FAMILY!!!! I feel you. I promise that above all else, I would be YOUR friend. I would, in effect, be kind of like Frank.
Swoonworthy Scale: 7
The romance in this story provides all of the sweet toe-tingles and fluttery stomach moments and uncertainty and fear and possibility that a good romance should have, but King also keeps it realistic — like she does. Just because the two characters are girls doesn't mean that everything is hair-braiding and making out. Girls can be pushy, too, because no one is perfect. And just because someone makes a mistake does NOT mean that you just cut them out of your life.
Talky Talk: A. S. King, Mofos!
Let me start off by saying that I think that this is an IMPORTANT book. Not because the author tells you how to think. Not because it's preachy. Instead, I think this book is important because it is one girl's journey to finding herself — something we all deal with every day of our lives. And I think it is an important book because it is filled with love and hope and blessings, and because it makes me think about intent, and how we just might be able to change the world with it.
King yet again captures a voice in Astrid that is unique to her other protagonists, but feels completely genuine. Astrid is so lost, but in a way that is absolutely appropriate. She delivers a story that is poignant and funny and just a little bit bizarre in the way that only she can. It is an issue book, but King's writing feels so unprocessed, so RIGHT ON, that she never ever once dips into After-School Special territory.
Bonus Factor: Socrates
Socrates is one of the coolest dudes in all of history. He's one of the 5 people I'd like to have to dinner, if I could, because I think he was brave and wise, and I think he laid foundations that have allowed for much of the freedoms we take for granted today. And King's Socrates? Kicks ass.
Bonus Factor: Freedom
I purposefully didn't label this bonus factor "Diversity". You wanna know why? Because if we were all truly free, there wouldn't need to be talks about diversity. If every person in this world were free to be who they were meant to be, to love who they were meant to love, to worship, to dance, to laugh, and to be silent, there would be equality. The opposite of freedom is fear, and fear is what keeps people captive.
Bonus Factor: Catering
Astrid and Dee work in the kitchen of a catering company, and King's descriptions of chopping vegetables and deveining shrimp and stolen moments in the walk-in and secret languages you make up when you are performing mind-numbing labor was just perfect.
Relationship Status: I'm Sending This Book SOME Of My Love
Don't worry, that's not an insult. This book totally knows what I mean. Because it's as important for me to keep some of my love for my own life as it is for me to give it away to others. And maybe, with that philosophy, this book and I can spread even more love around to everybody else.
FTC Full Disclosure: I received my review copy from Little, Brown. I received neither money nor cocktails for writing this review (dammit!). Ask The Passengers is available now.