About the Book
Title:
Cold Spell (Fairytale Retellings #4)
Cover Story: In-Flight Entertainment
BFF Charm: Heck Yes
Talky Talk: Fairy Tale Thriller
Bonus Factor: Mysterious Loner Lady
Anti-Bonus Factor: Cold Weather
Relationship Status: Just Getting Warmed Up
Cover Story: In-Flight Entertainment
There's definitely something sinister about this cover: the frozen thorns, the broken mirror, the icy snowflakes, the blue tones. I get cold just looking at it, and not just because the title of the book is in my subconscious telling me to do so. The imagery plus the typeface of the title, and the title itself, also make me think of a James Patterson–style thriller, a book I'd pick up in the airport if I'd forgotten entertainment for a flight.
The Deal:
Ginny and Kai have been BFFs since they met at the age of seven. Through the decade that followed, they became even closer and realized that their friendship went much deeper. One afternoon, they decide to skip their last class of the day and head to "their" place—an overgrown rose garden on the roof of their apartment building.
While they're on the roof, a freak snowstorm hits the city and brings with it a beautiful and friendly stranger named Mora. She seems like nothing but a good Samaritan, but soon Kai is pulling away from Ginny and falling prey to the appeal of Mora's mysterious nature.
When Kai leaves town unexpectedly, Ginny goes on a cross-country trek filled with mysterious creatures, life-threatening experiences and surprising friends, all in the name of true love.
BFF Charm: Heck Yes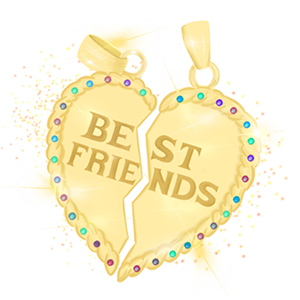 Ginny is awesome. She's a little unsure of herself at the start of the book, but quickly realizes that she doesn't need another individual to determine who she is. That's not to say that she doesn't want other people around, since she certainly cares for Kai and the new friends she makes on her trip to find him, but she's got her own contributions to the world to make. It's great to read about a character who grows so believably over the course of a book, particularly one who grows into someone who would be really fun to be around.
Swoonworthy Scale: 3
Ginny and Kai are soul mates, but the realization of this is only slowly making its way into their relationship. The moments they share are sweet, but very innocent. Plus, the two are separated for much of the book, so there's little chance to get their swoon on.
Talky Talk: Fairy Tale Thriller
Pearce weaves a story in Cold Spell that seems familiar, yet is fresh at the same time. The book, No. 4 in a series of fairy tale retellings that each stand on their own, is based on Hans Christian Andersen's "The Snow Queen." I'm actually not that familiar with the tale, so if the story was at all reminiscent of the original, I'm not sure. Regardless, Pearce's new version was filled with intriguing characters and beings that all fit together in a quick-paced and fun-to-read narrative. And unlike some other retellings that tend to gloss over the more ominous parts of the story, Cold Spell doesn't shy away from them, for the better.
Bonus Factor: Mysterious Loner Lady
The character of Mora suddenly appears and ingratiates herself into Kai and Ginny's lives with little fanfare. She's beautiful, graceful and alluring, but other than that … a complete question mark.
Anti-Bonus Factor: Cold Weather
I might live in Texas now, where the "winter" weather is very unlike that of the weather in more northern climes, but I attended a university in Massachusetts for four years…and I quickly learned that I am not OK with snow, sleet, ice or any of the various other forms water takes on when it gets cold. Jackson Pearce describes the wintry weather in the story so well it almost becomes its own character, and that makes a girl like me who prefers her weather to be between 45 and 75 degrees a little uncomfortable.
Relationship Status: Just Getting Warmed Up
I'm a little bummed that although you're No. 4 in a series, Book, your characters won't continue into the next story. I really enjoyed our adventure together and quickly fell for the new and interesting friends we made along the way. I wish we had more time and more adventures in our future, but I certainly appreciate you for the great one-shot you are.
Cold Spell is available now.
FTC Full Disclosure: I received my free review copy from Little, Brown and Company. This review was originally posted on Kirkus Reviews in exchange for monetary compensation, which did not affect or influence my opinions.