Cover Story: Montell Jordan
BFF Charm: Make It Rain
Talky Talk: I'm Not Crying, You're Crying
Bonus Factors: Adoption/Foster Care, Therapy, Found Families
Relationship Status: LYLAAS
Cover Story: Montell Jordan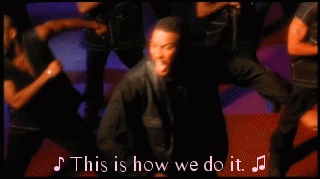 The leaf explosion, the colors, the simple font—it all ties together in a beautiful way. Even the tag line on the bottom, "What does it mean to be a family?" works, because, really, that is the crux of the book. Benway touches on so many themes within the pages that anything less than an abstract cover design would've come off as too cutesy. Perfect.
The Deal:
Sixteen-year-old Grace has a hole inside her. On the night her ex-boyfriend was crowned homecoming king, she was in the hospital delivering their daughter. Both families agreed that adoption was the best route, but now that Peach is gone, Grace is slowly losing her mind. Armed with this newfound understanding of what it means to be a birth mother, she decides to do something radical and find her own birth mom, but the search is put on pause when she finds out she's actually a middle child. Her biological mother had two other children: Joaquin, the oldest, who was never adopted and has spent his life in foster care; and Maya, the youngest, who was also adopted from birth, like Grace.
Joaquin is getting ready to age out of the system and can't believe anyone would want to adopt a seventeen-year-old boy, especially the couple that have been fostering him for the last two years. Maya's parents just announced they're getting a divorce, which could be part of the reason why she and her sister have been finding their mom's wine bottles hidden around the house. All three are feeling completely alone in their own personal crises—but maybe now they can work through that loneliness together.
BFF Charm: Make It Rain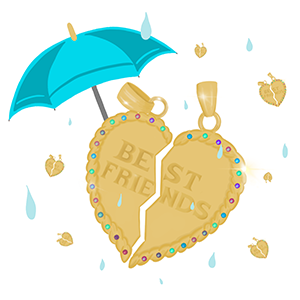 These kids, man. Is awesomeness hereditary? None of them start off being best friend material—not to say that they aren't good people, but they're all floating around like rudderless ships at sea, pushing people away left and right. I would be left standing by a dust trail holding both halves of a BFF charm by myself. Grace sums up everyone's starting level of emotional turmoil best:
"It felt a bit like she was heading towards a firing squad, except worse, because she knew that instead of dying, she was going to have to stay alive through the whole day. And then the next one after that."
Rough. But when the three meet each other and start to learn what they have in common, it's just so beautiful to watch a family forming right in front of your eyes. They've each got their issues, but they are always supportive of each other first, and we would all be so lucky to have a sibling like Maya, Grace, or Joaquin.
Swoonworthy Scale: 6
Sweet and complicated is the name of the game. Joaquin broke up with Birdie because he "knows" he'll never be what she needs. Maya's girlfriend, Claire, is caring and beautiful, and Maya doesn't want her to think that Maya herself is anything less than perfect, too. Grace can't believe how quickly Max broke up with her after finding out about the baby, and she's not obviously looking for anything new, but irresistible goes by the name of Rafe, the boy who comforts her in the school bathroom on her first day back. None of the romantic relationships overshadow the family stuff going on, but they do lend an extra layer of depth.

Talky Talk: I'm Not Crying, You're Crying
I don't know if it was the subject matter, the wine I drank before reading, the heartbreakingly beautiful video about an elephant and dog being BFFs that my husband forced me to watch, or maybe just a case of raging PMS, but, Jesus, I pretty much cried my way through this book. Happy tears, sad tears, ALL THE DAMN TEARS.
Let's review: Benway tackles the topics of adoption, foster care, teen pregnancy, alcoholism, feelings of abandonment and worthlessness, mental health, growing up, all in a single book. I don't think she was aiming high enough. /sarcasm This isn't a heavy book, though, despite the intense subject matter. Is it the most realistic portrayal of adoption and foster care? Probably not—there are a lot of happy coincidences—but as I was already going through half a box of tissues, I didn't need this to be a gritty, dark representation of life with a capital L. I liked that it was a gentler, more hopeful promise that, sometimes, things can work out in the way you didn't expect.
My favorite thing about the only other Robin Benway book I've read, Emmy & Oliver, was her ability to write excellent character interactions, and that holds true here, too. She pays close attention to describing body language and highlighting little linguistic moments, and it makes you feel as if you're watching a play unfold in front of your eyes. I loved all of Rafe and Grace's interactions, as Rafe has a great dry, dark humor, and Maya's increased ramblings when she got nervous felt so natural, like I could easily see her as a real person.

Bonus Factor: Adoption/Foster Care
Dozens and dozens of books can be written on these topics, because they are so intense and so unique to every person. And when you're dealing with the making and breaking of families, how can it not be? I loved that we got to see so many sides of adoption (and to a lesser extent, foster care) because the word encompassed so many feelings for each character.
Bonus Factor: Therapy
Joaquin regularly meets up with his therapist, Ana, at a diner to talk through his problems, and I'm pretty sure by the end almost everyone was encouraged to seek out some kind of counseling.
Bonus Factor: Found Families
I know Grace, Joaquin, and Maya are biologically related, but just because you share some blood doesn't mean you're meant to get along. Family can be as much about the choice to stay together as it is about being born into it.
Relationship Status: LYLAAS (Love Ya Like An Adopted Sibling)
I'm an only child, Book, and I look exactly like my mom, so I can't quite relate to our surface differences. But your feelings of loneliness and longing for acceptance are universal, and I would be so honored to have you as part of my family.
FTC Full Disclosure: I received my free review copy from Harper Teen. I received neither money nor peanut butter cups in exchange for this review. Far From The Tree is available now.