About the Book
Title:
I Crawl Through It
Cover Story: Nonstandard
BFF Charm: Let Me Love You
Swoonworthy Scale: 1
Talky Talk: A.S. King, Mofos!
Bonus Factors: Poetry, Potty Humour, Grownups That Care
Anti-Bonus Factor: Standardized Tests
Relationship Status: Gonna Make You(r Brain) Sweat
Content Warning: One of the prominent storylines involves date rape. While the focus is mostly on the aftermath of the survivor, brief details confirm the scumminess of the perpetrator.
Cover Story: Nonstandard
Simple and effective, this cover borrows its look from bubble sheets of standardized tests, but refuses to conform by supplying its own answers—and by having a completely distinct look from most YA covers.
The Deal:
If only I could say "just read it" and be done with this section, because how to even begin, y'all.
Four teenagers are nearing the end of their senior year, but they're all barely hanging on to make it through the finish line. On top of the tedious tests and the disruptive bomb threats that they receive at school, they're also dealing with trauma in their personal lives that no one else seems to notice.
So they retreat from their anxieties by hiding inside a lab coat that's never taken off, lying to everybody, turning themselves inside out, and building an invisible helicopter.* But avoidance can only do so much; they can only conquer their problems by confronting them.
*And I mean those last two literally. Or, as literally as they can be in a surrealist book.
BFF Charm: Let Me Love You x 4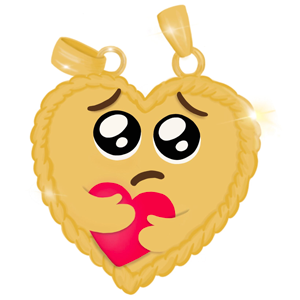 Even though I could dispense a few BFF charms, the only thing I want for these kids is love. For Stanzi, whose feelings are concealed within her ever-present lab coat, and whose parents preoccupy themselves with other families' tragedies rather than processing their own. For China, whose dignity has been reduced to a social media punchline, and who can only face the world when she swallows herself inside out. For Lansdale, whose hair grows with every lie she tells to stave off her loneliness. And, last but not least—even though I do know him the least, since he doesn't share narration duties—for Gustav, whose invisible helicopter is better than a stupid human.
Selfishly, I'm glad that I do feel for each of the characters, since this book is all about them being overlooked and misunderstood. So, y'know, jerk crisis averted. But, really, it's less due to my capacity for empathy than it is due to the authenticity to their inner pain.
Swoonworthy Scale: 1
Stanzi and Gustav might be in love with each other, but their relationship isn't conventionally romantic. There are also less prominent couplings between long-lost lovers and newfound kindred spirits. Although most of the swoon is negated and overshadowed by the nonswoony parts in China and Landsale's storylines.
Talky Talk: A.S. King, Mofos!
Is there another YA writer as adept at constantly reinventing herself as A.S. King? Sure, her books are all thought-provoking, outrageously original, and brilliantly written. But beyond that, anything goes—which is especially true for this surrealist feat.
I haven't read a lot of surrealism before this, but who better to provide an introduction than one of YA's finest? Stay with me here, but this reading experience reminds me of an old British kids' show, Art Attack, that used ordinary objects to create large-scale artwork. Seeing the components on their own generates intrigue and sparks imagination, but you have to wait to find out how they all fit together in the big picture. Luckily, patience pays off when the masterpiece starts taking shape. 
Bonus Factor: Poetry
Through poignant arrangement of deliberate words, China mainly expresses her emotions through poetry. I'm usually wary of poems in YA novels, but OMG, you guys—I might actually like China's! SUCH IS THE MAGIC OF A.S. KING.
Bonus Factor: Potty Humor
Look, a more mature person might not be so easily amused by poop chute references. I am not that person.
Bonus Factor: Grownups That Care
The adults in this story are far from perfect, with some being much further from it than others. But once they clue into what their daughter is going through—even if they need help cluing in—China's parents are eager to help, even if they feel powerless to do so. But they try because they finally listen, and that's a start.
Anti-Bonus Factor: Standardized Tests
Much can be (and has been) said about how standardized testing has turned into a lucrative industry, so pants to A.S. King for highlighting the nefarious practice of profiting from and to the detriment of children's education. 
Relationship Status: Gonna Make You(r Brain) Sweat
Book, even though I didn't hesitate to go out with you because of your pedigree, I'll admit that I didn't quite know what to make of you once our date was over. I was pretty sure I liked you, but what even just happened?! I ended up replaying the date (i.e., rereading) for a better understanding of the story, and I'm so glad that I did. By already knowing what would happen, I was able to pay closer attention to everything else—and there is A LOT to pay attention to. You might be a challenging read, but you're def. worth the mental workout. 
FTC Full Disclosure: I received my free review copy from Little, Brown. This review was originally posted on Kirkus Reviews in exchange for monetary compensation, which did not affect or influence my opinions. I Crawl Through It is available now.