BFF Charm: Yay!
Talky Talk: Impending Doomtastic!
Bonus Factor: Earth Science!, Crazy Father
Relationship Status: I'm A Senior, And This Book Is A Really Cute Sophomore…
The Deal:
The only thing Mason has from his father is a video of him from the neck-down, reading a children's book. His mother first showed it to him the day he got mauled by the neighbor's dog, after he got the 97 stitches it took to put his face back together. It's become a sort of calming force in Mason's life– something he puts on to listen to when he feels distressed. When he happens to play it in the same room as a few young brain-injury cases at the nursing home where his mom works, a strange thing happens: One of the kids, a girl, snaps out of her previous trance-like state. She doesn't remember who she is, but she knows one thing: She has to get out of there, and now. She turns to Mason for help, and the next thing he knows, he is on the run with this mysterious– and did I mention beautiful?– girl, and men in suits are chasing them. As they flee, Mason tries to help the girl remember, and figure out for himself what in the world is going on in his little town, and most important of all, who is the Gardener?
BFF Charm: Yay!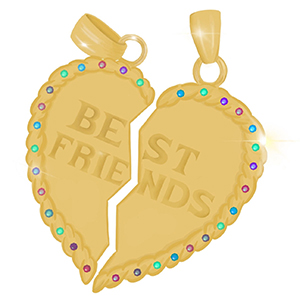 This is only the 3rd boy I've given my charm too, and Mason definitely deserves it. This is a kid who's grown up with a scar on his face that draws stares, and not much else. He has his best friend, Jack, but to most other people in school, he's just the big quiet guy with the scar. It's not that Mason doesn't mind this, he just deals. And he uses it. See, he has a wee bit of a hero complex, understandably because since he doesn't have many friends, it feels really good when he can stand up for someone else. That makes me want to give him a great big old hug.
Swoonworthy Scale: 3
It's very interesting to read the beginnings of a romance developing from a teenage boy's perspective, all while under mysterious and life threatening circumstances, AND on the run. S.A. Bodeen writes boys-that-I-would-crush-on very well, and as Mason is falling for the girl, even though he mostly takes on the role of protector, it's very sweet. I would like to know more about the romance that could develop for him after the book finishes. (um, sequel, Ms. Bodeen?)
Talky Talk: Impending Doomtastic!
I am now officially a huge fan of S.A. Bodeen. I loved her first book (see my review of The Compound) and this one didn't disappoint. This book thrilled me, chilled me, and made me want to grow a vegetable garden. (I know, not what you might have expected.) Ms. Bodeen handles impending dystopia with a flare, and the mystery is well told, even if you correctly guess what's going on. She always keeps a few aces up her sleeve, and doesn't hold on to them– oh no– she flicks 'em out at you just when you think you've got everything figured out, prompting out loud exclamations of 'oh no!', 'eeewwww!' and 'no way!'
Bonus Factor: Earth Science!
So I didn't really like earth science when I was in school, but I care about the earth and the environment now, and this book dishes out plenty.
Bonus Factor: Crazy Father
Nobody writes a good crazy father like Ms. Bodeen. The father figure in this book doesn't reach the levels of craziness that were achieved in The Compound, but still, pretty crazy.
Relationship Status: I'm A Senior, And This Book Is A Really Cute Sophomore…
Okay, so I have a confession to make: I totally made out with this book behind the bleachers, you guys. I know it's a sophomore, and we couldn't actually, publicly date, but, man, when it get's a little older, like when I'm 27, and it's 25…. I'm going back for the hook up.
FTC Full Disclosure: I received my free review copy from Feiwel & Friends. I received neither money nor cocktails for writing this review (dammit!). The Gardener is available now.