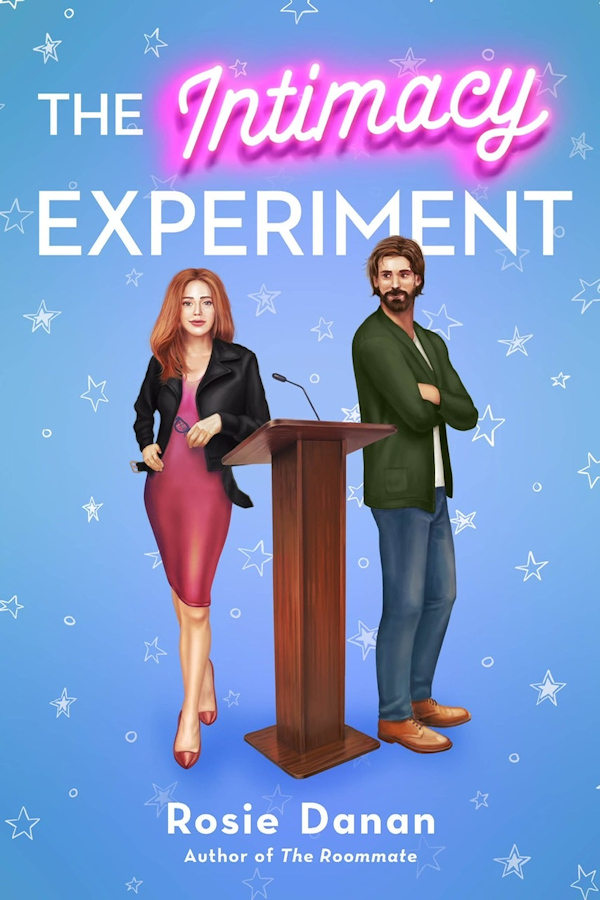 About the Book
Title:
The Intimacy Experiment (The Shameless Series #2)
First Impressions: A Monet
What's Your Type? Friends to lovers; prickly-with-a-heart-of-gold ex-porn stars; sex positivity; thoughtful discussion on religion; hot and well-spoken rabbis
The Lean: Brainy Is The New Sexy
We Need to Talk: A (Non-Denominational) Religious Experience
Was It Good For You? Hallelujah!
Disclaimer: You don't NEED to have read The Roommate before diving into Naomi's story, but it does provide some good background on her character and her business (and it's also a great book!).
First Impressions: A Monet
This is definitely a Monet. From far away I love the colors, the pink neon sign lettering that is reminiscent of its predecessor, and that Naomi is at the lectern and that fits the story. But I don't love the cartoon representations of the characters. Naomi is not giving me bitch-on-wheels vibes and I am not about Ethan's middle-part floppy hair. But, you know, it's fine.
What's Your Type?
Friends to lovers
Prickly-with-a-heart-of-gold ex-porn stars
Sex positivity
Thoughtful discussion on religion
Hot and well-spoken rabbis
Dating Profile
Naomi Grant is a force to be reckoned with. A former adult film entertainer who began a highly successful company about sex positivity with her two best friends, she also recently completed her master's in social psychology and wants to teach. But there's very few places who will take a chance on an ex-porn star, especially one as audacious, ball-busting, and confident as Naomi.
Quote that perfectly encapsulates her character:
"The world is cruel and unrelenting, full of pain and injustice," she said again, leaning just slightly toward him, "and I am a stick of dynamite. Sometimes ineffectual, other times unnecessarily destructive, but, on occasion, enough to at least temporarily disrupt the rhythm of the patriarchal abyss threatening to suck down everything I care about and hold it hostage."
Enter Ethan Cohen, former physics teacher turned rabbi of a failing synagogue where the average member owns an AARP membership. He found his religion again after his father died, and he knows that his new profession isn't exactly appealing to most women. He needs something eye-catching and fresh to get butts in seats or his role at his little synagogue is at risk of becoming obsolete. When Noami boldly offers her lecturing services at a conference, he's the only one brave enough to take her up on it.
Quote that perfectly encapsulates his character:
"It's, uh…why I always come back to the Einstein quote I told you about. I guess I get out of bed because I think about the connection that we all have, this fragile humanity, each of us insignificant and at the same time precious. A continuation of a species that is recklessly unique. I remember that life is a finite gift, and I'd be an asshole to waste it."
Meet Cute
Naomi doesn't see how a lecture series on Modern Intimacy works with religion—especially when she is the one presenting—but she can't deny she's intrigued, and not just about the work. Ethan has a magnetizing, passionate way of speaking about his interests, and apparently has no idea how utterly hot he is while doing so. Ethan finds Naomi utterly beguiling, as he should, but assumes there is no way she would ever be interested in shackling herself to a man whose job makes putting others a priority over himself.
The Lean: Brainy Is The New Sexy
Please indulge me as I use another quote (I highlighted so many) to kick off this section:
Ethan wondered if some people found battling her demanding instead of exhilarating. He'd always loved pop quizzes.
While the physical chemistry is definitely there, this book is also about Ethan and Naomi falling in love with each other's minds. Naomi has finally found someone who can shake loose the heart she's built a cage of snark and stone around, and Ethan, like the intelligent beta he is, finds every part of Naomi, from her amazing looks to her whip-smart mouth, completely fascinating. On the surface they may not be the most obvious pair, but watching them get to know and totally respect each other's worth was simultaneously hot and sweet.
Dirty Talk
Unlike the first book, there isn't much actual sex in The Intimacy Experiment, though what we do get is, as I just mentioned, hot, explicit, AND sweet. Naomi knows how to have hot sex, but the emotional connection is not something she is prepared for. Before the deed is done, the dirtiest moments are Noami lusting after Josh, and because she is hilarious and bold, I found myself looking forward to these parts the most:
He looked like a Calvin Klein model, and she observed that with the authority of someone who had fucked more than her fair share of Calvin Klein models. The shadow cast by his bearded jawline was ridiculous. She could wait out a summer storm underneath that thing.
And even during the sexy moments Noami's perspective still had me both turned on and giggling:
He moved to grab some from the other room and returned still smiling, following orders and showing off his ass which, yeah someone was getting spanked later because fuck. What on earth?! The amount of squats required—
Ms. Perky's Prize for Purplest Prose
Just like in her first book, I highlighted a lot of quotes from Danan's writing because I apparently really enjoy the way she views life, love, and everything in between. But this is a romance review, so let's focus on another sex moment that also made me laugh, because the most emotional sex often combines the two:
All of a sudden, Ethan was extremely naked, and honestly she could come like this. She could come looking at his fucking gorgeous dick and his stupid face that she was so fond of that right now she kind of wanted to punch him in it. She was ready to write poems about his footlong eyelashes and the texture of his beard and the way his chest was covered in dark hair that made her want to whimper, physically whimper, at the sight of it, at the contrast of the color against his skin.
We Need To Talk: A (Non-Denominational) Religious Experience
I am not a religious person by any means, so the idea of reading about a rabbi initially had me halfway to Fred Savage, but I had faith (heh) in Danan, and she did not disappoint. I liked Ethan's perspective coming from being a man of science who also cares about his faith because he feels that both are really two sides of the same coin: he's looking for truth and meaning in a chaotic world. Naomi's lectures on modern love were interesting and thoughtful and I particularly also liked getting to know the people who showed up for each session and became this open and honest group of friends.
I actually think I liked this book even more than The Roommate, and in no small part was that due to Naomi, who is such a fantastic character that I would've gladly read about her sitting around sorting her socks.
The only quibble I have is with the ending. Everything else in the book feels so grounded and realistic, even, for the most part, when we get to the big crisis point. But then we get to the resolution, and it becomes a bit contrived. Both Naomi and Ethan give these separate big, messy public speeches, and having two felt like overkill. (I think I had a similar feel about the ending from the first book. Not everything requires a huge romantic gesture!)
Was It Good For You? Hallejuah!
Absolutely! I'm already looking forward to my next Danan romance!
FTC Full Disclosure: I received my free review copy from Berkley Books. I received neither money nor peanut butter cups in exchange for this review. The Intimacy Experiment is available now.