About the Book
Title:
Burn for Burn (Burn for Burn #1)
Cover Story: XOXO Gossip Girl
BFF Charm: Triple Yay!
Talky Talk: Straight Up3
Bonus Factors: Revenge, Frenemies
Relationship Status: Partners In Crime
Cover Story: XOXO Gossip Girl
I'm not always a fan of using cover models, usually because we either get Big Faces or pages from a J. Crew catalog. But to whoever organized this cover photoshoot, WELL PLAYED! Each girl totally resembles her character, and Mary's even wearing the daisy charm necklace she sports at the homecoming dance. But more than that, the style of the photo (as well as the typeface and general layout) is sophisticated and alluring, and it reminds me (in a good way) of the delicious scandal of Gossip Girl. This cover is basically a designer outfit, and, DAMN, it makes the book inside look GOOOD.
The Deal:
You know how, in Carrie, all of her classmates (plus her mom) make Carrie's life a living hell, and so after she (SPOILER ALERT) gets pig blood dumped on her at prom, she goes mental and unleashes some serious karma on those bitches? Yeah, THAT WAS AWESOME. And also extremely cathartic for anyone who has ever attended high school. Sure, you probably never got locked in a glow-in-the-dark Jesus closet, and hopefully you managed to avoid animal blood outside of science class and FFA, but you most likely had a brush with bullies or a run-in with the Plastics. And if you never fantasized about giving those people their just deserts, then you are obviously WAY too nice for us to be friends.
Thankfully, Kat, Mary and Lillia aren't too nice to fantasize about revenge. In fact, they don't just imagine it — they do it. Years after she was wronged, Mary arrives on Jar Island hoping to find some closure with Reeve, the asshole who ruined her life. Meanwhile, Lillia is living the popular rich girl's dream, until she discovers that her best friend, Alex, is taking advantage of her freshman little sister. But it's not until Kat the rebel finds her cause in taking down Queen Bee Rennie that the three girls form a Triumvirate of Vengeance and vow to help each other seek retribution. Their plans are clever, their pranks are wonderfully malicious, but they soon discover that eye for an eye may not be such a fair trade after all.
Trigger warning: One of the storylines involves date rape. It's not described in graphic detail at all, but it's still date rape, i.e., horrible.
BFF Charm: Triple Yay!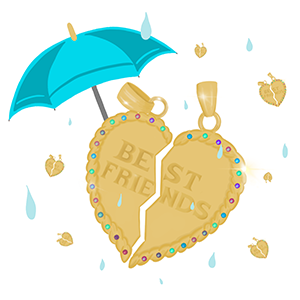 I pretty much handed over my charms the minute these three gals decided to be their own Furies, but their badassery isn't the only reason I want to be besties. Kat is totally fierce and ballsy in a loner chick way, and even though I occasionally grew tired of her too cool for school attitude, I empathized with her desire to get the hell out of Jar Island and find people who understand her. I identified the most with Lillia, who is kind of a goody goody and way too much of a pushover BUT definitely has a loving heart. (Let's be honest, I'd be her friend just for the slumber party opportunities alone– girlfriend lives in a mansion and has TONS of clothes and make-up.) And even though she's the sweetest of the girls, Mary gave me the most initial hesitation, because she's dragging around a hell of a lot of emotional baggage, and, well, she's just kind of weird. But even with their flaws and idiosyncrasies, these ladies are all BFF material, because they learn to respect and empower each other, and that's exactly the kind of company I want to keep.
Swoonworthy Scale: 2
Given that the theme of the book is revenge, it might be obvious to you already that this story isn't really heavy on the romance. It's more about dudes being dicks, and I happily swapped out my swoon for some major fist pumping every time the girls taught an asshole a lesson. However, if you've read Han and Vivian's other works, you know that they are QUITE adept at creating the frisson, so, without spoiling anything, I'll just say that their skills don't necessarily go to waste. This score has to take into account the awful behavior of guys as well as the tingly moments, resulting in a number that is deceptively low.
Talky Talk: Straight Up3
The chapters rotate through each of the three girls' perspectives, providing the reader with a glimpse of the characters' real motivations. There are definitely distinctions between Lillia, Kat and Mary's voices, although their personality didn't always infuse their narratives as much as I would have liked. With that said, their thoughts and dialogue felt incredibly authentic, and their reactions rang true to me. Vivian and Han have expertly written teenagers that sound and feel like teenagers without resorting to cartoonish slang or Disney bullshizz. The pacing is perfect, and I found myself flying through the pages with a ball of excitement (and a dash of dread) in my stomach.
Bonus Factor: Revenge
I may have mentioned this already but I LOVE A GOOD REVENGE STORY. It's incredibly satisfying to read about someone seeking the kind of vengeance you've only dreamed about. But as J.D. taught us, you must treat revenge as an art form if you want the biggest pay-off, and that's a lesson that Lillia, Kat and Mary totally understand. (Thankfully, they skipped the chapter on liquid Drano.) They're crafty and incredibly creative, and when they pull off their schemes, we all hit the entertainment jackpot.
Bonus Factor: Frenemies
I've always felt that high school is the best training ground for future spies, because as teenagers navigate the treacherous web of cliques and social pitfalls, they become experts at pretending. For them, it means survival. For us, it means a totally juicy read. Turns out that Lillia, Mary and Kat are really, really good at backstabbing, and I relished every second of it. Girls, you've done Regina George proud.
Relationship Status: Partners In Crime
This book is incredibly badass, and at first, I was worried that I was too much of a pansy to hang out with it. After all, I hate getting in trouble! And this book is ALL about the trubs. But as we spent time together, I began to see that this novel was hiding a lot of pain and heartache under its fierce facade. I grew to really identify with its tangle of emotions, and pretty soon, I was ready to join this book on its mission. It's exciting and provocative and it doesn't take shizz from anyone, and I'm proud to support it in any way I can. (Just, you know, not in a way that gets me arrested. But hey, I could be the look-out! Or something!). I absolutely CANNOT WAIT to conspire with this book's sequel, although it has a bit of explaining to do involving a certain power surge…
FTC Full Disclosure: I received my review copy from Simon and Schuster. I received neither money nor cocktails for writing this review (dammit!). Burn For Burn is available now.