Cover Story: Peekaboo, I See You(r True Colours)
BFF Charm: Big Sister
Swoonworthy Scale: 0
Talky Talk: Story of a Girl
Bonus Factors: Trans Child, Sassy Best Friend, Grownups Who Could Do Better, Charlotte's Web
Relationship Status: True Friends
Cover Story: Peekaboo, I See You(r True Colours)
Is Ellen Duda's artwork the most adorable cover or what? The lone distraction from the sparseness is well-earned Stonewall Award bling on the covers that have it.
The Deal:
Picture a sweet and gentle little girl. Well, that's George! Except her outside doesn't match her inside, and everyone sees her as a boy. When George's fourth grade class begins auditions for Charlotte's Web as their school play, the only role that she wants is her favourite character: Charlotte. But the teacher isn't on board with that at all, so George and her best friend, Kelly, figure out a way not just for George to be Charlotte, but for everyone to see her for who she truly is.
BFF Charm: Big Sister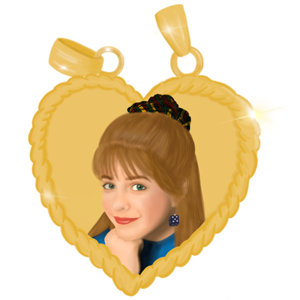 Aww, George — I love you so much! Even at your young age, you're so wise; you have great taste in books, and you're totally right to be wary of animal odours at the zoo. You're proof that being sensitive and being strong aren't mutually exclusive, and I raised many a proud fist-pump in your honour as I was reading. I also feel, like, extremely protective of your happiness and safety, and I wish the world could hurry up already with accepting your delightful self.
Swoonworthy Scale: 0
George doesn't have a crush on anybody, nor has she even considered whether she likes anyone yet.
Talky Talk: Story of a Girl
Genuine and heartfelt, Alex Gino's writing would appeal to readers of all ages. In fact, everyone should read this book — if not only because it's pretty flipping great, then as an empathy test, especially for kids who need to understand what their peers might be going through, and for adults who interact with children on a regular basis.
But most importantly, this is for kids who know exactly how George feels. The kids whose own stories would be narrated with the correct pronouns, just as hers is. And kids who need to know that they deserve a happy ending, too.
Bonus Factor: Trans Child
Thanks to the internet, George teaches herself — and her readers — about trans issues. Being a child doesn't shield George from the looming fear of being betrayed by her own body through puberty, nor the unfortunately commonplace challenges created against transgender people (e.g., public restrooms). I mean — WHOA, how messed up is society for making anyone, let alone a child, feel so unworthy just for being themselves?
Bonus Factor: Sassy Best Friend
Loyal and supportive, Kelly is George's biggest cheerleader and occasional fairy godsister with an endless supply of random sayings, expressed both verbally and on graphic tees.
(For the record, George has Bubbles' tender heart, while Kelly's a mix of Buttercup's moxie and Blossom's take-charge 'tude. And they're all pretty kickass.)
Bonus Factor: Grownups Who Could Do Better
Upon meeting every authority figure in George's life, I had this desperate optimism of, "Maybe this one will understand her!" But most of them don't, or at least not right away. It's so frustrating that these otherwise reasonable adults dismiss George's truth. She might be young, but trust her when she says who she is; after all, who better to know than her? Because guess what? Kids only think they have limitations when we tell them they do. It's not surprising that the ones here are better allies than their grownup counterparts. (Related: can we collectively stop gendering the shizz out of everything? KTHX.)
Bonus Factor: Charlotte's Web
Charlotte's Web became my first favourite English book when my Grade 2 class read it, so George's love of E.B. White's classic tale definitely resonated with me.
Casting Call:
Omg this would be the CUTEST movie. As long as Hollywood doesn't screw it up, anyway. The casting of George would be a wonderful opportunity for a young trans girl to launch her acting career, à la George in Charlotte's Web.
Relationship Status: True Friends
To borrow the words of an anthropomorphic arachnid, Melissa sure is some book. It's terrific and radiant, and I'm so happy to have it in my life.
FTC Full Disclosure: I received my free review copy from my local library; libraries are the best! I received neither money nor froyo for writing this review (dammit!). Melissa is available now, so, like, read it ASAP.