About the Book
Title:
Tell the Wolves I'm Home
Cover Story: Hang This in the MoMA
BFF Charm: Yay!
Talky Talk: Literary LIKE A BOSS
Bonus Factors: LGBTQ+, Sisters, New York City
Relationship Status: Married
Cover Story: Hang This in the MoMA
YOU GUYS. LOOK AT THIS COVER. LOOK. AT. IT. It's absolutely GORGEOUS! And intriguing! And completely tied in to the story! All of which is a dead giveaway that this book isn't actually classified as YA! Because God forbid they shelve a masterpiece like this next to a row of Big Emo Faces! Not that I'm bitter! But seriously, this cover should be hanging in the MoMA. Then I could buy versions of it on posters and mugs and t-shirts and reusable bags because IT IS THAT AWESOME.
The Deal
It's 1987, and fourteen-year-old June's favorite person in the world, her Uncle Finn, has just died of AIDS. Heartbroken, June comforts herself with walks through the woods, where she pretends it's the Middle Ages, and trips to the bank vault to view the portrait that Finn painted of her and her older sister, Greta. For June, the painting is one last communication from Finn, and she searches it for answers on how to heal her rocky relationship with Greta; how to be the person Finn thought she could be; how to go on living without her uncle, her best friend, her first love. (Yep, June was in love with her gay uncle. And she knows that's weird, but it does nothing to lessen her feelings.) So when Toby, the man who gave Finn AIDS, reaches out to her, June is completely torn apart by warring emotions. She hates Toby for making Finn sick, for maybe being more important to her uncle than she was. But Toby is a living link to Finn, a way to fill the gaping hole in her heart, and as they slowly become friends, June discovers so much she never knew about her uncle, and so much she never knew about herself.
BFF Charm: Yay!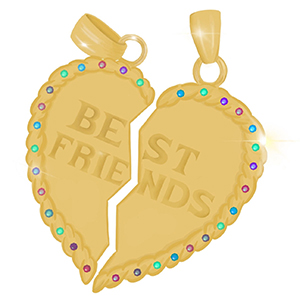 We really need a Best Sisters Forever charm, because I would LOVE to be June's big sis and give her advice and hugs and just remind her every day that SHE IS AMAZING. Sure, she already has an older sister, but since Greta spends most of the book picking on June, I would happily volunteer my services whenever needed. June is one of those kids who's just straight up weird– she wears boots Finn bought her at the Renaissance Festival, she doesn't have any friends (besides Finn) and even at age fourteen, she still plays make believe in the forest. But those things are exactly why I adore her. She's so earnest and tries so hard to do right by the people she loves, and her struggles with grief and growing up left me both devastated and inspired.
I LOVE YOU JUNE ELBUS! And that heart on your sleeve? You keep that exactly where it is.
Swoonworthy Scale: 3
It was difficult to rate the swoon in this book, since June is, you know, in love with her uncle. But as creepy as that might sound, the story of Finn and June's relationship is nothing short of magical, and I completely understand why she wants to spend every minute with someone who sees just how special she can be. So while we're not talking tingles or sparks, the story still managed to take my breath away.
(I also threw in a point for Ben, the D&D aficionado who does theater tech and flirts with June. HE RULES.)
Talky Talk: Literary LIKE A BOSS
Y'all. Y'ALL. The writing in this book is so g-d exquisite, I don't even feel qualified to analyze it. June's voice is achingly real, and the relationships– June and Finn, June and Greta, Toby and Finn– are incredibly complex, composed of tiny, piercing moments and wonderful detail. It's easy to simply devour Carol Rifka Brunt's style, and yet, her words often made me halt, mid-sentence, just to marvel at her genius. Like Finn, she paints evocative pictures that slay you with emotion (note the DNRIP tag on this review) and swallow you whole. Ladies and gentlemen, we have ourselves a new literary superstar.
Bonus Factor: LGBTQ+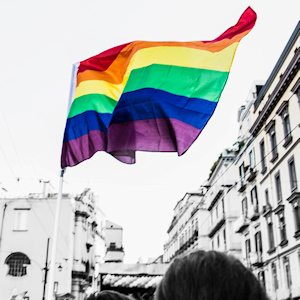 To get weirdly specific, I'll add a very long subtitle to this bonus factor: A History Lesson On How Much It Sucked To Be Gay in the '80s. Finn and Toby's perspectives provide such a compelling glimpse into gay identity in the '80s, and the story's treatment of AIDS is extremely authentic and intensely heartbreaking.
Bonus Factor: Sisters
Even though I love Finn, my favorite relationship in this book is the volatile sisterhood of June and Greta. June worships Greta, and it's easy to see why: she's beautiful and talented and mysterious and knows how to wear make-up. She also treats June like total crap. The evolution of their relationship is raw and messy and left my heart twisted into about a million knots.
Bonus Factor: New York City
June's family lives in a suburb of NYC, so when she visits Finn and, later, Toby, she gets to take a big ole bite out of the Big Apple. I relished her trips to the Cloisters, her tours of tasty take-out and most especially a certain Scorpion Bowl incident.
Relationship Status: Married
I know what you're thinking. This book and I have only known each other a week! That's crazy! How could we already know that we want to spend the rest of our lives together? Well, let me assure you, WE KNOW AND WE DO. This book and I were serious from the get-go, and it's not just because it's insanely attractive (that cover! SA-WOON!) and amazingly intelligent. This book opened up to me from the minute we met, and once I beheld its heart and soul, I knew I was in the presence of greatness. So now maybe you can understand why we had to rush to the altar. Hello, I had to lock that shizz down!
FTC Full Disclosure: I received my review copy from Dial Press. I received neither money nor cocktails for writing this review (dammit!). Tell The Wolves I'm Home is available now.