About the Book
Title:
The Casquette Girls
Cover Story: Christopher Pike Would Be Proud
BFF Charm: Yay
Talky Talk: Straight up avec une touche paranormal
Bonus Factors: New Orleans, Southern Gothic
Relationship Status: Cemetery Companion
Cover Story: Christopher Pike Would Be Proud
This cover reminds me of a classier version of the classic Christopher Pike covers. I love the colors, the suggestion of the French Quarter, and especially the outfit the girl is wearing. It manages to get across the creepiness (is she being strangled? Hung? That neck angle isn't natural!) without being too obvious or over-the-top.
The Deal:
Adele Le Moyne has been living in Paris after the storm of the century devastated the southern coast of the United States, particularly New Orleans. When she returns home with her father, the city is just a shadow of its former self. They're now under a mandatory curfew, her old school is closed, and the murder rate is climbing rapidly.
Beyond the human horrors, however, there's something roiling under the surface that isn't quite normal. Strange things keep happening around town, and they all seem weirdly connected to Adele. Could the legend of the Casquette Girls—the young women who brought vampires from France to New Orleans in the eighteenth century—be real? And if vampires are real, what else is lurking in the dark?
BFF Charm: Yay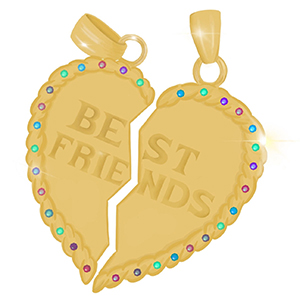 Adele kiiiiind of has my dream teenage life: minimal parental supervision, an artistic bar-owning father, and the chance to live in Paris! (Granted, it's with her basically-absent mother, but details.) She's reckless, like plenty of teens can be, but also has insane sewing talent, impressive adaptability, and fierce loyalty.
Swoonworthy Scale: 6
There's sort of a love triangle in this book, and I think the relationships Adele had basically suffered for it. I never really bought the flirtation/romance between her and one character, whereas the other seemed far more natural and real. (It's hard to explain without spoilers, so just take this with a grain of salt.) Still, there are some satisfying sexy moments with both suitors.
Talky Talk: Straight up avec une touche paranormal
Arden's prose is superb at building a sense of creeping dread and glorious ruin, while also sounding very much like the voice of a (well-traveled and educated) teenage girl. There is plenty of French (and some Italian)* peppered throughout the story, but it never feels overdone or out of place. Although her writing is not technically similar to L.J. Smith and Christopher Pike, two of my 90s YA favorites, this book felt like a modern and sophisticated successor to their paranormal thrones.
* "When eating Continental, I prefer French to Italian every time." Bonus points if you recognize that quote—I kept thinking of it throughout the book.
Bonus Factor: New Orleans
Even despite the description of devastation, within fifty pages of this book I was ready to hop on a plane to New Orleans. There's little wonder why legends of vampires, voodoo queens, and things that lurk in the night are so popular there: the city seethes with grand and gorgeous creepiness.
Bonus Factor: Southern Gothic
Hurrah for YA southern gothic! This is a subgenre you don't see too often, and I love it.
Relationship Status: Cemetery Companion
Book, I was intrigued by your premise and the promise of vampires (something I'll never get tired of) lurking in the Spanish moss. I didn't know quite what to expect, but I was instantly drawn into your world. Our date was like the best kind of traveling: I didn't have to pack a thing! We wandered throughout the city, solving mysteries and listening to dark city legends while you spoke to me in French. What more could a girl ask for…except a sequel?
FTC Full Disclosure: I received a free review copy from Skyscape. I received neither money nor a pet unicorn for writing this review, despite how hard I wished for one. The Casquette Girls is available now.