About the Book
Title:
The Royal We (Royal We #1)
Cover Story: Wedding of the Century
BFF Charm: The Sparkliest of Royal Jewels
Talky Talk: The Inside Scoop
Bonus Factors: Oxford, The Spare
Relationship Status: Put a Ring on It
Cover Story: Wedding of the Century
Bright and romantic, and so clearly evocative of the royal couple that inspired it.
The Deal:
American college student Rebecca (Bex) Porter heads off for adventure to study art at Oxford and finds herself living down the hall from the future King of Great Britain. NBD. Bex makes lots of charming new friends while enjoying all that Oxford has to offer, like all the pints, and hot Brit boys. But it's not long before Bex and Prince Nick are bonding over their shared insomnia and addictions to American junk food and bad paranormal genre shows. Falling for a prince sounds pretty great until you remember that navigating college, careers, and family drama are tricky enough without factoring in the expectations of the royal family, a fame-hungry sister, and an ensuing media circus. That glass slipper is really pretty, but can't be very comfortable. If you've ever picked up a magazine, then you know that it could take these crazy kids a few turbulent years to find their way to Westminster Abbey.
BFF Charm: The Sparkliest of Royal Jewels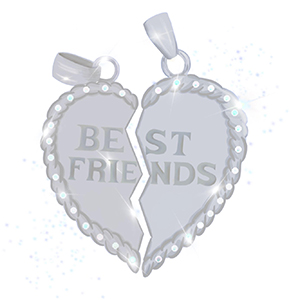 With matching tiaras! I want to go pub crawling with all the characters in this book. I love how fun and unpretentious Bex is. She's up for keg stands and baseball games, when she's not hiding away in an art museum. Nick is funny, yet serious about his responsibilities, and adorably protective of his mother. Their insanely lovable circle of friends and their electric siblings are all so distinct and enjoyable that I hated to leave them on the last page.
Swoonworthy Scale: 8
Super witty flirtations, grand romance, and even some regrettable one-night stands. This is Heather Cocks and Jessica Morgan's first foray out of YA, and while I loved Spoiled and Messy, it's fun to get some of the non-PG-13 situations and sexy banter that goes with adult relationships. Due to Bex and Nick's romance spanning years, we get many royally swoony moments.
Talky Talk: The Inside Scoop
Fans of Go Fug Yourself will be familiar with Heather and Jessica's longtime royal watching and knack for inventing fun imaginary gossip. We all know the basics of the Prince William and Kate romance, but they've added so many fascinating and fun insider details, created a wacky new royal family, and even let us in on the super-secret beauty regimen of a future princess (spoiler: it's a weave). Complete with all the Britishisms and Daily Mail dish, we get to be a fly on the wall at Buckingham Palace, and I found it hard to remember that this isn't actually the way it all happened. OR IS IT?
Bonus Factor: Oxford
All the exotic adventure of boarding school abroad, plus legal booze!
Bonus Factor: The Spare
Who can resist that sexy rascal Prince Harry? But I cannot wait for you to meet Hurricane Freddie!
Relationship Status: Put a Ring On It
I'm ready to seal the deal. This book is funny, and heartfelt, with so much character that you just know you can take it home to meet the mom. I'm ready to make the lifetime commitment to telling everyone (even those who didn't have a subscription to Majesty magazine as a teen) how much they'll fall for this book.
FTC Full Disclosure: I received my free review copy from Grand Central Publishing. I received neither money nor cocktails for writing this review (dammit!). The Royal We is available now.