About the Book
Title:
The Shadows (The Books of Elsewhere #1)
BFF Charm: Yay!
Swoonworthy Scale: 0
Talky Talk: Roald, Dahhhling
Bonus Factor: Talking Cats, Creepy Old House
Relationship Status: Guilty Crush
The Deal
11-year-old Olive moves into a creepy old house with her ditzy mathematician parents. Left more or less alone for the summer, she starts exploring and discovers a pair of eyeglasses that allow her to crawl into the weird paintings stuck to the walls in the house. Soon she's rescued a kid who's been trapped in the paintings for who knows how long, made friends with some possibly untrustworthy talking cats (seriously, what cats are ever trustworthy?) and is being pursued by something nasty. Yes, it's more of a children's book than a YA book, but it's some quality children's/early YA fantasy — kinda like early Harry Potter (and I don't make that comparison lightly).
BFf Charm: Yay!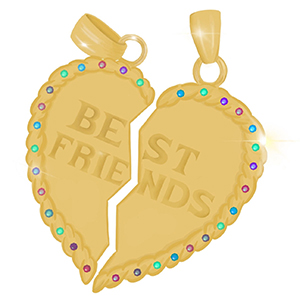 I'd definitely give Olive my BFf charm. She's way more interesting than her math-obsessed parents (she sucks at math, actually), and she has a lot of curiosity and guts. She's a fun kid.
Swoonworthy Scale: 0
Yep. There's nothing swoony about this book. Even the kid she rescues from the painting isn't a potential candidate — he's only 9, he whines a lot, thinks boys are better than girls (as if!) AND his name is Morton. MORTON. No way.
Talky Talk: Roald, Dahhhling
West is a published poet, and you can tell from her writing. She doesn't break into verse — don't worry, it's not a POETRY BOOK — but she has a knack for description and excellent prose. There's a sense of the weird and creepy throughout the book, like in Roald Dahl's best stories, and the kids are definitely more likeable than the clueless adults.
Bonus Factor: Talking Cats
I wasn't sure about making this a bonus factor because I don't really like cats, but these cats aren't bad. I particularly like the one who suffers from multiple personality disorder (what cat doesn't?) and is a pirate one day and Lancelot the next (complete with a breastplate made of tuna can lids).
Bonus Factor: Creepy Old House
I'm a sucker for creepy old houses. I wish I lived in a creepy old house, and could tap on the walls looking for secret passages like the kids in that Zilpha Keatley Snyder book The Headless Cupid. Plus, they bought this house complete with all the creepy furniture owned by the evil old lady who'd owned the house before them, so it's extra fun to explore. Except I'd want to have another house to sleep at night because I'm a scaredy-cat like that.
Relationship Status: Guilty Crush
This book is definitely too young for me, but I couldn't stop thinking about it when I was reading it. Yes, it's a kid book not a YA book, but it was so fun to hang out with, and I couldn't wait to see what it said next. I've moved on to other things, but I'm also going to be on the lookout for the next one in the series.
FTC Full Disclosure: My review copy was a free ARC I received from Penguin. I received neither money nor cocktails for writing this review (dammit!). The Shadows will be released in June 2010.