About the Book
Title:
The Trouble With Flirting
Cover Story: Big Face
BFF Charm: Platinum!
Talky Talk: Sugar and Spice and Everything Nice
Bonus Factors: Theatre Camp, Costuming, Retelling
Relationship Status: Sweethearts
Cover Story: Big Face
It's a BIG FACE! But look at that face! She's so freakin' cute, I loved her instantly. And I like how the boy is out of focus, so you're not sure which character it is, and you have to focus on the girl, which is the whole point.
The Deal:
When Franny's parents divorced, they worked hard to keep things stable for their kids, and they worked hard to make ends meet, so Franny gave up frivolous things like theater for more scholarship-winning pursuits. Imagine Franny's surprise when, years later, her mother announces that she's gotten Franny a job at the famed Mansfield Summer Theater Program before senior year. Only, Franny'll be working with her aunt in the costume department, instead of on the stage.
Things start to look very up, however, when Franny finds out that her longtime crush, Alex, is attending the program, and Franny is welcomed into the inner circle of popular kids. And then there's Harry, the egomaniac flirt all the girls seem to be falling over themselves for, but Franny doesn't take him seriously. Does she?
BFF Charm: Platinum!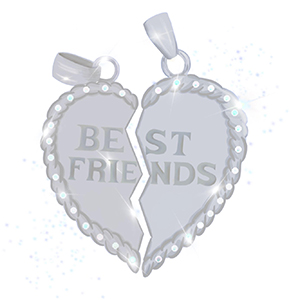 I would give Franny a thousand BFF charms, if I could. Unlike so many YA protags, she knows that she's got First World problems, so she keeps her insecurities about being the poor kid in a rich kids' camp from ever dipping into whinola territory. She's smart and talented and funny, and I loved every minute of watching her summer unfold.
Swoonworthy Scale: 8
You know how sometimes (when you were younger, of course) you might have had a crush on this one boy for a long time, so you maybe didn't take a different boy's interest seriously, because it seemed like maybe you and your crush had something special? Maybe you actually did end up with your crush, but for me it always seemed to happen that I just spent so much time pining for him that I missed an opportunity with someone else who could have been really cool. And, of course, by the time I realized that, said new boy was just mad at me for being so hung up on crush boy, so I ended up spending the summer single. Well, this is a rompy, delightful work of feel-good fiction, with lots of tingly bits, witty repartee and sweet fluttery moments, that — while it didn't reflect my own real-life experiences — delivered some fun nail-biting romantic suspense and left a smile on my face.
Talky Talk: Sugar and Spice and Everything Nice
This book. This book is RIDICULOUS. Ridiculous FUN, that is. LaZebnik writes in a breezy fashion that makes this book a real page-muncher. Because I ATE. IT. UP. And that's not to say the book has no depth, because it does. Her characters learn a lot about themselves and each other, they just also have a lot of fun while they do it.
Bonus Factor: Theater Camp
I'm actually glad I never went to theater camp, because… well, theater camp kids. I didn't start doing theater, really, until I was 19, but I've been fortunate enough (or not, depending on your stance) to be in a lot of productions since then, and if there's one thing I learned it's this: theater kids grow up to be theater adults, and most of them act the same way now that they did then. However, there's a big difference when you're working with professionals. Sure, there are still those actors who are constantly ON, and others who think THEY should have been cast in a principal role, and there's a lot of touchy-feely-flirtiness, but — in my experience, anyway — most of the drama stays on the stage. Where it should be. Since the theater camp featured in this book is one of the more prestigious types that the kids actually had to audition for to get in, it avoided a lot of the more annoying aspects of the dreaded theater kid. And, of course, since it's a YA novel, everyone is ridiculously good-looking and talented.
Bonus Factor: Costuming
Working in theater, I have been fortunate enough to have known some amazing costume designers: people who can not only find and/or make period-appropriate costumes for an entire cast, but fit them to every single body, and know what will look good on whom. It's a gift, AND (I can testify from times when I volunteered assistance) REALLY HARD WORK. I've also worked with some terrible costume designers, and THEY make for great stories — like costume mistresses who don't want their actresses to actually look good, so they spend all their time on the men's costumes, and slap the ladies in ill-fitting garments as an after-thought. Or like the time this one costume mistress was so concerned with historical accuracy, that she got actual pieces from the time period, so none of us could make our quick-changes with all of the hooks and tiny buttons, which resulted in Mina's top falling off during her fight scene with the Count on the opening night of Dracula. But I digress. Franny's experiences with costuming were right-on, from the having to get up-close and personal to the folks you're dressing, to the endless hours of hemming, and including the diva actresses who never like what you do.
Bonus Factor: Retelling
I read somewhere that this book is a retelling of Mansfield Park! Which I've never read! Or seen! And I only now realized this!
Relationship Status: Sweethearts
God, I loved this book. The only thing I regret about blowing through its story is that it gave me a terrible case of TEABS. It's fun and sweet and dreamy, and it hits close to my heart. So while it might not have changed the world or blown my mind, we enjoyed long walks down memory lane together, hand in hand.
FTC Full Disclosure: I received my review copy from Harper Teen. I received neither money nor cocktails for writing this review (dammit!). The Trouble With Flirting is available today.