About the Book
Title:
The Young Elites (The Young Elites #1)
Cover Story: The Sword in the Storm
BFF Charm: Caution!
Talky Talk: She Says, Mostly
Bonus Factors: X-Men, The Dark Side
Relationship Status: I Wanna Be Bad
Cover Story: The Sword in the Storm
No doubt about it, this is a FANTASY book. But the Legend series may have spoiled me for Marie Lu covers, because this one doesn't inspire a lot of enthusiasm from me—unlike what's on the inside.
The Deal:
In the wake of a devastating blood fever, survivors who will forever bear its mark are malfettos: outcasts rejected and feared by society. Some malfettos, known as the Young Elites, possess strange and powerful gifts. Gifts that make them fugitives to the king's Inquisition Axis that wants to destroy them, but also assets to the clandestine Dagger Society that wants to protect them.
For Adelina Amouteru and her newfound abilities, this allegiance to the Young Elites is not quite as clear. Friend and foe alike, anyone who dares to cross Adelina will surely regret it.
BFF Charm: Caution!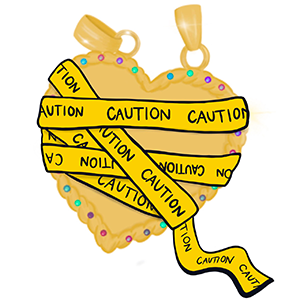 Look, my heart breaks for how Adelina has been ostracized, mistreated, and abused—mostly by her own father, no less. But she is flat-out FEARSOME, y'all. Even though I'm in awe of Adelina's badassery, I'd be way too scared about stepping out of line to be true BFFs with her.
Swoonworthy Scale: 5
There's def. heat between Adelina and Enzo, the leader of the Dagger Society—and not just 'cause Enzo can set anything (incl. panties) on FIRE.
Talky Talk: She Says, Mostly
Adelina serves as the primary narrator of the book, with the perspective occasionally shifting to other characters in the third-person narrative. It's extremely effective in developing Adelina as a sympathetic character, as well as distinguishing—and alienating—her from the rest of the cast.
And I'm not even going to bemoan the emergence of another t-word, because Marie Lu has proven that she can do those phenomenally well. Plus, the Young Elites universe has the potential for TONS of great stories in this fantastical Renaissance-esque land. I'm more worried that three books won't be enough.
Bonus Factor: X-Men
With their superpowers and code names, the Dagger Society is totally the X-Men of this world, but with Morlock-like difficulties in physically blending in with everybody else.
Bonus Factor: The Dark Side
There's nothing wrong with craving power. But power doesn't discriminate between good and evil. The seductive thrall of inflicting as much pain as she has suffered might be too great for Adelina to resist. And as that saying goes: an eye for an eye…
Relationship Status: I Wanna Be Bad
Oof, I know I've fallen hard when I start quoting obscure early-2000s pop songs. But this book is right in my antihero wheelhouse, and I'm already counting down the days until our next date.
The Young Elites is available now.
FTC Full Disclosure: I received my free review copy from Alfred A. Knopf Books for Young Readers. This review was originally posted on Kirkus Reviews in exchange for monetary compensation, which did not affect or influence my opinions. The Young Elites is available now.