Cover Story: Montell Jordan
BFF Charm: Hell No
Swoonworthy Scale: 0
Talky Talk: Gothic Horror
Arty Art: Macabre Madness
Bonus Factor: Nightmare Fodder
Relationship Status: Stockholm Syndrome
Cover Story: Montell Jordan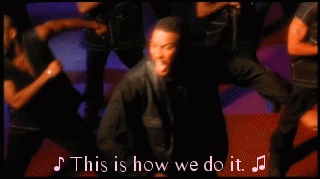 Bleak, stark, and utterly gorgeous: I would pick this book off the shelf any day. Granted, since they're using Carroll's own artwork, she has an advantage over authors who don't get to choose their own covers – but MORE LIKE THIS, PLEASE, publishing houses.
The Deal
Through the Woods is a collection of seven (including the introduction and conclusion) short, macabre tales told in graphic novel format. Carroll's stunning artwork (almost all in shades of black, red, gray, and blue) provide the backdrop to her simple and often poignant tales. Every single thick, glossy page is worth framing as an art piece.
Each story appears to be set in a different era, from the 18th century to the 1920s. They're the tales you told around a campfire, all grown up and ready to torment you in new ways. The graphic novel format lends itself extremely well to Carroll's stories – she doesn't have to write a lot to portray her haunting, hopeless worlds.
BFF Charm: Hell No
Even when they're not villains, these characters attract some seriously shady situations. I will be over here with all the lights on, thank you very much.
Swoonworthy Scale: 0
The only thing you'll be swooning over is the art. Unless you're the type of person who writes to serial killers in prison.
Talky Talk: Gothic Horror
"It came from the woods. Most strange things do."
Carroll's prose is pared down and simple, with a heavy Gothic fiction influence; while some stories reminded me of books like Jane Eyre, Wuthering Heights, and Dracula, one story has shades of Daphne du Maurier's Rebecca. There are no superfluous words here — much is (deliciously) left to the imagination.
Arty Art: Macabre Madness
As mentioned in the Cover Story, Carroll's art is deceptively simple, usually done in a limited palette that sets the tone for the story — one is done in mostly muted browns and yellows, giving it an earthy, grave-like feel, and another is done with heavy blue tones, which elicits coldness.
As always, a picture is worth a thousand words — these pages of the book perfectly capture the way the simplicity of her language plays against the compelling, creepy artwork.
If you're interested in checking out more of her work, she has published webcomics as well as this debut novel.
Bonus Factor: Nightmare Fodder
Like any good Gothic horror story, there are virginal maidens, fools, creepy abodes, and abandoned children. A few of the tales are familiar to anyone who grew up on ghost stories, but paired with the artwork and an adult sensibility, the spaces in between the stories are even more nightmarish now. There is one truly horrifying illustration near the end of the book that nearly made me gag when I saw it — not because it's particularly graphic so much as visceral, in the truest sense of the word. I wasn't quite sure what I was seeing, and like any good horror story protagonist, I didn't want to stick around to find out. 
Relationship Status: Stockholm Syndrome
Despite the chills you sent up my spine, book, I am so into you. You've got an evil side, but your outside is so pretty I can't help but be attracted to you. I plowed through your pages at warp speed and was disappointed when you were over. Even though one of your illustrations makes me queasy when I think about it, I think that just means I'm in love. Do you have any brothers that look just like you?
FTC Full Disclosure: I received a free review copy from Simon & Schuster Children's Publishing (Margaret K. McElderberry Books). I received neither money nor a pet unicorn for writing this review, despite how hard I wished for one. Through The Woods will be available July 15.