Cover Story: Why You Gotta Front?
BFF Charm:  Torn
Talky Talk: On The Train to Dessen Town
Bonus Factors: Tasty Business, Ice Skating, Charles Wallace
Anti-Bonus Factor: Jumping To Conclusions
Relationship Status: Ski Lodge Flirtation
Cover Story: Why You Gotta Front?
Dang, book! What's up with these designer imposter threads? Sweethearts has already been there and done that, so don't bother trying to jack its style. Look, I'm all about baked goods on book covers, but why not choose, oh, I dunno, CUPCAKES? Since they play a sizable (and tasty) role in the story? You can never go wrong with cupcakes.
The Deal:
I feel the need to preface this description with a note: this is a winter book. It's all about snow and ice skating and hot chocolate and hockey and wool socks. Now, you might be wondering why I would choose to read a winter book when it's clearly summer time. You… don't live in Texas, do you? IT'S FREAKING HOT, Y'ALL. August in the South is actually the PERFECT time to read a book about people who have to put on seven layers of clothes in order to stop shivering. Also, I am a big pansy when it comes to cold temperatures, so if I read this novel during an actual winter month, I'd probably die from hypothermia in my living room.
ANYWAY! Hudson Avery doesn't seem to mind the cold as much as I do. In fact, she kind of loves it, especially when she's gliding across the ice on her skates. Even though she gave up skating three years ago, after discovering that her dad was cheating on her mom, Avery secretly misses the thrill of axels and spins, and an upcoming scholarship competition has lured her back on the ice. She's still got the moves, but she can't seem to whip her life back into shape. Between her indentured servitude at Hurley's (her mom's diner), baking her famous cupcakes and taking care of her little brother, Bug, Harley feels weighed down by responsibility. Her only escape is the ice… and the warm gaze of Josh Blackthorn, co-captain of the school hockey team. After Hudson agrees to help the Mighty Ducks failing team learn some new skating moves, she finally starts to feel less burdened by family drama and responsibilities. But as she continues to ignore the weight of her past, it only gets heavier, and even hours of skating practice can't fix the cracks erupting beneath her.
BFF Charm: Natalie Imbruglia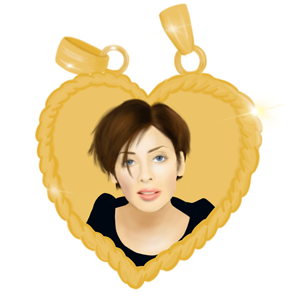 Hudson is in that stage of adolescence where she's kiiiind of self-absorbed. I mean, I understand her anger towards her dad, who is a total dipshizz, and her frustrations with her mother, who forces her to work non-stop at the diner and use her wages to pay, like, the gas bill. All of this sucks, and Hudson has every right to complain. However, her family trauma doesn't give her a free pass to act like a jerk to her bestie, Dani, not does it excuse hooking up with another guy when she so obviously has feelings for Josh. (With that said, the other guy is really fine, so I can forgive her for that.) But she's a teenager, so she's allowed to mess up. She's also incredibly passionate and determined and hard-working, and she dearly loves her little bro. So while I'm going to keep this charm in my pocket for now, I might hand it over a few years down the road. Or maybe sooner, if lots of free cupcakes are involved. LOTS of free cupcakes.
Swoonworthy Scale: 6
Lord, Josh Blackthorn is a cutie! He's sweet and funny and kind but hot enough to keep him FAR from the friend zone. He and Hudson totally meet cute on the ice, and there's enough tiny moments of sparkage (long hugs, long stares) to keep my fingers and toes warm against the cold. BUT. As you will see in the anti-bonus factor below, Hudson makes a big mistake early on in the book that drove me CRAY CRAY until the end. Girlfriend almost ruined the romance entirely. But thankfully, Josh is just too great of a guy to not deliver some swoon, and Hudson's other interest, Will, is a particularly gifted kisser, a skill I always appreciate as an extremely discerning reader.
Talky Talk: On The Train to Dessen Town
She's not there yet, but Sarah Ockler's style reminds me of HRH Queen Sarah Dessen. She carefully layers her pages with authentic dialogue and earnest emotion, alternating between her heroine's reflections and light but compelling pacing. Her words wrap you up in a soft blanket of soul-searching and romance, and the characters, while not all complex, sparkle with life. I could have used fewer angsty ruminations from Hudson and a little more action, but if Sarah Dessen is your cup of tea, I think you'll enjoy Ockler's style, even if it could stand to steep a little longer.
Bonus Factor: Tasty Business
This book made me HUNGRY LIKE A HIPPO. Each chapter begins with a cupcake recipe (themed to the plot) and I NEED ALL OF THEM IN MY BELLY. Here's an example:
Hester's Scarlet Letters
Raspberry-vanilla cupcakes topped with chocolate Chambord icing, a fresh raspberry, and a scarlet monogrammed A.
YES PLEASE AND THANK YOU.
Bonus Factor: Ice Skating
I know it's all about the summer Olympics right now, but y'all, ice skating is my sporting JAM. The moves! The jumps! The bedazzled outfits!
Bonus Factor: Charles Wallace
Hudson's little brother Bug follows in the grand Charles Wallace adorable child genius tradition. He's eight, and he's super smart but still young enough not to be obnoxious about it. He checks the mail for anthrax (he saw it on CSI), builds robots out of old computer parts and named his hamster Mr. Napkins. LOVE HIM.
Anti-Bonus Factor: Jumping To Conclusions
I cannot STAND IT when the heroine or hero of a story makes a totally dumb assumption about their love interest and then doesn't think to just straight up ASK about it and instead wastes VALUABLE SWOON TIME stressing about the assumption even though it is so obviously wrong and stupid and GAH. Hudson falls into this trap pretty early on in the novel, and I may or may not have physically shaken the book and screamed, "JUST ASK HIM FOR CHRISSAKES!" in a voice mangled by rage.
Relationship Status: Ski Lodge Flirtation
In spite of the snow and ice and winter storms, this book warmed me right up. Like a cup of spicy hot chocolate, it was sweet, comforting and delicious, and we spent a lovely evening together, sharing our feelings and cuddling under the blanket. Sure, I wish things had gotten a little more intense between us, especially because this book is SUCH a tease. I mean, it kept talking and talking about cupcakes and yet NEVER ACTUALLY GAVE ME ONE. I mean, come on, book. Why you gotta go and give me blue taste buds? That's just cruel.
FTC Full Disclosure: I received my review copy from Simon Pulse. I received neither money nor cocktails for writing this review (dammit!). Bittersweet is available now.